Khloe JUST Had Her Baby & Twitter Is Reacting With The Sweetest Messages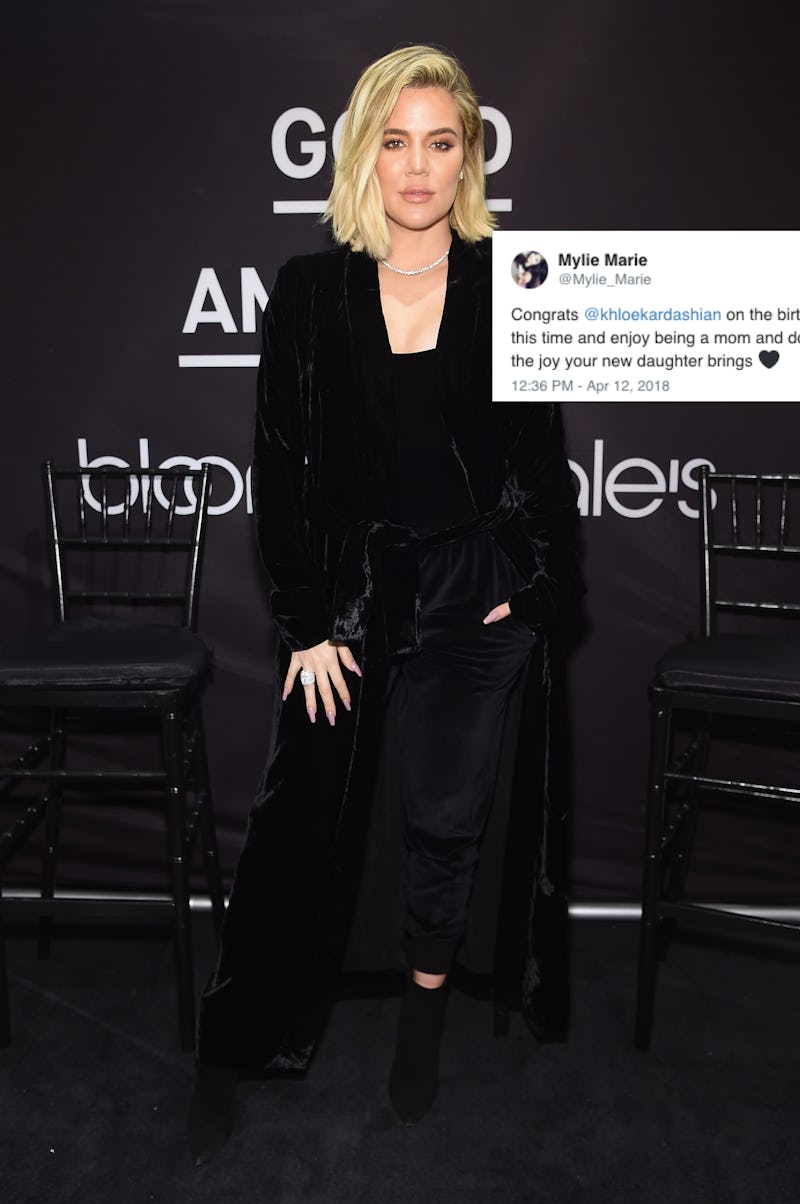 Jamie McCarthy/Getty Images Entertainment/Getty Images; Mylie_Marie/Twitter
Khloé Kardashian has officially given birth to her first child, according to TMZ. On April 12, she welcomed a daughter whose name has not been revealed. Fans on Twitter are supporting Khloé and her baby already, tweeting her messages of support and encouragement during a rumored turbulent time for the TV host and designer. (Bustle reached out to Khloé's reps for comment on the baby news, but did not receive an immediate response.)
While most women in the Kardashian family had their children at Cedars-Sinai Medical Center in Los Angeles, Khloé reportedly gave birth at a hospital in Cleveland. Since getting together with NBA player Tristan Thompson in late 2016, she's made a home for herself in Ohio, as Thompson plays for the Cleveland Cavaliers.
Longtime fans of Khloé's know how meaningful this pregnancy is to her. When the TV star was first married to NBA player Lamar Odom, Khloé struggled to get pregnant. In one episode of Keeping Up With The Kardashians, she is thought to be pregnant, and was heartbroken to find out it was not the case. Khloé adores her nieces and nephews, and has long hoped to raise her own super-sized family. Though the nature of her relationship with Thompson is unknown currently, fans are sharing nothing but love and support for her with this joyous news.
1. This Fan Assured Khloé That Nothing Else Matters
"Your daughter is your happiness, your world!" one user wrote to Khloé, adding, "Anything that disturbs your happiness needs to go!" Definitely some polite encouragement.
2. "Don't Focus On Anything But Joy"
Another fan congratulated Khloé on the birth of her daughter while also throwing some masterful shade at the other Kardashian headlines of the day. (As in, the rumors that Thompson allegedly cheated on Kardashian with multiple women. Bustle reached out to Thompson and Kardashian's reps about the rumors, but did not receive an immediate response.)
3. This Fan Is #TeamKoko For Life
This person welcomed Khloé to motherhood in the sweetest possible way. Hashtags and all.
4. This Tweet Is So Cute You Might Get Misty-Eyed
"I don't know you," a user tweeted at Khloé, "But I just want to tell you that things will be okay." Isn't that all any of us wants to hear? They added that "as you hold your beautiful daughter in your arms," Khloé will be able to see what's valuable and what isn't. A Twitter blessing.
5. One Fan Wrote A Simple Congrats
Short, sweet, and encouraging.
6. "Massive Congrats!"
One fan was so ready to wish Khloé congratulations, she didn't even have time to find an emoji. Understandable, TBH.
7. This Person Invoked Khloé's Firmly-Held Religious Beliefs
"Ignore the bull and the naysayers," intoned this Twitter sage. He suggested that God sent Khloé her baby and by extension, Thompson, which is pretty sweet.
8. One Fan Sent An Amazingly Shady Congratulations
A Texan Twitter user named Amy wished only Khloé well after the birth of her daughter. That could mean any number of things, or just be a joke. But either way, it's kinda great.
9. "God Bless You & Your Daughter"
Another warm wish from someone who knows how important religion is to Khloé.
10. "You Will Be A Wonderful Mom"
Aww! Sometimes, that's all you need to hear.
11. What Really Matters
This particular piece of advice is concise, helpful, and encouraging. In other words, it's perfect.
12. Embrace The Moment
This Khloé fan wrote that she hoped her fave was enjoying every moment and that people were respecting her privacy. Now, that's a good friend to have. Hopefully, the fact that Khloé chose to have her daughter in Cleveland will help ensure paparazzi stay far away.
13. A Four-Heart Emoji Type Of Moment
Is there a way to get all of Khloé's incredible fans together for a group hug?
14. "Sooo Happy"
This fan also few heart emojis to emphasize just how happy she was for Khloé and her baby girl.
15. #TeamKhloe Is Forever
This one is slightly misspelled, but since this fan is obviously #TeamKoko all the way, let's just assume it was because of her excitement.
16. This Fan Wished A Kind Congrats To Khloé & Tristan
Another Twitter fan was among the few to send congratulations to both Khloé and her boyfriend without any other comments.
17. Applauding Her Strength
"You'll get through this!" wrote this person, likely tied to all the Khloé-related headlines today, not all of which are positive, "And be an even stronger woman!"
18. One Fan Doesn't Even Have A Twitter Pic Up Yet But Still Had To Tweet To Khloé
Again, extremely relatable moment here.
19. "Finally A Mum"
This person had obviously been following Khloé's journey to motherhood, and this tweet pretty much defines "effusive."
It's great to see that Khloé's fans are so excited for her, and will rush to support her at every opportunity. That outpouring of love, affection, and warmth is probably exactly what she needs right now. The ocean of encouragement is legit the internet at its best.