9 Tweets That Explain Why Trump's Most Secretive Advisor Might Betray Him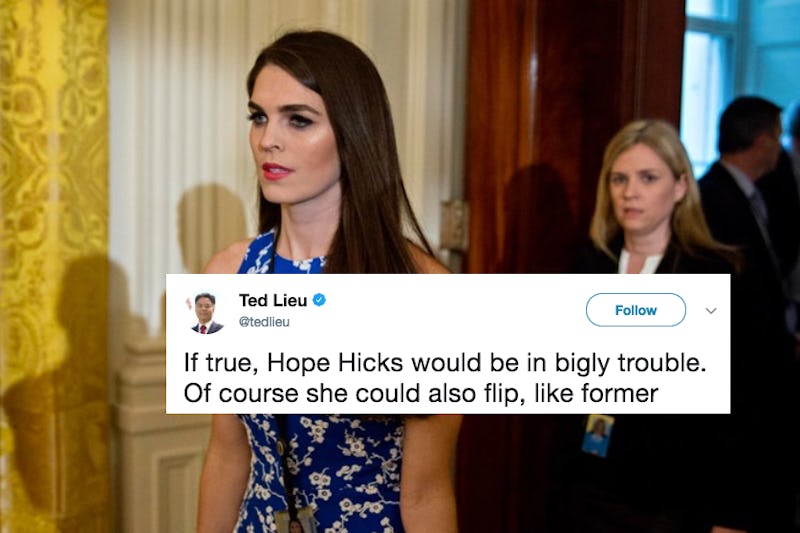 Pool/Getty Images News/Getty Images
The Trump-Russia investigation thickens with a new name. On Wednesday, The New York Times dropped what could possibly be a big lead in the investigation: Mark Corallo, President Trump's former legal spokesman, is expected to tell special counsel Robert Mueller that Trump adviser Hope Hicks allegedly concealed incriminating emails from Donald Trump Jr. about that mysterious 2016 meeting with a Russian lawyer. Corallo's account reportedly details a previously undisclosed conference call in which Hicks reportedly promised that Trump Jr.'s emails "will never get out."
If Corallo's reported story is true, then Hicks could face legal repercussions for obstructing justice. Robert P. Trout, a lawyer representing Hicks, denied the claims, which came through various sources to The New York Times.
As most reporters know, it's not my practice to comment in response to questions from the media. But this warrants a response. She never said that. And the idea that Hope Hicks ever suggested that emails or other documents would be concealed or destroyed is completely false.
The New York Times' Jo Becker, Mark Mazzetti, Matt Apuzzo, and Maggie Haberman went on to explain Corallo's concerns:
[Corallo] told colleagues that he was alarmed not only by what Ms. Hicks had said — either she was being naive or was suggesting that the emails could be withheld from investigators — but also that she had said it in front of the president without a lawyer on the phone and that the conversation could not be protected by attorney-client privilege.
People following the Trump-Russia investigation are now speculating that Mueller will target Hicks next, and under pressure, Hicks will ultimately betray Trump to protect herself. Here's what some Twitter users say: