These #YoMemoJokes About The Nunes Memo Will Make You Ugly Laugh So Hard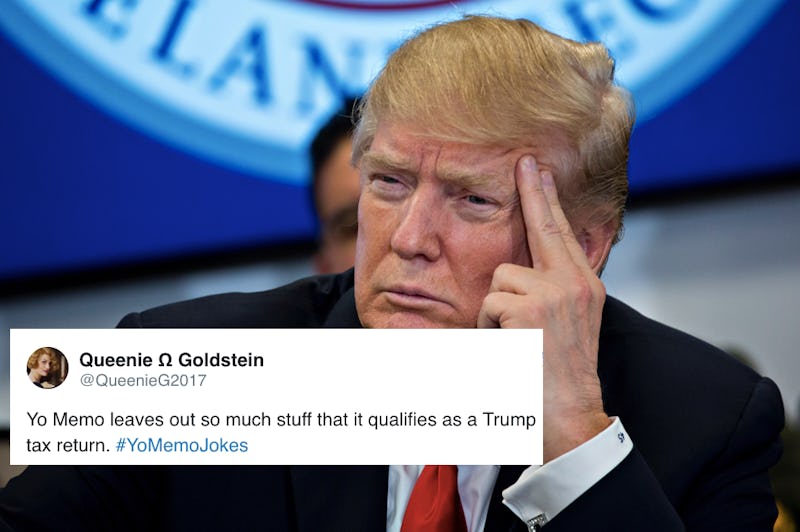 Pool/Getty Images News/Getty Images
Rep. Devin Nunes warned that the memo he would release would be revelatory and damning. Republicans who had claimed to have seen it declared it was "worse than Watergate." So when the Nunes memo was released on Friday and quickly dissected, many were surprised to see that it did not, in fact, contain any particularly shocking material. And these #YoMemoJokes tweets picking apart the Nunes memo show just how much it failed to live up to its hype.
The Nunes memo has consumed Washington, D.C. and Twitter in past week — an impressive feat given this relentless news cycle — with the news that Rep. Nunes was putting together a memo about the FBI's alleged mishandling of the Steele dossier. (The dossier, compiled by FBI informant Christopher Steele, contained allegations that Trump and Russian officials were in cahoots to during the 2016 election — including, yes, that whole "pee tape" incident. Trump has vehemently denied the dossier's claims.)
Many elected Republicans pointed to the Nunes memo as proof that the FBI had an anti-Trump bias within its ranks, though Democrats say this is an elaborate plot to nix special counsel Robert Mueller's investigation into the Trump campaign's ties to Russian officials during the election. When Trump authorized its release on Tuesday and House Republicans declassified the Nunes memo, however, many said it contained little revelations — at least, none that lived up to what many Republicans had promised. And the jokes came flooding in.
Is There Another One Coming?
Some joked that the Nunes memo had so much of nothing that it couldn't possibly have been the one Republicans had been talking up.
"Y2K Called ..."
Actress and activist Alyssa Milano compared the Nunes memo to the overblown hype surrounding the year 2000.
"Milli Vanilli Wouldn't Sing About It"
Timely reference to the 1980s duo who were caught lip syncing.
A Jab At Both Trump & Russian President Putin
Putin jokes were aplenty — as is usual in Twitter conversations about Trump.
"It Qualifies As A Trump Tax Return"
Some referenced the president's failure to release his tax returns.
So Deflated
While others poked fun at Trump's buddy, Tom Brady, who was embroiled in the "Deflategate" scandal at the Super Bowl a few years ago.
Trump's Favorite Pastime
Trump has spent a lot of time as president golfing, and people often point to how critical he was of President Obama when he played golf. And just in case you didn't know, there are a lot of photos of Trump whizzing around the greens in a golf cart.
"Yo Memo So Bankrupt"
If you weren't following this story, the Trump Taj Mahal in Atlantic City — which Trump himself crowed was "the eighth wonder of the world" at its opening in 1990 — was shuttered about a year later after it declared bankruptcy. During its liquidation sale last year, the hotel tried to sell of as many pieces of furniture as it could, including a $35,000 chandelier, a $650 poker table, beds, paintings, lamps, and more.
"So Full Of Gas"
There's really no avoiding a Russia joke when it comes to American politics these days.
The Combover
Some referenced the president's infamous combover hairstyle.
Taking A Break At Mar-A-Lago
Trump has notoriously taken many trips to Mar-a-Lago, his Florida resort he likes to call the "winter White House." Though he often tweets that he's busy at work from Mar-a-Lago, photographers and reporters often catch him playing golf.
As the jokes continue to stream in about the Nunes memo, Republicans have indicated that they are standing their ground on it proving the FBI's anti-Trump animus. The president himself tweeted on Saturday that "the memo completely vindicates 'Trump' in probe."
Though the Nunes memo ultimately proved to be a bust as far as providing new information, some have said that it succeeded in damaging already-fraught relations between the administration and the intelligence community, as well as being a distraction to the real issue here: Russian interference in the 2016 election.