These Tweets From The London Tube Explosion Capture The Chaos & Fear At The Scene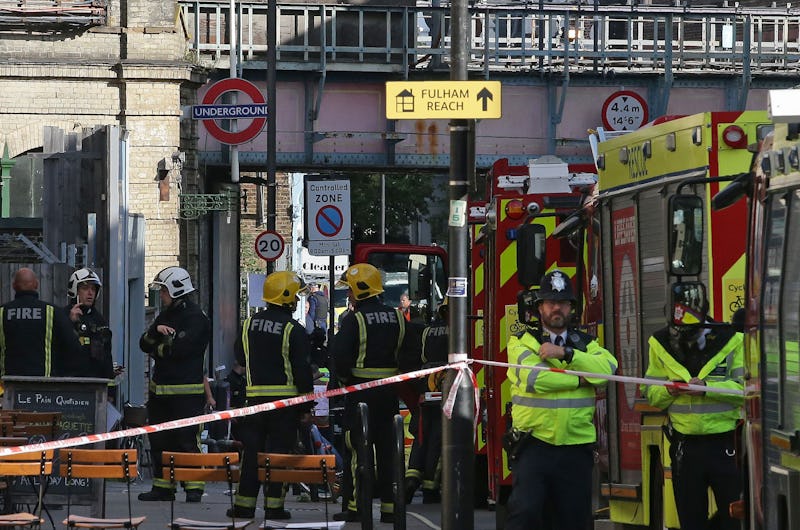 DANIEL LEAL-OLIVAS/AFP/Getty Images
The news on Friday morning didn't start out bright, with reports of an explosion at the Parsons Green station of the London Underground dominating the coverage. Now, there are also many tweets from the London underground blast at Parsons Green that you can look at to see what it was like for the people who experienced it most closely. While the facts still aren't entirely pinned down about the explosion, British authorities are investigating it as a terror attack and the hunt for the person who set off the explosion is still ongoing.
The explosion occurred at 8:20 a.m. local time at Parsons Green, setting off a wave of panic around the station. Since then police have been able to gather a few more piece of information, including the frightening fact that the improvised explosive device, or IED, was actually meant to be more damaging, but it didn't detonate fully. The Guardian reports that 22 people have been transported to various London hospitals, mostly with burn injuries, but that no one is currently in very serious condition.
Several high-ranking politicians have already spoken out about the event, including Prime Minister Theresa May and Foreign Secretary Boris Johnson. London Mayor Sadiq Khan released a statement on Twitter, saying that "our city utterly condemns the hideous individuals who attempt to use terror to harm us and destroy our way of life." Through these tweets, you'll be able to see a description of the event through a slightly different lens.