These Tweets About Last Night's 'Bachelor' Show The Fandom Is Split In Half Over Bekah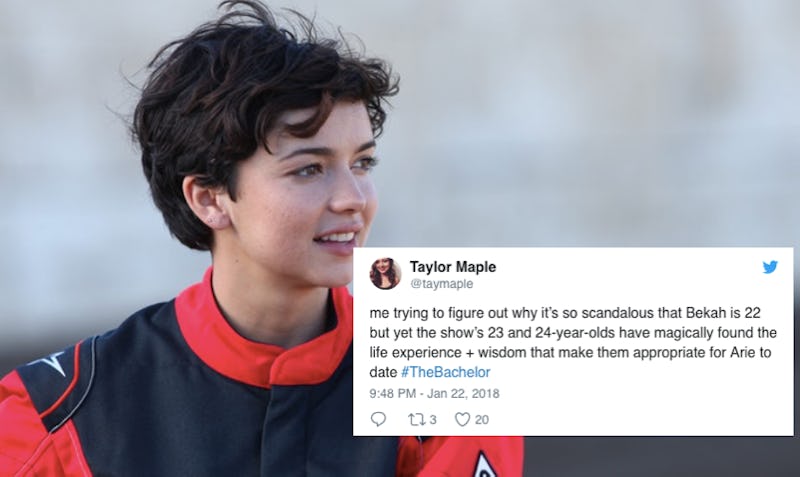 ABC
During Monday night's Bachelor episode, things really started to heat up between Arie Luydenyk Jr. and Bekah Martinez during their one-on-one date. Yes, there's a lot of chemistry between them, but the conversation itself intensified when she admitted that she is 22 years old. It was definitely the most talked-about topic of the night, and tweets from Week 4 of Arie's Bachelor season show that there are two distinct views when it comes to Bekah M.'s age.
There are a lot of viewers who think she is just way too young to be dating Arie, who is 36. Then, there are some fans who think that age is just a number and that Bekah is very mature regardless of how old she actually is.
Bekah's age was also a hot topic in the house among Arie's other suitors, who were adamant that Arie would send her home during their solo date if she revealed her age. (Or, they just saw that Arie is super into her and wanted her to get eliminated.) Spoiler alert: That did not happen. But the discussion about how old Bekah is and whether it is a factor or a non-factor took over every Bachelor fan's Twitter timeline.
Since Bekah did get the one-on-one date rose, she will be a part of the show for at least another week, so the chatter is bound to continue. These are the comments that fans tweeted in response to the latest episode.
1. She Is Not That Much Younger Than The Other Women
Arie eliminated the last of the women over 30 during this episode. Every woman on this show is in her twenties. Bekah is not that much younger than the rest of them. Would they care about Bekah's age if it wasn't so obvious that Arie is into her?
2. She Has A Strong Sense Of Identity
Bekah may be 22, but she has carried herself with a high level of maturity this entire time. She's well-spoken and has a strong sense of who she is. Does it matter that she's in her early twenties? Bachelor alum Amanda Stanton doesn't seem to think so.
3. She & Arie At Different Stages In Life
Does Arie and Beckah's significant age difference mean that they don't want the same things at this point in their lives? She did say she also likes waking up early!
4. Her Age Isn't A Factor
Aside from the age difference, are Arie and Bekah a good match otherwise?
5. She Still Has So Much To Contribute To The Bachelor Franchise
One of the great things about Bekah being on the "younger" side of the cast is that this gives her so much time to join Bachelor spin-off shows like Bachelor in Paradise and then maybe she can be on The Bachelorette. Plus, it makes sense that Bachelorette alum Michael Garafola who is about to be on Bachelor: Winter Games is all for Bekah making another TV appearance.
6. She Carries Herself Well During Interviews
Bekah does not spend her interviews cutting down the other girls or talking about how they're not good enough for Arie. Bekah has carried herself with maturity and poise this entire time.
7. She's Significantly Younger Than Arie
This photo of Arie from his time as a contestant on Emily Maynard's Bachelorette season really does feel like another lifetime ago.
8. She & Arie Have An Undeniable Connection
There is so much chemistry between Arie and Bekah. Aside from that, Arie has mentioned that he thinks highly of her as a person and he loves the way she challenges him. It's clear that the age revelation truly hit him hard.
9. She Is Not A Child, She Takes Care Of Children
This is some food for thought and a great throwback to last season's most-discussed contestant.
10. She & Arie Are At Different Stages Of Life
This is true, but will it matter to Arie as the season goes on?
11. She's Giving Us Good TV
Bekah revealing that she is 22 has brought a lot of content to the show and to Twitter.
Bekah's age is a major topic of conversation, but she is making the season interesting for so many other reasons. Props to her.