After Last Night's 'Bachelor', Twitter Has A New Bachelorette In Mind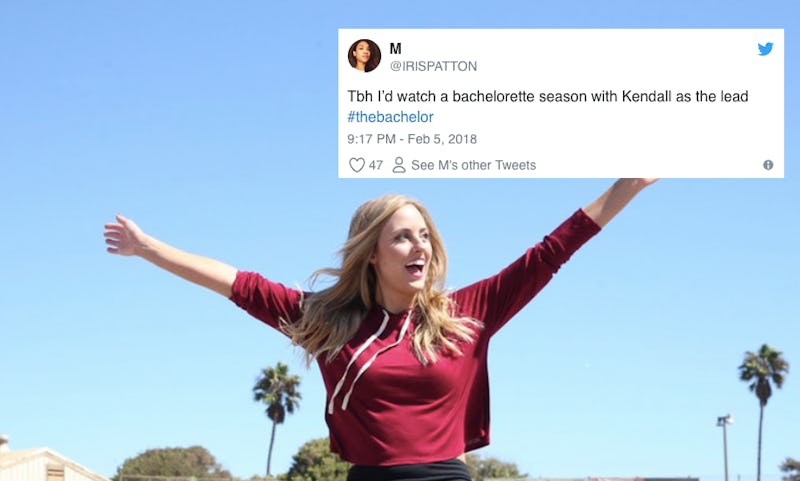 ABC
The current Bachelor season is still airing, but it feels like Kendall Long already won — not necessarily Arie Luyendyk Jr.'s heart, but just the show in general. She got the two-on-one rose Monday night during her date with Arie and Krystal, and she won over viewers at the same time. Just check out Twitter. The tweets from Week 6 of Arie's Bachelor season show Kendall really won over the viewers.
At first, viewers were rooting for Kendall to get that rose instead of Krystal just because they would have supported anyone over Krystal, but in the end, Kendall really came through with her sincerity.
She was very open and honest when it came to her feelings for Arie. Unlike Krystal, she did not try to play dirty and throw someone else under the bus. Even after Krystal had the audacity to question Kendall's readiness for marriage in her conversation with Arie, Kendall still kept her cool. It would be tough not to freak out or break down, but Kendall truly held it together.
Kendall even tried to help Krystal, who insisted on taking the petty route. She inspired everyone to kill their adversaries with kindness and has become one of the most lovable Bachelor contestants in the process.
These are just some of the thoughts that viewers tweeted about Kendall during Monday's Bachelor episode.
1. A New Twist On The Bachelorette
Who wouldn't want to be friends with Kendall after watching this show? She would provide the most sincere support system and dole out some sage advice. There really should be a Bachelorette spin-off for Kendall's potential best friends.
2. She Is Emotionally Intelligent
Bachelor alum Taylor Nolan was infamous for her rants about emotional intelligence during the last season of the show. Of course, she was proud of Kendall during that difficult date.
3. She Is Easy To Love
There is just so much to love about Kendall.
4. She Won The Season
Yes, Kendall got that rose, but no matter what happens from this point forward, she truly did win this season. Everyone loves and respects Kendall, which is a tough feat on a reality TV show.
5. She Is A Welcome Surprise
It's sometimes tough to find reality on reality TV shows, but Kendall is so sincere and kind. It is very refreshing and enjoyable to watch.
6. When Arie FINALLY Gave Her The Rose
That date went on for way too long. Why did Arie need any extra time to make that decision? Kendall was amazing the entire time.
7. She Provided A Stark Contrast To Krystal's Antics
It was wild to see Kendall and Krystal "against each other" on this date. They had completely different approaches. Krystal was all about playing games and Kendall was trying help someone that talked down to her.
8. She Played It So Well
As stressful as that experience must have been, Kendall had that situation on lock the entire time.
9. She Deserves Better
Kendall did not deserve to go on that two-on-one date. Hopefully, Arie recognizes that and gives her the true shot that she deserves.
10. She Is So Well-Spoken
Kendall always has the best answers. She doesn't recite lines that people "expect" to hear or give pre-planned, insincere toasts. She speaks from the heart and does so with perfect clarity. Every. Single. Time.
11. She Would Be An Amazing Bachelorette
If Kendall doesn't get Arie's final rose, she would definitely excel handing out roses on her own.
12. She Is More Than "The Taxidermy Girl"
Just like any other human being, Kendall has a lot of layers. She made a standout first impression thanks to her love for taxidermy and playing the ukulele, but she won everyone over thanks to her personality.
Kendall is the Bachelor contestant who just keeps on giving. She brings some individuality her taxidermy references and her book of questions. She says what viewers at home are thinking every time some drama goes down. She serves as a reminder to lead with kindness. She is being her true self and everyone is just loving her. Kendall deserves all of the roses.