PSA: Twinkies Ice Cream Might Be A Thing Now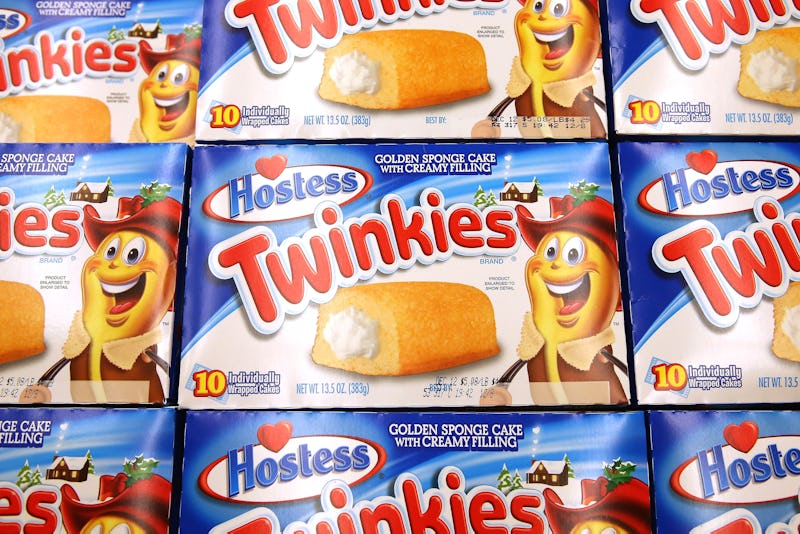 Scott Olson/Getty Images News/Getty Images
Here is some good news to jump start your weekend: Twinkies ice cream might be a thing now, which means all of your sweet tooth's dreams have come true! Yep, you heard me right — something is finally going right in this world. Who would've thought that this sweet Hostess treat would be the one to save the day? (Bustle has reached out to Hostess for comment, and will update if/when we hear back.)
In case this is the first time you're hearing about this, here's the scoop (yes, I went there): Word's going around that Hostess and Nestle have partnered up to create the love-child of our favorite childhood desserts, launching three different flavors of ice cream: Twinkies, Sno Balls, and CupCakes. According to CSP, these new ice cream flavors will reportedly become available in Dollar General stores starting in February, then launched in other marts at a later date. The flavors are apparently limited edition; some sources, including Teen Vogue, report that the ice creams will only be available until May.
To be clear, neither Hostess nor Nestle has come out with any official announcements about the new ice cream flavors. However, pictures of different ice cream buckets featuring Twinkies, Sno Balls, and CupCakes have been making their way around the internet, so do with that what you will. And since they're supposed to be limited edition, I recommend keeping your eyes peeled at your local bodega, because you won't want to miss out on this.
Here's what the ice cream buckets look like:
Personally, I was always a huge fan of Twinkies. They are soft, sponge-y, creamy, and delicious — the perfect after-school snack that was sweet enough to fill your guilt-free kid-self with glee. One thing I'm curious about, though, is what Twinkies-flavored ice cream will taste like, exactly. The Motley Fool notes that the Twinkies ice cream is expected to taste like buttercream, with vanilla swirls and pieces of sponge cake sprinkled throughout. The Sno Balls flavor will likely taste like marshmallow, chocolate cake, and coconut, while the CupCakes flavor is supposed to be chocolate ice cream, cake, and frosting (basically all of our favorite things to eat when we were kids).
I know, I know: It's not exactly ice cream weather yet, given that it's still cold in some regions of the United States and will probably remain that way for at least another few months. But still: Twinkies flavored ice cream! I could eat that during any season of the year.
And it seems that a lot of others feel the exact same way. When the news of Twinkies ice cream broke out on the Internet, people took to Twitter to share their feelings. And as it turns out, they have a lot of them:
And I mean people got very, very excited:
It's pretty awesome to see such a beloved brand coming back with a new, chilly twist on a classic pastry snack. I honestly can't wait to get my hands on a bucket of Twinkies ice cream, and I know I'm probably not the only one. As the saying goes, "I scream, you scream, we all scream for ice cream."