Twitter Wants To Know If Mindy Kaling Has A Boyfriend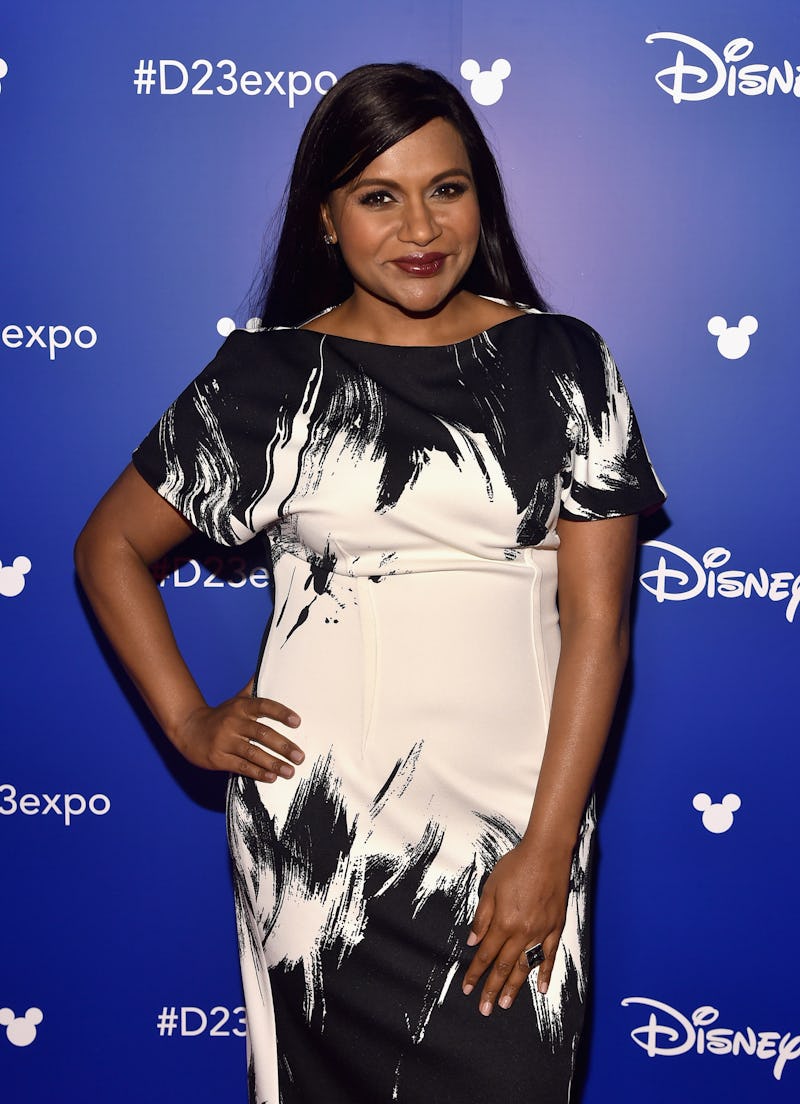 Alberto E. Rodriguez/Getty Images Entertainment/Getty Images
Now that there are baby rumors circulating The Mindy Project star, Twitter wants to know if Mindy Kaling has a boyfriend. On Monday, E! News reported that the 38-year-old is pregnant with her first child, so, of course, people are curious if Kaling is dating anyone and the identity of her rumored baby's father. Bustle has reached out to Kaling's rep for comment about the pregnancy reports, but did not receive a response at the time of publication.
UPDATE: Kaling confirmed her pregnancy in an interview with Today.
EARLIER: In the past, Kaling dated her Office co-star, B.J. Novak from 2005 to 2007. The two have been very open about their former relationship and the fact that they are good friends. According to E!, the comedian also dated Benjamin Nugent from 2008 to 2012. However, as for who she might possibly be involved with currently remains unknown. There's also a chance that the writer decided to have a baby by herself and isn't dating anyone. Again, details regarding all areas of her personal life aren't clear at this point in time.
So, whoever (if anyone), the Mindy Project creator might be calling "boyfriend" these days, one thing does remain certain. That is people on Twitter are dying to know more about her alleged pregnancy. It's understandable why her fans are freaking out, because the reported baby news is beyond exciting. Though, it's important to remember that Kaling doesn't have to comment or share anything about her alleged pregnancy. It's her life and a private matter, so if or when she wants to say anything, she'll most likely do it on her own terms.
Now, let's talk about how people are just really happy for the A Wrinkle in Time actor and the fact that she could soon be adding mom to her already impressive resume.
Is It B.J.?
Obviously, his is the first name that popped into peoples' minds, but keep in mind that they've been broken up for awhile now, so it's best not to jump to conclusions.
Kelly & Ryan Forever
Fans of The Office want Kelly and Ryan to become reality. This happens a lot with TV couples.
It's Making People Go "Bananas"
And they're using a lot of Office gifs to explain their feelings.
There Are Many Questions
Of course people have questions, especially when the alleged news seems to have come out of nowhere.
It's Shocking
For someone people don't know personally, this is still so exciting.
Cory Booker's Name Is Involved
Remember when Cory Booker flirted with Kaling on Twitter? Yeah, he isn't escaping this situation, at all, when it comes to fans' demands. Though, let's not bombard him with tweets or questions, because who knows if they ever even met.
Details Are Needed, Stat
She'll definitely say something when she's ready — regardless of if the report is true or not.
Just Say Something
Involved details aren't needed, but it would be nice if she said something small about it.
The Gif That Says It All
Michael Scott gets it.
Mindy Kaling maybe having a baby is the only celebrity news that matters.