Twitter Has Pulled A Far-Right Republican's Ad For Bragging About "Baby Parts"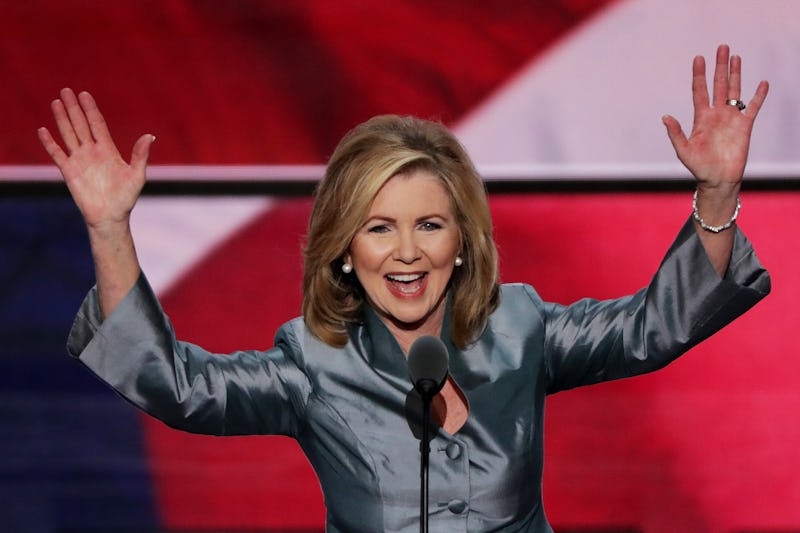 Alex Wong/Getty Images News/Getty Images
Last weekend, Republican representative Marsha Blackburn announced her candidacy for the U.S. Senate, releasing an online ad highlighting her hard-right conservative credentials. But on Monday, the ad was pulled off Twitter, and for a very specific reason ― Blackburn's anti-Planned Parenthood ad used language rooted in a years old, right-wing sting video that Twitter deemed "inflammatory."
As Politico detailed on Tuesday, a consulting firm working on Blackburn's campaign received an email from Twitter representatives explaining why the ad ― in which Blackburn claimed she "helped stop the sale of baby body parts" ― was taken down.
It appears that the line in this video specific to 'stopped the sale of baby body parts' has been deemed an inflammatory statement that is likely to evoke a strong negative reaction. If this is omitted from the video it will be permitted to serve.
If that turn of phrase sounds familiar to you, there's a reason for that. The "sale of baby body parts" line is almost undoubtedly a reference to a series of anti-abortion sting videos made by the so-called Center for Medical Progress, or CMP, back in 2015. The CMP, headed by anti-abortion activist David Daleiden, released videos of Planned Parenthood doctors and officials discussing fetal tissue donation in matter-of-fact terms which, while understandably uncomfortable to the general public, detailed the legal donation, not sale, of fetal remains.
This was hammered home by multiple investigations across several states, which found no evidence of illegal fetal tissue sales by Planned Parenthood affiliates. Daleiden suffered some legal consequences over the videos, ultimately being indicted before having all charges dropped in 2016.
In short, Blackburn ― who's been a member of the House of Representatives for 14 years ― used that same language, of an organization selling fetal body parts, despite the fact that the claim was debunked by subsequent investigations. Of course, for anti-abortion hardliners like Blackburn, the distinction between "selling" fetal tissue remains and donating them might not sound all that major, but as a factual and legal matter, it is.
That didn't keep Blackburn from invoking the investigated and rebuked claim, however. In the ad, she specifically takes credit for helping stop "the sale of baby body parts," as a means to trumpet her anti-abortion bonafides.
From the looks of things, that's what motivated Twitter to act, although many conservatives on social media are already predicting that the added publicity from this incident will help her campaign. To be clear, Blackburn was already an overwhelming favorite to win retiring GOP senator Bob Corker's seat in the U.S. Senate, as Tennessee is a reliably Republican state, having broken for then-candidate Donald Trump last year by a whopping 26 points.
In other words, whether or not Twitter banning her ad helps her ― by way of the so-called "Streisand Effect," wherein trying to suppress something on the internet only draws more eyeballs to it ― it's not help she's in any sense likely to need. She won her previous reelection to the House, representing Tennessee's 7th congressional district, by nearly 50 points. In other words, she's a potent political force there, even amid very favorable electoral terrain for Republicans.
Blackburn is running to take over the U.S. Senate seat being vacated by Sen. Bob Corker, who has decided to retire rather than run for reelection in 2018. Just weeks after announcing that decision, Corker blasted the White House and President Trump, saying that the White House resembled "an adult day care center," publicly stating that Trump is unfit for command, and voicing concern that he could lead the country into a third world war.