Twix Bars Come In Soft Cookie Form Now — Here's Where You Can Get Them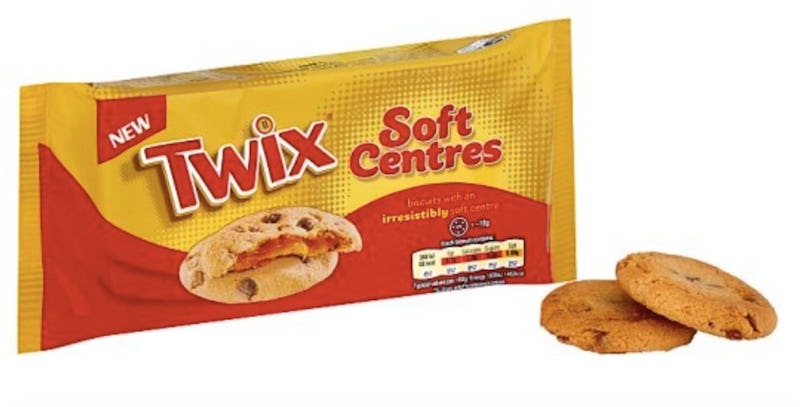 Twix
Few if any candy bars master the art of marrying flavors and textures like Twix does. Introduced in 1979, the confection changed the candy game by adding a familiar but infrequently used ingredient to its composition: a cookie. When you bite into a Twix, you are immediately get the milk chocolate that surrounds the treat, and shortly after get the caramel flowing through its creamy cavity. Finally you bite into the dense, crumbly cookie on the inside and all is right with the world. But, the classic Twix has been turned inside out for Twix Soft Centre Biscuits.
Taking a candy bar with the notable feature of a cookie, and turning said bar into a cookie with a soft center is without a doubt a bold movie. But the results look stunning.
Instagram user JunkFoodMom contacted an associate in the United Kingdom to provide some insight on the sweet treat. Per her caption, Twix Soft Centres have "an 'irresistibly soft center' and milk chocolate chips. Basically, they have taken a chocolate chip cookie, modeled the base dough after the shortbread cookie inside a Twix bar, added chocolate chips, and filled the center with creamy caramel. The final product encompasses every aspect of a Twix bar in cookie-form.
When the Twix isn't getting reinvented in cookie form, it's still getting plenty of remixing — in fact, Twix has had a long-running ad campaign that asks fans to declare an allegiance to either #LeftTwix or #RightTwix depending on which bar they consume first when opening a new package. Apparently people really care about it, because the hashtags have been used over 10,000 times, combined. Can you preference left or right when eating a Twix cookie? You can be the judge of that. That is, if you happen to have a plug across the pond; Twix Soft Centres are, for now at least, only available in the United Kingdom at stores like Tesco.
In fact, many of the new and exciting Twix releases are only available in Europe. A few months ago, Mars Germany announced it will be releasing a Spekulatius Gewürz Twix. If you don't happen to speak Deutsch, that translates to Speculoos Spice Twix — a cookie butter Twix that is set to be released by Mars just in time for Germany's Christmas season. Instagram user CandyHunting first posted about the treat in July, and its impending arrival was later confirmed by Mars.
Speculoos are a type of spiced shortbread cookie that are traditionally eaten around St. Nicholas' Day in the Netherlands and Belgium, and during the Christmas season in Germany. Since the traditional Twix bars already have a cookie inside, creating this limited edition variation only took a little bit of creativity. By switching out the regular shortbread-style cookie for a spiced Speculoos one, Mars created a completely different candy bar experience— one that is sure to make sugar plums dance in your head.
Twix connoisseurs in the U.S. may not have access to fancy European Twix or Twix Soft Centres quite yet, but with Halloween fast approaching, they can look forward to an abundance of fun-sized tweets in the near future.
Plus, if you're feeling really indulgent, take a page out of the book of CandyHunting, and check out what is available on Ebay.