Tyler & Angela From 'Big Brother's Latest Relationship Update Will Leave Fans So Intrigued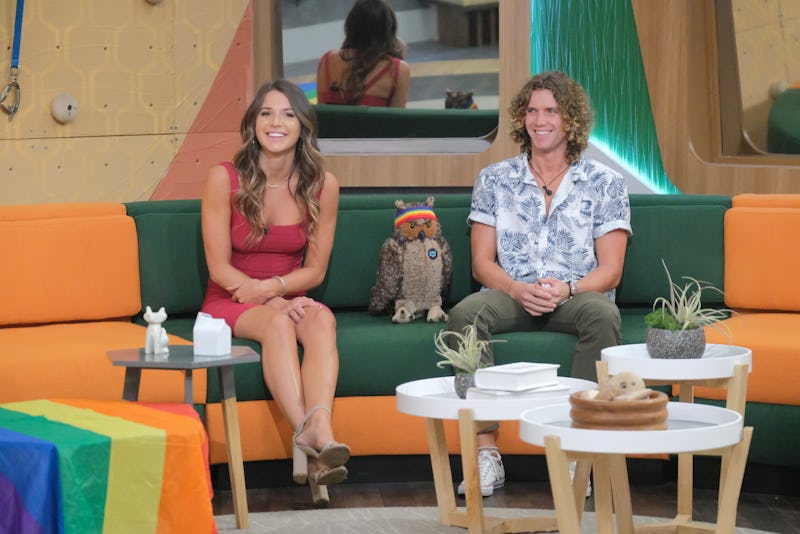 Johnny Vy/CBS
Big Brother could seriously give The Bachelor a run for its money with how many successful couples come of the series. That's because there could be wedding bells in yet another couple's future. According to E! News, an update from Big Brother's Tyler and Angela could prove they're ready to take the next step in their love story.
In an interview with E! News, Tyler Crispen and Angela Rummans gave an update on their relationship that is sure to make every "Tangela" fan happy. When asked about whether an engagement was in their future, the power couple had a very interesting response. Angela said, perhaps jokingly, "I'm patiently waiting," with Tyler adding, "We're very happy right now."
While it could be that the couple is having fun with all of the wedding speculation, seeing as though they've already made another major step in their relationship, an engagement really might be in the cards in the future. As they also related to E! News, the Big Brother alums have recently moved in together post-show. Angela told the publication:
"After the Big Brother house, it only seemed natural [to move in together]. We were so used to living together and sharing a bed together throughout most of the season so going back into my normal life, it felt natural for him to move in with me."
She also explained, "I couldn't imagine living without him." Tyler mirrored his girlfriend's comments, saying, "It's been great…The move has been so smooth. It feels so natural. I love it."
As for what else they have in store for their future together, you may just find Tangela on your TV screens once again. In an interview with People, published on Oct. 5, both of the reality contestants said that they would totally be down for another season of Big Brother or even The Amazing Race.
Tyler told the publication, "We don't have anything official yet, but we're definitely open for anything right now. I would only do Amazing Race with her," which Angela agreed with. She also added with a laugh, when asked specifically about another season of Big Brother, that they're a "package deal" when it comes to any TV appearances. So, you might get to see the adorable duo back in action sooner than you think.
Before moving in together, Big Brother fans will, of course, remember that sparks originally flew between Angela and Tyler during Season 20 of the CBS reality series. They were one of three showmances during the season that captured fans' hearts. One of the other pairings from the season, Bayleigh Dayton and Christopher "Swaggy" Williams, have also been making some pretty major steps in their relationship.
During the Big Brother Season 20 finale, Swaggy surprised everyone, obviously, including Bayleigh, when he proposed to her live on the show. Following their time on the reality series, the couple is still going strong. They've even created their own Youtube channel together, Swayleigh Gang, in order to keep fans updated on everything going on in their lives.
While Big Brother is a competition to see who can come out on top to win the grand prize, it seems like many of the coupled-up contestants on the latest season walked away with something much more special.