This Tangela Relationship Update Will Bring 'Big Brother' Fans So Much Joy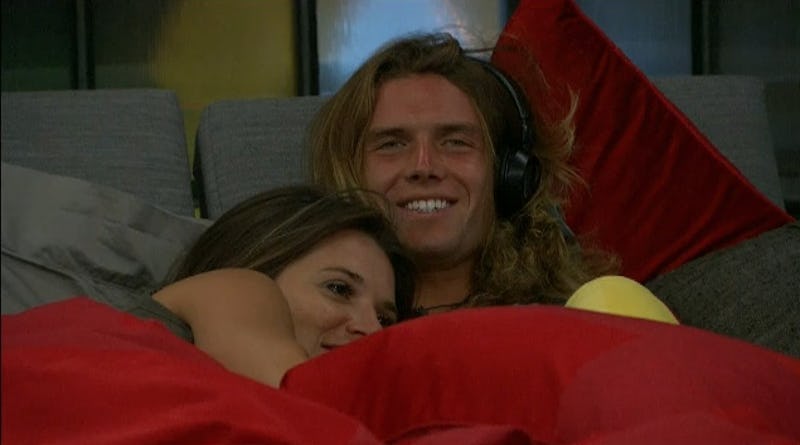 CBS
Big Brother Season 20 contestants Tyler Crispen and Angela Rummans are taking their showmance beyond the house. Well, actually, they're taking it to a house. That's right, Big Brother's Tyler and Angela have moved in together, news that they broke themselves in an official statement to Us Weekly.
The couple stated,
"This whole experience has been a whirlwind, living with each other in the Big Brother house for three months without any contact to the outside world is unlike any other."
That's for sure. They've had zero contact with the outside world, while the outside world has had access to their lives 24/7, thanks to the Big Brother live feeds online. The duo known as Tangela by their fans explained,
"You really get to know people to the depths of their core. We can't imagine ourselves being apart and so it was a natural step for us to make things official in the real world and move in together."
They emphasized, "We've never been happier and are so thankful for this experience that has brought us together."
During the show, Tyler and Angela were in the Level 6 alliance together for most of the season and they tried to focus on the game, which they did a great job at, but they couldn't help developing feelings for each other. They even told each other "I love you" while filming, although they kept that from their fellow houseguests until the season wrapped.
These two were so hesitant about taking their relationship beyond friendship while filming the show, but now that they've embraced their feelings for each other, they are really all in on the romance.
Angela made the new living situation Instagram official, posting, "After an eventful week in Vegas, we are finally back in our home in LA. What was mine is now ours. Spoiler alert, he's moving in. #tangela #bb20." And of course, she made sure to add in the duo's combined couple name in the hashtag. It's just too catchy not to include.
Tyler documented the move on his Instagram Stories. He posted a photo of himself with an official Big Brother duffle bag. He captioned it with "move in day." He also wrote, "@angela rummans im coming home babe."
Before that, Angela shared a screenshot of her and Tyler kissing during the season. Along wit the photo, she wrote, "What a season! Huge congrats to Kaycee, my little peanut. But really, I feel like I won #tangela #bb20." She didn't secure that first place finish on the show, but finding love is an arguably better "prize."
Tyler shared that same screenshot, with a different filter to switch things up, and declared, "Best summer of my life." How could it not be? He got that second place check for $50,000, he won an additional $25,000 after the Big Brother viewers voted for Tyler to win America's Favorite Player, he found love, and he has a new roommate.
After a whole summer living together in the Big Brother house and getting along seamlessly, Tyler and Angela have turned their showmance into a full-blown romance.