Tyra Banks' Emoji Are An 'ANTM' Fan's Dream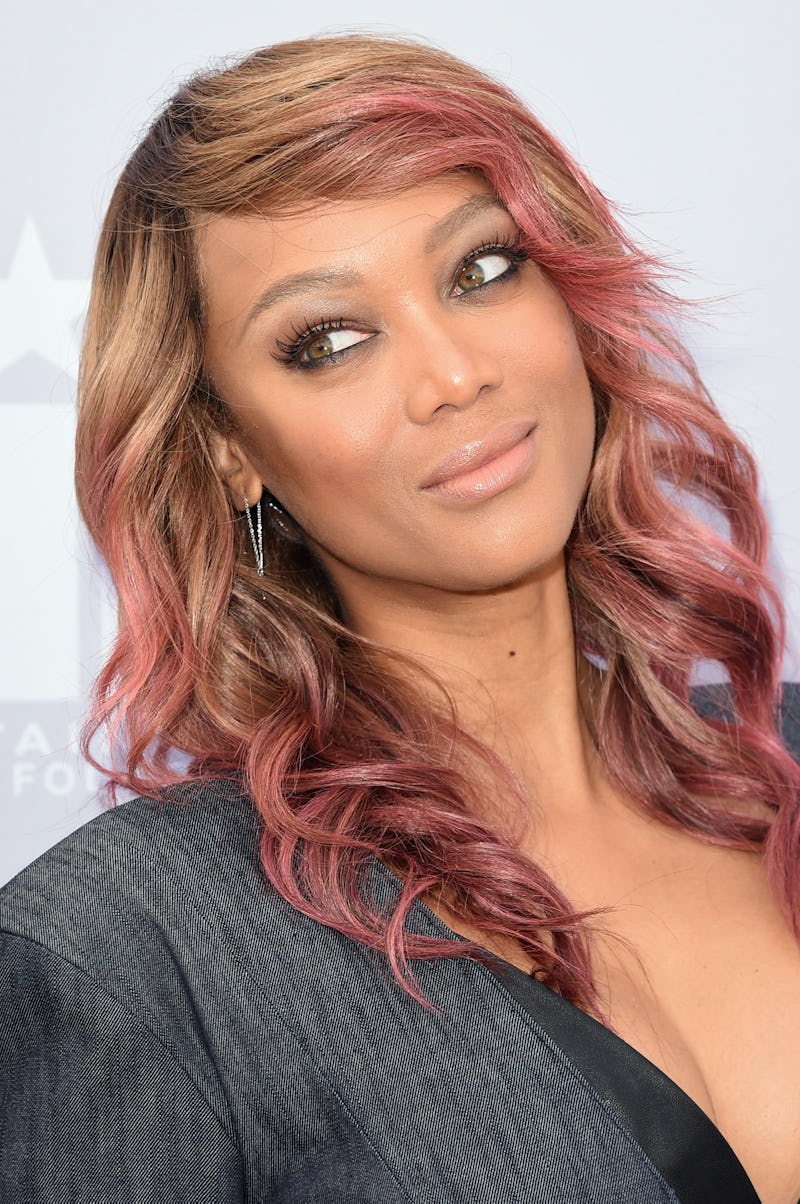 Jason Merritt/Getty Images Entertainment/Getty Images
You wanna be on top? Can you hear the "na na na-na na-na" of the Top Model theme? Then you'll be thrilled like I was that Miss Tyra Banks has created a set of emoji. It's called "TyTyMoji" because she's Ty Ty Baby, and it will let you relive all the most glorious moments of Top Model days past, plus a ton of extras that show just how much Tyra Banks is really living. (Like, inexplicably, but delightfully, an emoji of a dumpster fire.) The emoji set is available in the app store for 99 cents.
According to Tech Crunch, Banks created TyTyMoji with Nix Hydra, a company that makes games for women, and former Top Model contestant Allison Harvard, who is the project manager at the LA-based tech company. She helped Banks curate and design only the best of Top Model moments for a trip down the memory runway for fans. There are the iconic phrases, like "smize," the best selfie advice we all ever got. There's the elimination signature, "I have one photo in my hands," though I'm still fuzzy on how you'd apply that to conversation. There are also plenty of Tyra faces with various hairstyles and facial expressions, from excited Tyra to angry Tyra to pensive Tyra, all faces that the model-testants faced at elimination, plus hair flips and finger wags galore.
The combo of "ho, but make it fashion" and the emoji of Tyra Banks repeating that infamous move are some of the top tier of TyTyMoji. It was some of her best posing advice in all the years of Top Model. There's some Tyra Mail, when you want to deliver either dramatically good or dramatically bad news for all your friends to gather around and read aloud awkwardly.
Sadly, there is no Jade snapping her way off set or declaring "This is not America's Next Top Best Friend," or Tyra fake fainting, or the photo shoot where the girls had to pretend to be salad. God, what an amazing show. There is, however, the piece de resistance: the quotes from Banks' tirade against Tiffany in Cycle 4, who we were ALL rooting for. There's "I was rooting for you!!" and "Learn something from this!!" both extremely useful for when you're screaming at someone because you care about them.
Thank you, Tyra!