The First Look At Tyra's New Hosting Gig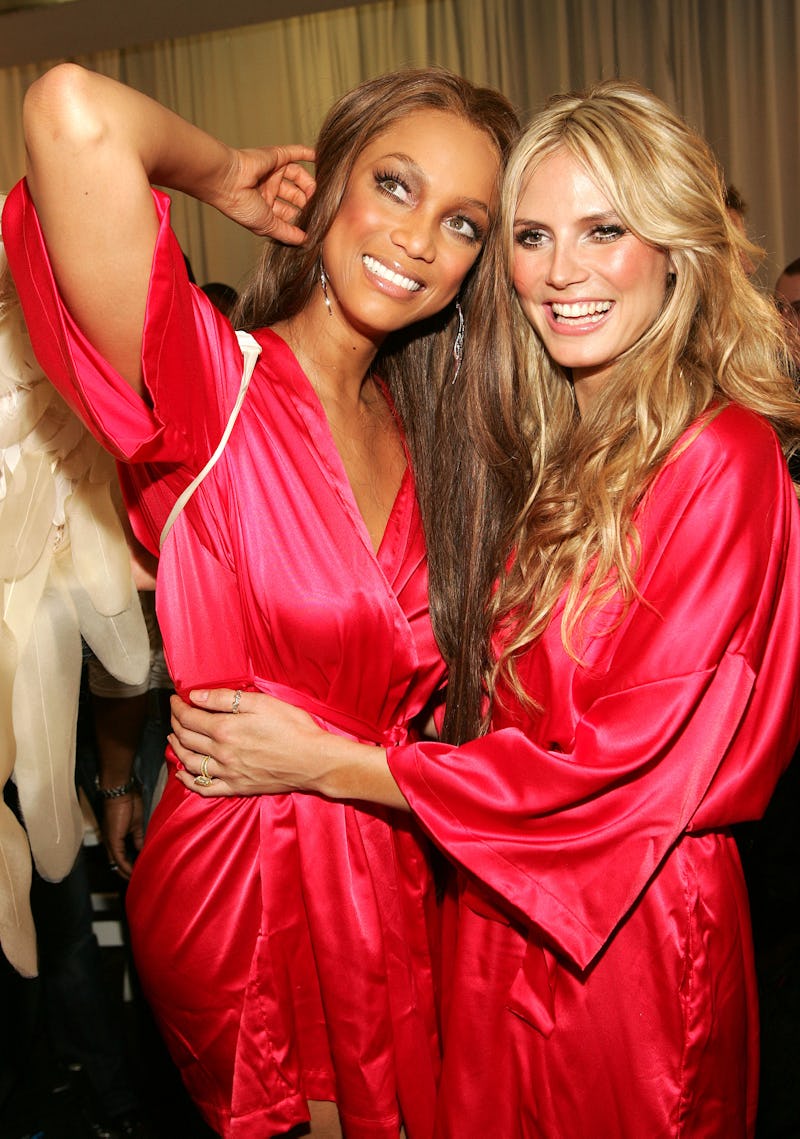 Evan Agostini/Getty Images Entertainment/Getty Images
When Tyra Banks tweet-announced she'd be taking over Nick Cannon's old hosting gig, a thought hit me: It will be overwhelming (in the best way) to see the America's Next Top Model icon share the stage with Melanie Brown and Heidi Klum. I am pleased to report every last one of my suspicions was correct. On Thursday, E! News shared a photo of Banks and the America's Got Talent judges. In the picture, Mel B., Klum, Howie Mandel, and Simon Cowell all sit at the judges' table, and new host Banks stands behind them. Consider me overwhelmed.
I mean no offense to Mandel, Cowell, or those gorgeous Dunkin Donuts tumblers, but I cannot get over that power trio in the middle of the picture. Hey, can you really blame me? Banks, Klum, and Mel B. are just so transcendent. Every time I look at the image, my eyes ask, "Is this real life? Is this happening? Is too much greatness possible?" For shero's sake, we are talking about Tyra "Smize" Banks, Melanie "Scary Spice" Brown, and Heidi "You're Auf'd" Klum. This is an indomitable triumvirate. How lucky we are.
And without further ado, here it is in all its glory.
Do I need to list their accomplishments? Do I need to spell out why they are so important and incredible? Do I need to explain why I am gaga over this trifecta? OK, fine. Twist my arm. I will now pay tribute to each legend's legacy through haiku.
Mel B.
Have you heard of the
Spice Girls? She was one of them
A Broadway star, too
Heidi Klum
Project Runway host
This supermodel will say
One day you're in, auf'd
Tyra Banks
ANTM queen
Booty tooch extraordinaire
And supermodel
AGT Season 12 will premiere on May 30 on NBC. Until then, may the photograph of the judges and host light your way.