When Sean Spicer Wants A Mini-Fridge, Apparently He Just Takes It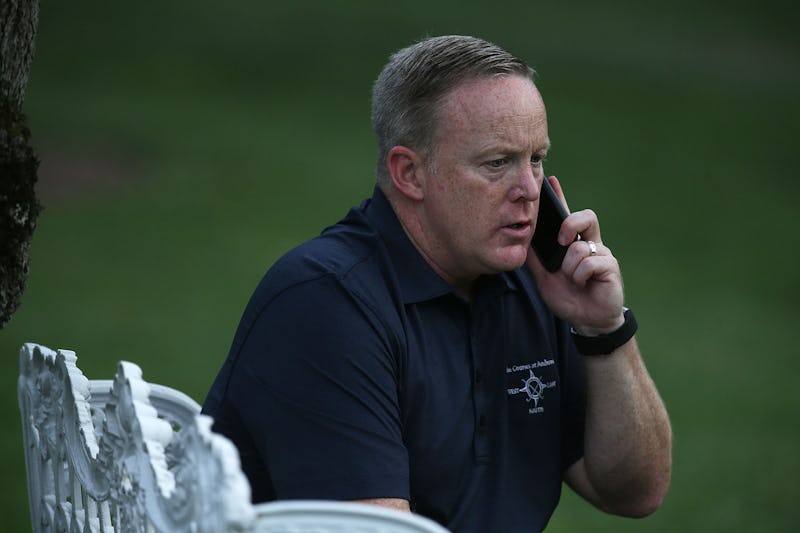 Alex Wong/Getty Images News/Getty Images
After serving six months in the White House's most visible, forward-facing job, former White House press secretary Sean Spicer's days behind the podium are done. Spicer resigned on Friday, reportedly after clashing with President Donald Trump over the hiring of Wall Street financier and former Fox Business Network host Anthony Scaramucci as White House communications director, and all sorts of stories and postmortems for his short tenure have been coming out since. But few are quite as perfect as this one: Spicer reportedly swiped a mini-fridge from some White House aides early in his tenure as press secretary.
In a decidedly embarrassing story that served as the lede for The Wall Street Journal's report on his departure, Spicer reportedly wanted a mini-fridge for his office at the start of his gig as press secretary ― a job, as it turns out, he would only hold for the next six months.
For whatever reason, however, he didn't simply decide to purchase a mini-fridge of his own, likely a fairly reasonable expenditure for a man who'd just signed onto a job paying $179,000 annually, the same amount as the White House chief of staff and senior strategist, among others. Instead, Spicer reportedly sent one of his aides to a nearby office to seize a mini-fridge being used by several executive branch employees.
They refused to turn it over, however, which apparently led Spicer to engage in a little covert action: after everyone had cleared out for the day, he was reportedly spotted by a White House colleague lugging the swiped mini-fridge through the White House driveway, ultimately stashing it in his office. Per The Wall Street Journal's report:
So Mr. Spicer waited until sundown—after his young staffers had left—to take matters into his own hands. He was spotted by a fellow White House official lugging the icebox down the White House driveway after 8 p.m.
In other words, if the report is accurate, Spicer personally nabbed a mini-fridge from someone else's office and took it for himself ― a mini-fridge which, according to the report, staffers relied on while "surviving on Lean Cuisine frozen lunches."
So, if you're looking for a way to remember Spicer now that he's leaving the public eye ― something besides the myriad gaffes, flubs, combative tiffs, and false statements he delivered from behind the podium, that is ― this might be your best choice. While plenty of people already conjure up an image in their heads of Spicer crouched in the bushes when they hear his name, you can now add him clutching a mini-fridge to the mental picture.
It's unclear what will be next for Spicer, although he'll surely have some job offers in the months to come. Although CNN says it will not hire him as an on-air personality, he does have extensive experience as a GOP surrogate on cable news, and that's been a fairly common career path for former White House press secretaries in recent years.