How To Get More Comfortable Going Down On Someone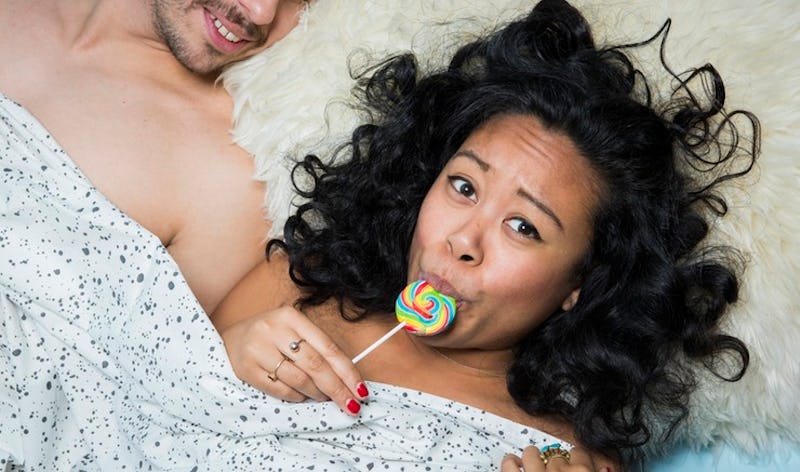 Bustle
We're always hearing that we could be having better sex, a better orgasm, or a better relationship. But how often do we hear the nitty-gritty of how we can actually better understand our deepest desires and most embarrassing questions? Bustle has enlisted Vanessa Marin, a sex therapist, to help us out with the details. No gender, sexual orientation, or question is off limits, and all questions will remain anonymous. Please send your sex and relationship inquiries to tips@bustle.com. Now, onto this week's topic: what to do when you're uncomfortable giving blow jobs.
Q: "I love reading your articles on Facebook, but never imagined I'd send in a question of my own. I love my man dearly. He goes down on me with a ton of confidence, but I'm way too shy and nervous to go down on him (he's incredible and doesn't even bring it up because he knows I'm really not comfortable with it). When I even think about getting my face anywhere near his penis, I feel myself tense up, but I really want to do it and make him feel amazing. Do you have any tips on how to get comfortable with giving blow jobs or ideas on working together with him to get me more comfortable?"
A: Thanks for the question! Blow jobs can evoke anxiety in a lot of women. Some women get performance anxiety about being able to do it correctly. Some women have had negative experiences with blow jobs in the past. And there's the simple fact that blow jobs are hard! It takes a lot of work to move a penis in and out of your mouth! I'm happy to help guide you through getting more comfortable giving oral. Here are seven steps.
Examine Your History
Before we get started on specific blow job tips, I wanted to check in with you about a really important topic — sexual abuse. That feeling of tensing up and getting scared is one of the most common experiences that the sexual abuse survivors I work with report. Some sexual abuse survivors were forced to give blow jobs, so it makes a lot of sense that the blow job experience would still feel anxiety-inducing. Other sexual abuse survivors get tense around any sort of sexual activity.
Since one in every three or four women has experienced sexual abuse, I'm in the unfortunate position of having to ask you this personal question: have you been abused? If you have, those feelings of tension may be a sign that there's something about the experience that you need to process with a professional. Get started with my sexual abuse survival guide.
Decide What You Actually Want
Here's a really important question that I think you should spend some time thinking about: do you actually want to give blow jobs? You get to decide which specific sexual acts you do and don't want to participate in. Don't want to try anal? You don't have to! Don't want to have a threesome? You don't have to! Don't want to give a blow job? Yep, you guessed it, you don't have to. I wouldn't go any further in this process unless you know that blow jobs are something you actively want to do.
Get Your Partner Involved
I want to take a quick moment to offer some praise to your boyfriend. It's great that he's not pressuring you or making you feel guilty. I hate to say it, but that's a rare quality these days. So way to go boyfriend, and way to go you for picking a good guy. I think there's an opportunity to get him even more involved in helping you feel comfortable with blow jobs. Is there any way your partner can be even more supportive, or put you more at ease?
Maybe it's something as simple as continuing to tell you that there's no pressure, and he loves you no matter what. If you feel any sort of performance anxiety around your blow job technique, it might help to hear him tell you what he likes in a blow job. Or perhaps there are ways for him to be supportive in the moment. Maybe it would help for him to hold you hand as you start giving him a hand job or blow job. Maybe you would like it if he talked to you in the moment, telling you he loves you and appreciates your efforts. Or maybe you'd like if the two of you could make eye contact. Even little things can make a world of difference with making you feel more comfortable.
Begin With Hand Jobs
In your email, you didn't say whether or not you give your boyfriend hand jobs. If you don't, I would highly recommend that you get started there. Hand jobs may feel less intimidating to you, and they can help you get used to playing with a penis. I'm sure your boyfriend wouldn't mind it either!
I would try positioning your body so that your head can be relatively close to his penis as you work on it with your hand. If you start feeling anxious, back away a few inches — but gradually see if you can decrease the distance between his penis and your head.
Start Small
Once you've gotten into a good hand job groove, you can try adding a little bit of mouth action. You can start off by simply kissing the skin around his penis while you use your hand on his shaft. Once you feel comfortable, move to kissing or licking the head of the penis, the shaft, or the balls. Again, keep doing most of the work with your hand. You're just doing tiny kisses and licks with your mouth. This may make you feel more comfortable, since you're not putting all of the pressure on your mouth to do the whole job.
Practice On A Sex Toy
Another way to practice getting more comfortable with oral is to practice on a sex toy. This can be particularly helpful if you get tense about having something in your mouth. A phallic-shaped vibrator or dildo is perfect. If you don't have a sex toy, you can try a hairbrush handle or a slim bottle. Heck, you can even use a cucumber! (Just make sure to wash any object before putting it in your mouth.) If you're really nervous, you can start with something much smaller, like your fingers or a toothbrush.
At first, practice simply holding the object in your mouth. Practice breathing in and out of your nose, and try to get yourself to relax. If you've started with something small, see if you can work up to something with a larger diameter. Eventually, you can start trying to slide the object in and out of your mouth. The idea is just to get used to having something in your mouth.
Use Your Hands As Reinforcements
As I mentioned up above, blow jobs are difficult! A lot of women get overwhelmed because it seems like a lot of work to do with your mouth. Your jaw can start to hurt, and you can be worried about your gag reflex getting triggered.
One of my best pieces of advice for making blow jobs easier and less intimidating is to use your hands as much as possible. You can use your hand on the shaft of his penis, and use your mouth to focus on the head of his penis. This is not a second-rate option, either. This is a legitimate technique that I recommend even to women who are totally comfortable with blow jobs. Your hand can provide much more intensity, while your mouth can be used to focus on the more sensitive, delicate head. It's much easier for you, and much more enjoyable for him.
For more specific tips, check out this detailed blow job technique guide, as well as my article about giving oral when you have a sensitive gag reflex. And remember — sex is supposed to be fun! Don't force yourself to do anything you don't want or aren't ready to do.
Good luck!