Spring Break Trips That Are Awesomely Unique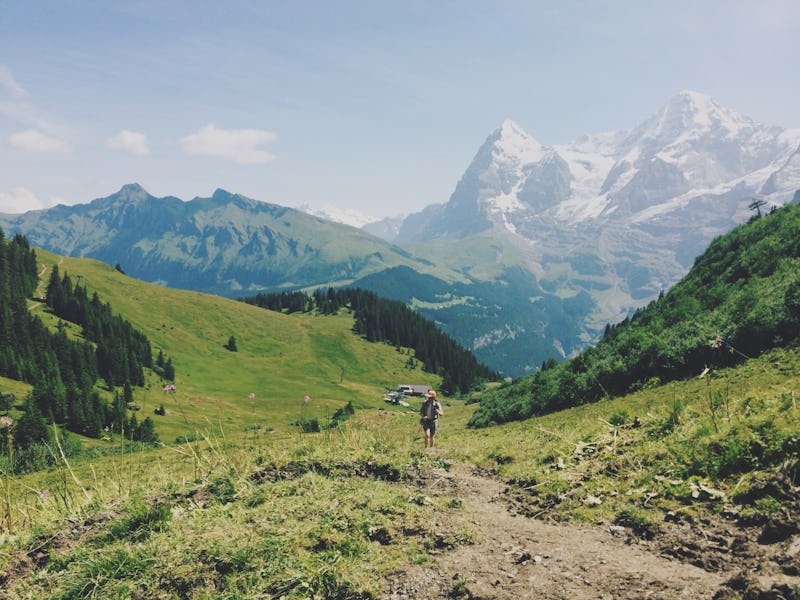 Kiersten Hickman/Bustle
Let me guess — you clicked on this because you want something completely different for your spring break. A real adventure, somewhere that other people just wouldn't have thought of. Maybe you and your squad are just plain sick of party beaches, city slicking, or road trips, and you're just looking for an easy getaway. Well, it's your lucky day, because I have some unique spring break trip locations that I think you're going to absolutely fall in love with.
Most of these places below I have visited myself, so it's safe for me to say that if you're really looking for something out of the ordinary (something that a generic tour guide book may have overlooked), I got your back. These places are all very unique, quiet, and the perfect place for you to hide from school for the entire week.
Now let me clarify that some of these towns really aren't that touristy, and you may be surprised by some of the abroad getaways how difficult it will be to not know the language. So when I say getaway, I really, really mean it. Each place listed as a few things that I recommend for you to try — so be sure to mark these down, journal every moment, and take a ton of Instagram photos for later.
So ... are you ready for some adventure?
Salzburg, Austria
Did you know that Salzburg is the birth city of Mozart? If you're looking for a divine classical music experience, take a trip to Salzburg this spring break. Get a table at the Mozart Dinner Concert and enjoy some of your favorite classics over a delicious meal, get the original Mozart Ball at the Café-Konditorei, and tour the house of Mozart and learn all about his history.
Cape Cod, Massachusetts
Many people around the East Coast take trips to the Cape during the summer – so skip the crowds and take a trip during your spring break! Stroll through the charming town of Chatham, take a trip up to the tip of the cape for a complete getaway in Truro, and see the very low tides at Scusset Beach.
Calistoga, California
If you're looking for a boozy vacation but want to avoid beach crowds (or even the crazy tourist crowds in Napa) settle yourself in Calistoga for the week. Stay at the Calistoga Inn Restaurant & Brewery (be sure to have a flight of their brews, they are amazing), tour the different wineries on the main drag, and join the townies on whatever is going on around town during the evenings!
Kiawah Island, South Carolina
Looking for the ultimate spa getaway? Escape to Kiawah Island in South Carolina a relaxing and rejuvenating journey. Check out the Sanctuary Spa at the Kiawah Island Golf Resort, and explore all of the fun dining places around town during your evenings!
Volterra, Italy
There's Rome, there's Florence … and then there's Volterra. It's this quaint little Italian town with tiny streets, hidden boutiques, and big cups of coffee and local cafés. Right outside of Tuscany, this province is sure to have some of the best real Italian dishes and wine that will make your tastebuds dance — and it's only a small trip to the leaning tower of Pisa.
Baden-Baden, Germany
Looking to for an even more extravagant spa getaway? Why not try one of the original Roman style baths in Baden-Baden, Germany? This little town has it all. Lots of local shopping, cute places to take Instagram shots, luxurious bath houses (and nude bath houses, in case you're feeling adventurous), and the cutest cobble stone streets to pursue at night. Be sure to order an iced coffee at a café while you are there — which is basically just a huge ice cream coffee float. No joke, they are delicious.
San Juan, Puerto Rico
Want to escape to warm weather but avoid the crazy party beaches? Take a trip to San Juan and discover all of the incredible history from this small island. Puerto Rico is small enough to drive around in just a few hours — so make it worth your while! Take a hike in one of the beautiful rain forests, and be sure to stop for one of those a sugar cane vendors (yes, real sugar cane).
Jackson Hole, Wyoming
For breath taking views and wintery hikes, take an adventurous trip to Jackson Hole. This beautiful town is the perfect alternative to atypical Colorado trip — and the Grand Teton mountains are so beautiful, you're going to run out of photo space on your phone pretty quick.
Channel Islands, United Kingdom
For another beautiful island getaway, take a trip to one of the Channel Islands right outside of London! I hear that Guernsey is supposed to be a beautiful place to visit (which I totally admit I got that from a book I just read, but I digress).
Swiss Alps, Switzerland
If you are lucky enough with a later spring break (aka, a warmer spring break), take a journey to the Swiss Alps in Switzerland for some hiking and beautiful sights. Most tourists take a stop in Interlaken during their visit, but I would find a small inn to stay at in Mürren if you're looking for something with slower pace.
Santorini, Greece
Who could ever deny such beautiful sights like these? Although you may be tempted to check out Athens in Greece, decide on a getaway in Santorini instead. It's an island of Greece that has a small and quaint scene of it's own. Take a walk around the docks, explore the small local shops in the area, and make sure to take a ton of pictures of this picturesque little retreat.
Wherever you go, remember to take lots of pictures and stay safe!