United Airlines' Value Plummeted By Millions Of Dollars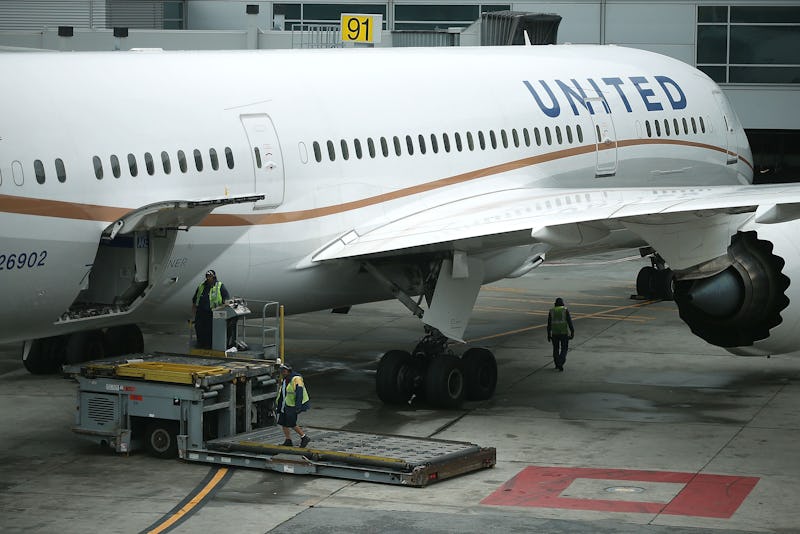 Justin Sullivan/Getty Images News/Getty Images
United Airlines is still reeling from public backlash after a video of a man being forcibly (and quite violently) removed from a flight went viral on Monday. Although the airline — after a series of controversial defensive statements — apologized for the incident, consumers refuse to forget it. Not only was the company incessantly mocked online, but United's stock actually plummeted throughout the day on Tuesday, at one point decreasing by $800 million from the company's initial total value.
United Continental Holdings, the publicly traded company that operates United Airlines, began the day on Monday valued around $22.5 billion. By midday Tuesday, the company's shares fell by as much as six percent, bringing the value down by almost a billion dollars. By the end of the day Tuesday following the United CEO's apology, United stocks were still down by $255 million.
It's often hard to determine the power that social media movements have to affect change within companies. But these figures reveal just how devastating the effects of this particular outrage may be for the airline, and just how much work United's PR team will have to do to clean up the mess.
While the company's stock remained relatively consistent when the controversial video first gained attention online on Monday, the United's CEO's initial claim that staff had acted according to protocol contributed to even further social media backlash, which could have directly affected the falling market value of the company.
The controversy began when United Airlines overbooked a flight from Chicago to Louisville, and asked passengers to volunteer to give up their seats on the flight in exchange for monetary compensation. When not enough people volunteered, 69-year-old David Dao was asked by United staff to exit the flight. When he refused, security came and dragged him away.
In response to public outrage over the incident, United CEO Oscar Munoz sent a letter to United employees that soon became public, calling Dao "disruptive and belligerent," and stating that he stands by the United employees who apparently "followed established procedures" by throwing Dao to the ground and dragging him through the aisle of the airline.
Munoz later offered his "deepest apology" and promised a "thorough review" of United's policies.
Still, cleaning up a $255 million dollar plummet won't be easy. As United Airlines continues to do damage control over the next few weeks, it will be interesting to see if the company is able to overcome the financial defect that was prompted by such a public social media scandal.