These Updates On Luann's Arrest Give Fans More Insight Into What Happened In Palm Beach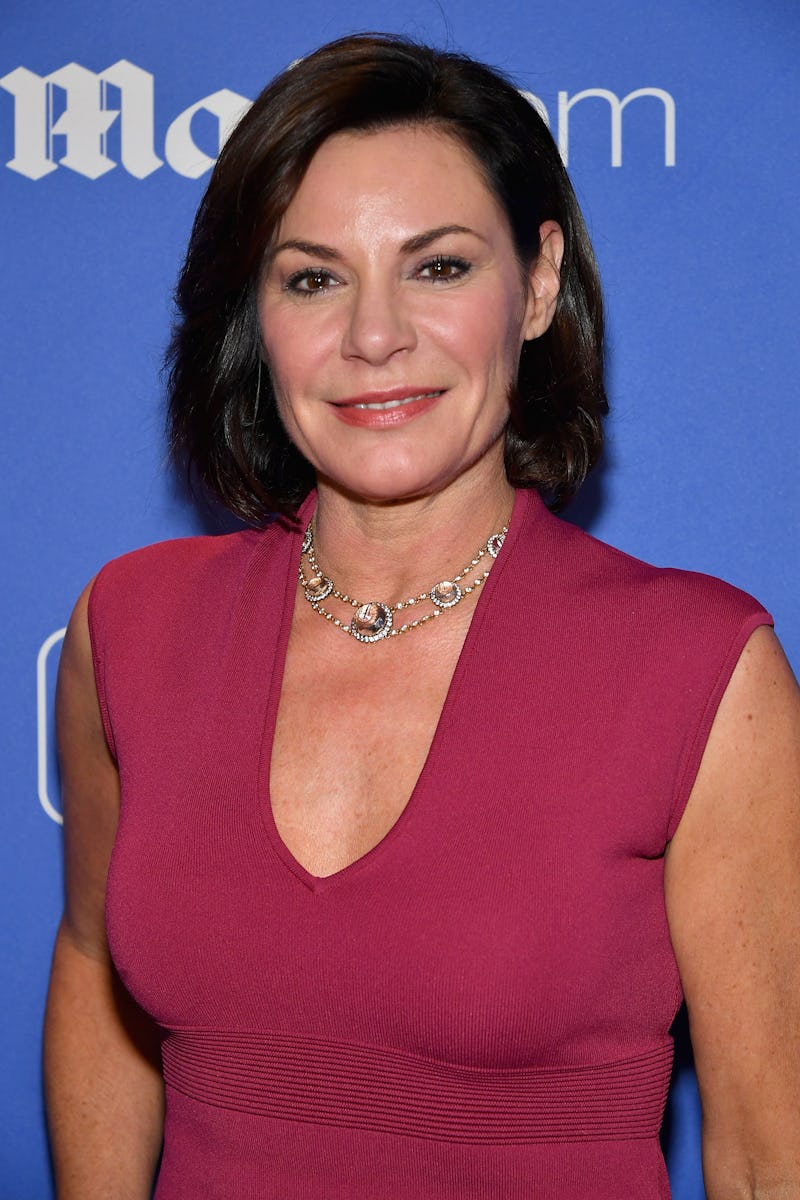 Slaven Vlasic/Getty Images Entertainment/Getty Images
Early on Sunday, Dec. 24, Real Housewives of New York star Luann de Lesseps was reportedly arrested in Palm Beach, Florida. The details surrounding the reality star's alleged crimes were a bit murky when the initial news broke, but a new police report — released Tuesday, Dec. 26 — has provided some updates. According to Page Six, the police report revealed that RHONY's de Lesseps was arrested for allegedly trespassing in a Palm Beach hotel room. (Bustle reached out to her rep, as well as the Palm Beach Police County Sheriff's Office, for comment, but did not receive an immediate response.)
Page Six reported that the Bravo personality allegedly entered room 407 of Palm Beach's Colony hotel on Saturday night, Dec. 23, with an unidentified man in tow. A member of the hotel's cleaning staff was reportedly finishing up her round of nightly turn-down service when the pair entered. The problem was, de Lesseps was reportedly registered to room 327, not 407.
The report, obtained by Page Six, continues to outline the events that followed: a hotel security guard was reportedly called to the room, and upon entering, instructed the couple (both of whom were allegedly in bed when the security guard arrived) to leave immediately. Then, after "multiple attempts to get both subjects to leave over a five minute period," the guard called the Palm Beach police, according to Page Six . Two officers arrived to room 407 around 9:20 p.m., where they found de Lesseps and her friend, Julie Olson.
Immediately following her arrest on Sunday, the Palm Beach County Sheriff Office's website confirmed that the reality star had been arrested on five charges (four of which are felonies), including alleged battery on a law enforcement officer, alleged disorderly intoxication, alleged resisting arrest with violence, and alleged crimes against a person, in addition to two charges of alleged corruption by threat. A report by the Palm Beach Post (published later Sunday afternoon) cited an assistant state's attorney, who reported that de Lesseps had allegedly kicked a police officer (at least one) and allegedly threatened another. (According to Page Six's new report, she allegedly screamed, "I'm going to f*cking kill you" after trying to escape from the police cruiser.)
Palm Beach Post's report gave way to an ongoing Twitter thread helmed by their intern Meryl Kornfield, who reported that de Lesseps had been arrested and taken to jail at 1:25 a.m. on the morning of Dec. 24. One of Kornfield's tweets also featured a photo of de Lesseps in a courtroom.
After the news of her arrest broke on Sunday, de Lesseps Luann tweeted out an apology that afternoon. She wrote,
"I want to offer my most sincere apologies to anyone that I might have offended with my behavior. This was my first time in Palm Beach since my wedding and being here brought up buried emotions. I am committed to a transformative and hopeful 2018"
She also provided a similar statement to People.
Fans may recall that de Lesseps married Tom D'Agostino on New Year's Eve 2016 in Palm Beach, Florida. Less than seven months later, de Lesseps and D'Agostino announced their divorce plans in August of this year. At that time, she tweeted,
"It's with great sadness that Tom & I agreed to divorce. We care for each other very much, hope you respect our privacy during this sad time!"
In both her recent arrest and her divorce, de Lesseps was upfront with fans via Twitter, expressing feelings that are often considered private. Although nothing quite excuses poor behavior, it does make sense that her feelings tied to her marriage and subsequent divorce may have been a catalyst in this particular situation. As she says herself, hopefully 2018 is a transformative year for the reality star.
Additional reporting by Jamie Primeau.