Here Are The Latest, Frightening Updates On The Wildfires In California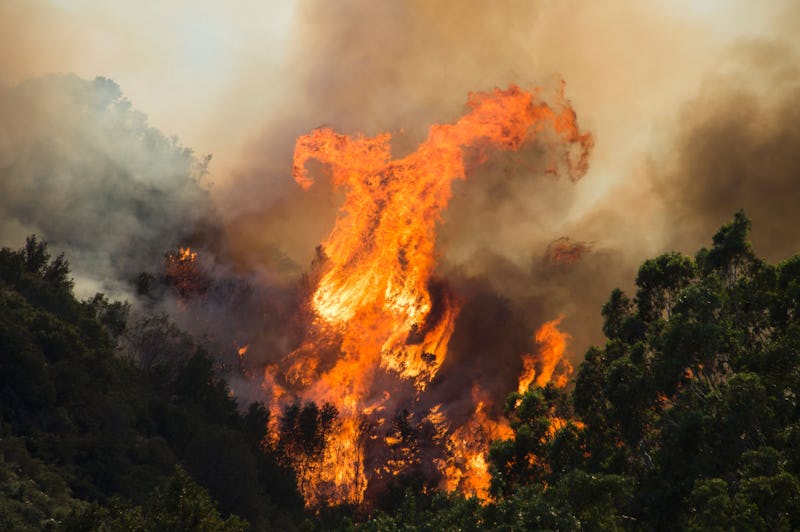 ROBYN BECK/AFP/Getty Images
Over the past few days, wine country in northern California has seen 17 separate wildfires, together burning through 115,000 acres. The decimated countryside is a scene of catastrophic devastation, and a state of emergency has been declared in eight counties by Gov. Jerry Brown.
At time of writing, there are 11 confirmed deaths from the fires and over 100 people hospitalized as a result of the fast speed at which the fires traveled, taking many by surprise. Additionally, there are at least 100 missing person reports that have been filed thus far, all numbers that local officials expect to rise as the situation stabilizes.
The affected counties include some of the most famous names in the region's renowned wine business, including Napa and Sonoma. At least two wineries have been reportedly utterly destroyed, alongside hundreds of homes and several resorts.
Roughly 20,000 northern Californians have evacuated the area, in many cases with little time to prepare. The blazes reportedly moved with unexpected speed, and many feared being overtaken if they didn't move quickly. Several shelters have opened up for those fleeing the fires.
Video of the aftermath posted by local reporter John Sepulvado shows how complete the fire's destruction was when it burned through a row of mobile homes in Santa Rosa. The smoke in the air is so heavy that it makes the video appear altered by some artificial filter.
According to the California Department of Forestry and Fire Protection, firefighters are expected to have more success containing and tamping down the fires on Tuesday. That's in part because strong Santa Ana winds that had pushed the flames quickly on Sunday and Monday are projected to lose some of their intensity. A drop in wind speed could go a long way in helping firefighting efforts in limiting the destructive scope of these blazes.
2017 has been a dangerous year for forest fires. While the annual average of acres burned is 6 million, the number for 2017 hit 8.5 million acres on Oct. 6 — before this most recent slew of fires broke out across California.
This uptick in large-scale forest fires has been attributed by some to the effects of climate change, with one study estimating that half of forest dryness after 1979 can be attributed to man-made changes to the planet's climate.
And those changes come with a heavy price tag. 2017 has been the costliest year ever recorded: as of September, the money spent on firefighting efforts hit $2 billion — and again, that's before the 17 fires of the past few days.
While devastating fires burned through California's northern wine country, another powerful fire threatened Anaheim, a city in Orange County, close to the Los Angeles metro area. Anaheim issued 1,000 evacuation orders for residents in the potential pathway of what has been named as Canyon Fire 2.
That fire was first brought to attention on Monday morning, but it grew quickly, and has since burned 6,000 acres. As of Monday night, at least 24 structures had been burned by Canyon Fire 2. Once again, strong winds were behind the fire's fast growth, with sustained speed of 30 mph, and gusts that went as high as 40 to 45 mph. According to Steven Beach of Cal Fire, there are 1,000 fire fighting personnel working to contain the fire.
Both sides of Highway 91 were shut down for parts of Monday, due to Canyon Fire 2's fast-spreading movement. There were other road closures as well, though all major highways have since reopened.
As all 17 of the fires are currently active, the full extent of damages to California residents remains unknown. What is certain is that the wildfires will leave widespread destruction in their wake.