The Latest From Barcelona Reveals A Horrifying Web Of Terror Attacks In Spain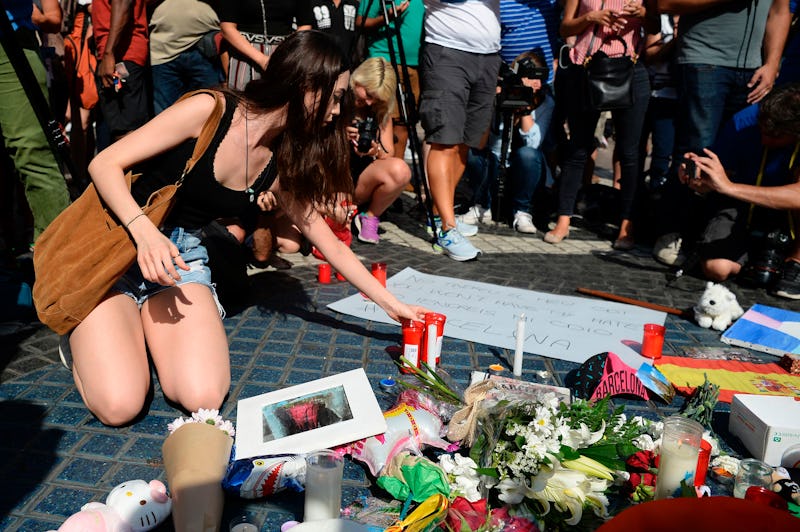 JOSEP LAGO/AFP/Getty Images
On Thursday, terrorist attacks struck two Spanish cities, roughly 75 miles apart. In the afternoon, a large vehicle plowed into pedestrians on Barcelona's Las Ramblas district — a highly popular tourist destination — reportedly killing 13 people and injuring more than 100. Then, in the early hours of Friday, five attackers wearing fake suicide belts crashed into civilians with a car in Cambrils, a town south of Barcelona. One woman was reportedly killed and six other people were injured in this second attack. The five attackers were all killed by police, but a manhunt is underway for the Barcelona van driver whose actions resulted in so many casualties.
A third incident, in the Spanish city of Alcanar, has been linked to the attacks in Barcelona and Cambrils. According to The Guardian, an earlier explosion destroyed a house in Alcanar — 124 miles from Barcelona and 56 miles from Cambrils — killing one person and injuring at least one other. Police believe that explosives were being made at the house. Catalan police chief Josep Lluis Trapero told reporters that the explosion in Alcanar prevented larger attacks from happening in Barcelona and Cambrils, because the attackers no longer had access to explosive materials.
Spanish officials are conducting an extensive manhunt across the country for 18-year-old Moussa Oukabir, who is suspected of carrying out the van attack at Las Ramblas. Catalonia police have arrested four other people suspected of carrying out the attack.
In Cambrils, a single police officer managed to take down all but one of the five attackers — a feat that Trapero described as "not easy." Another police officer was among those injured in the Spanish coastal town.
On Friday, enormous crowds gathered in Barcelona's Plaça Catalunya — near where the van began its attack on Las Ramblas — for one minute of silence in honor of the attacks' victims. Spain's King Felipe VI, Prime Minister Mariano Rajoy, and Catalan regional president Carles Puigdemont were all in attendance. Shortly after the moment of silence, the thousands of people gathered in the square broke out in chants of "I am not afraid!"
The U.S. State Department confirmed that at least one American citizen was killed and another injured in the attacks. Italian authorities, meanwhile, have released the names of two Italians who were killed in the attacks: Bruno Gulotta and Luca Russo. According to the Associated Press, Gulotta is being lauded as a hero after placing himself between his two young children and the van; his wife and children all survived.