Ursula's Head Fell Off At Disneyland & YIKES Is It Scary-Looking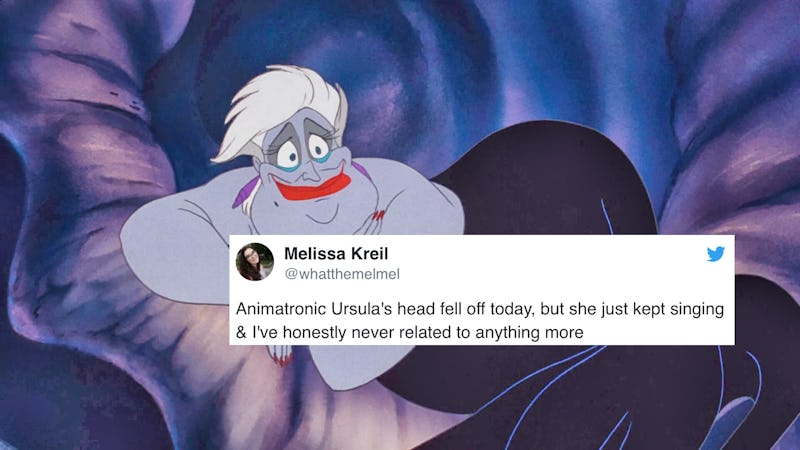 Walt Disney Pictures/Twitter
Well, this has not been a good week to be an animatronic at a Disney park; they've been losing their heads left and right. I mean that literally, by the way — according to several videos and photos currently circulating social media, an Ursula animatronic at Disneyland California Adventure and the Auctioneer animatronic in Disneyland Paris' version of Pirates of the Caribbean both allegedly suffered malfunctions this past weekend that involved their heads falling off. And, well… it's as terrifying as you probably think it is. Weirdly, though, it's also hilarious. (Bustle reached out to Disneyland and Disneyland Paris for comment, but received no response by press time.)
On Jan. 28, Twitter user @dizzzymissy launched a tweet out into the universe that quickly went viral for understandable reasons: It featured a video that seemed to show an animatronic of Ursula the Sea Witch of Little Mermaid fame singing her signature tune, "Poor Unfortunate Souls"… with her head detached from her neck. Instead of sitting where it should have been — that is, squarely on her shoulders — it looked as if it was hanging down in front of her chest, held on by only a few wires and cables. A child can be heard on the video saying, "It's broken!" Wrote @dizzzymissy in the tweet that accompanied the video, "This happened today which caught me off guard because Disney is usually so critical over things like this." She hashtagged it #offwithherhead — a nod to another Disney character, the axe-happy Queen of Hearts in Alice in Wonderland.
According to several follow-up tweets from @dizzzymissy, the malfunction allegedly occurred on the Ariel's Undersea Adventure ride at Disneyland's California Adventure park in Anaheim, Calif. Originally opened in 2011, the ride is a classic dark ride taking guests through an abbreviated version of the story from the 1989 film The Little Mermaid. It doesn't, however, usually involve a headless Ursula.
The Twitter user spoke to the Huffington Post about the alleged incident, although she asked not to be identified by name. "Immediately after we got off we were ushered out along with everyone else, and the employees looked very concerned," she claimed to HuffPo. "Many people had seen Ursula decapitated, including kids who understandably were upset." She said her little brother is the child who can be heard in the video saying, "It's broken"; he seemed OK, but @dizzzymissy noted that other children were crying. And, I mean, that's fair: As she put it to HuffPo, "It was a pretty freaky thing to see."
A lot of Twitter users have found the humor in the alleged situation; indeed, an entire Twitter Moment has since popped up featuring the best and funniest responses. Most center around the intense relatability of the moment — not from the point of view of the park-goers, but from the point of view of the seemingly headless Ursula:
Sounds about right.
However, there's also this gem:
…Which brings us to our next alleged incident. On the exact same day that @dizzzymissy's Ursula video started making the rounds, another Twitter user, @HOPAJUL, tweeted some photos he had snapped while riding Pirates of the Caribbean at Disneyland Paris — and they, too, featured an alleged headless animatronic. This time, it was the Auctioneer:
The Auctioneer has long been something of a controversial figure due to the fact that, in the original versions of the ride, he's, uh, auctioning off women to the plundering pirates as brides. Not a great look. Happily, though, that's changing: In 2017, Disney announced that the auction scene would be altered in the Pirates of the Caribbean ride such that loot, rather than women, would be up for sale; what's more, the Redhead — who had hitherto been one of the "lots" — is slated to become a pirate herself. The changes debuted at Disneyland Paris on July 24, 2017, with updates planned for both Disneyland and Disney World later in 2018.
That wasn't the only picture @HOPAJUL managed to take, by the way; he also broke out his good camera for the occasion:
And made this horrifying, yet hilarious observation:
Truly the stuff of which nightmares are made.
I'll be honest: Part of me isn't totally convinced this whole "OMGHEADLESS ANIMATRONICS!!!111!!1!!!" thing isn't a hoax. I mean, what are the odds of this same, terrifying malfunction happening on the same day on two different rides at two different Disney parks? That's one hell of a coincidence.
On the other hand, rides do break — even at the Most Magical Place(s) On Earth — so maybe it really is just a freak accident or what have you. In any event, Disney hasn't yet commented on either alleged incident (Bustle has reached out to both Disneyland and Disneyland Paris), so in the meantime, all we can do is look at the photos and videos purporting to depict both pieces of hilarity and laugh at it. Even if it weren't true, it would still be funny, if also kind of frightening.
And, I mean, hey, anything that gives us an opportunity to make this joke is A-OK, right?
Right.