What USA Gymnastics Filing For Bankruptcy Means For Survivors Of Larry Nassar's Abuse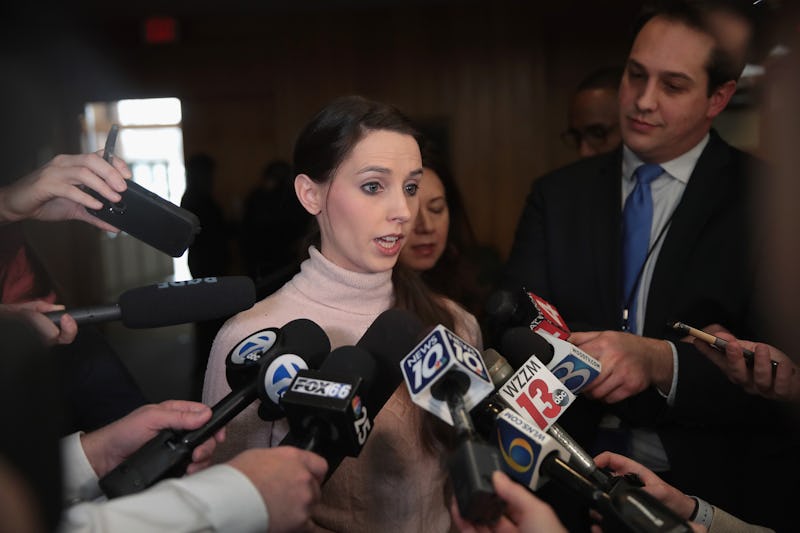 Scott Olson/Getty Images News/Getty Images
The Wall Street Journal reported Wednesday that USA Gymnastics has filed for bankruptcy. The official governing body for American gymnastics has been swamped by lawsuits and financial troubles ever since its former doctor Larry Nassar pleaded guilty to sexually assaulting female gymnasts under the guise of providing them medical care at the organization and the bankruptcy filling will have significant implications for Nassar's victims.
Nassar is serving an effective life sentence for his crimes, which also included possession of child pornography. But the fallout from his actions is nowhere near over, as there are still 100 Nassar-related lawsuits against the organization still making their way through the courts. Survivors of Nassar's abuse and advocacy groups have accused USA Gymnastics of failing to take proper action against Nassar after first catching wind of his abuse; Steve Penny, the former head of the organization, was arrested in October on felony charges of evidence tampering for allegedly attempting to bury the allegations against Nassar. He has pled not guilty.
USA Gymnastics' Chapter 11 bankruptcy filing will have several ramifications for the organizations and the survivors of Nassar's abuse, and American gymnastics in general. For one, it will put an immediate halt to the U.S. Olympic Committee's efforts to dismantle USA Gymnastics and form a new governing body for the sport, a process that the Olympic committee initiated in November.
However, that process will now be put on hold as the bankruptcy proceedings play out. Kathryn Carson, chair of USA Gymnastics' Board of Directors, said in a press release that this will allow the organization to "work with the United States Olympic Committee to determine the best path forward for the sport of gymnastics."
According to the Journal, the bankruptcy filing will also put a halt to depositions and discovery in the outstanding lawsuits that Nassar's victims have filed agains the organization. Discovery is the process of obtaining documents from the opposing side during a lawsuit; it's standard in legal proceedings, but Wednesday's bankruptcy filing will put the breaks on the process — perhaps, according to the Journal, permanently.
As a result, survivors of Nassar's abuse who've filed lawsuits against USA Gymnastics won't be able to learn "who at USA Gymnastics and the U.S. Olympic Committee knew about Nassar's criminal conduct and failed to stop it," attorney John Manly, who represents 180 of Nassar's alleged victims, told NBC News.
"The leadership of USA Gymnastics has proven itself to be both morally and financially bankrupt," Manly said. "They have inflicted and continue to inflict unimaginable pain on survivors and their families."
In its press release, however, USA Gymnastics framed its decision to file for bankruptcy as a way to "continue to support its athletes, to fully operate and meet its responsibilities to the entire membership and to expeditiously resolve the claims made by the survivors of sexual abuse perpetrated by Larry Nassar."
"We owe it to the survivors to resolve, fully and finally, claims based on the horrific acts of the past and, through this process, seek to expedite resolution and help them move forward," Carson said. "Our sport is safer and stronger thanks to the bravery of these women. The Chapter 11 filing and the expedited resolution of these claims are critical first steps in rebuilding the community's trust."