Valentina's 'Rent: Live' Performances Didn't Go Over Well On Twitter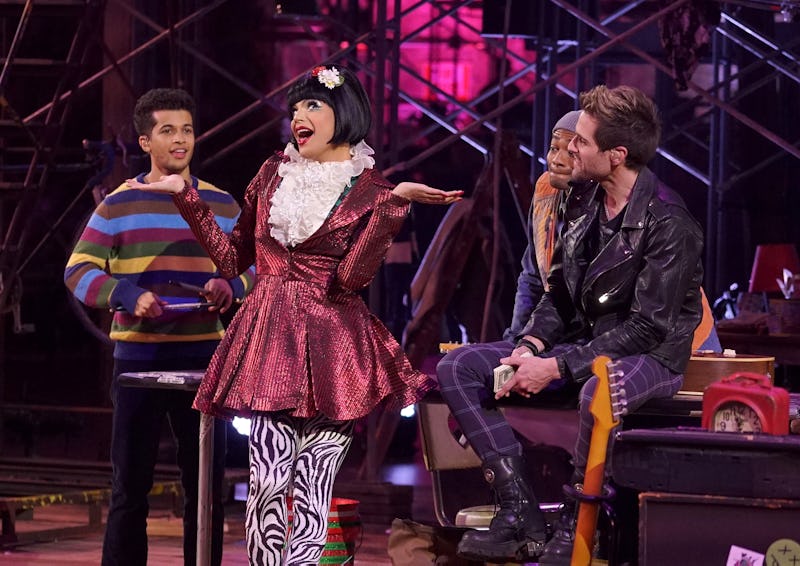 Kevin Estrada/FOX
Rent Live, like other musicals events before it, is all about the social media reactions. And while Valentina's performance in Rent Live got mixed reviews from fans, embracing imperfections is key to the live musical experience. For those unfamiliar with the performer, Valentina is best known for competing in RuPaul's Drag Race and most recently, RuPaul's Drag Race All Stars. She was awarded the Miss Congeniality award, voted by the fans, and has appeared in Elle magazine Mexico, Paper magazine and Vogue. And, according to her Fox bio, she is also currently the face of Mexican fashion designer Benito Santos' latest collection.
So, she's obviously no stranger to the stage. And by most accounts, she totally nailed the energy of the Angel that Rent fans know and adore. That being said, her first appearance in Rent: Live was the same as in the 2005 movie and original stage play, with "Today 4 U." But unlike those performances, some of the notes on Sunday night were just a little bit out of key, as Twitter so quickly (and snarkily) pointed out.
Seriously, that could have happened to anyone. And I dare any single one of the complainers to take a soundstage in front of an (almost) live audience and nail literally Every. Single. Note. Mistakes happen, and Valentina was on point.
In fact, the live crowd was very much there for her during Angel's debut in "Today 4 U," and not all of the tweets were negative.
Others were not:
The criticism mainly comes from a place of love, after all!
At the end of the day, we're all just trying to have a good time:
I mean, you have to hand it to a performer who was eliminated from Drag Race just days before doing Rent: Live (although Drag Race likely filmed months ago, it's still a good showing for the performer). Valentina told Billboard ahead of Sunday's performance that she wasn't worried about any live mistakes. In fact, she was concerned with too much success. She said, "What does worry me is being an actress, and trying to become an award-winning actress and winning an Emmy, that worries me. 'Cause if we give it to them, we could be nominated!
All jokes aside, Valentina was also honored to be part of the iconic show and thought that Sunday's broadcast couldn't have come at a better time, given the visibility it lends to the LGBTQ community. She said in the same interview, "We need to be seen, and we need to be heard, and we need to be fearless. Here in America, it's the land of the free, the land of the brave, and I believe that this story really reflects that... I really am grateful to this storyline to be seen by a broader audience, and I hope they enjoy it."
So all the haters can take a seat — Valentina's performance as Angel will definitely go down in Rent history, for better or for worse.