Why Roger's Parts In 'Rent: Live' Might Look A Little Different Than The Rest Of The Show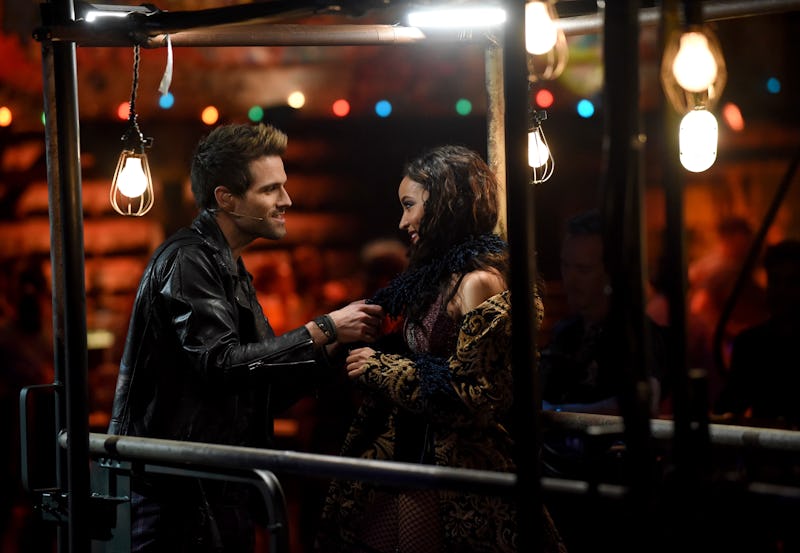 Ray Mickshaw/FOX
While anything can happen on live TV (and in live theater), Fox's Rent: Live had a major problem even before the show aired on Jan. 27. Roger actor Brennin Hunt was injured during Rent Live rehearsals. Yet, you may have not realized it, since Hunt appeared in the beginning of the production to sing Roger's signature song, "One Song Glory." As the cast explained after Hunt and Tinashe performed "Light My Candle" as Roger and Mimi, Hunt broke his foot during Saturday's dress rehearsal. That means that in order to have the rather essential character of Roger for the performance, most of Rent Live is actually not live.
Just a few hours before Rent Live was set to premiere, The Hollywood Reporter wrote that Hunt had been injured during dress rehearsal on Jan. 27. "Last night during a live performance of Fox's production of Rent, one of the actors, Brennin Hunt, was injured. But in the spirit of Rent, everyone — producers and cast, original and current — is dedicated to ensuring that tonight's broadcast must, and will, go on," Fox said in a statement. Fox also noted that taped segments would be used to feature Roger, which the cast confirmed during Sunday's show when Jordan Fisher, who played Mark, said, "Most of what you see tonight will come from last night's performance."
From your seat on the couch, though, you may not have even realized that Hunt wasn't there for the real live show since the dress rehearsal was also in front of an audience. And Hunt will eventually show up on-stage for the actual live Sunday performance. Fisher added in the cast's address, "We've all rallied together to rework the final act, so that all of us — including Brennin and the original Broadway cast of Rent — can perform it for you live."
That means that after "La Vie Bohème," you should see Hunt perform live as Roger. Or, as some people are hoping, maybe the original Roger, Adam Pascal, will step in for some parts.
Those who got a ticket to Sunday's live show, however, did get to see Hunt perform. According to some tweets from audience members, Hunt came on stage in a wheelchair to perform his songs. So the audience wasn't stuck watching playback from the dress rehearsal like everyone at home was.
Still, Hunt suffered a major injury and he's trying to make the best of the situation. Hunt posted in an Instagram Story that the crew was helping to customize his Roger pants to accommodate his cast. He added, "Breaking my foot last night was not fun, but it's been great being back on set with everybody. I love these people so much. They've showered me with love and kindness which is the essence of this musical and I am just truly honored and blessed to be a part of this Rent family."
As THR reported, Hunt and the rest of the cast don't have understudies. And while that's a bold move for these types of live shows, Hunt and the rest of the cast are trying to make the most of it. It's just that the title Rent Live may not really be so apt anymore.