This 'Pump Rules' Rumor Spiraled Rather Quickly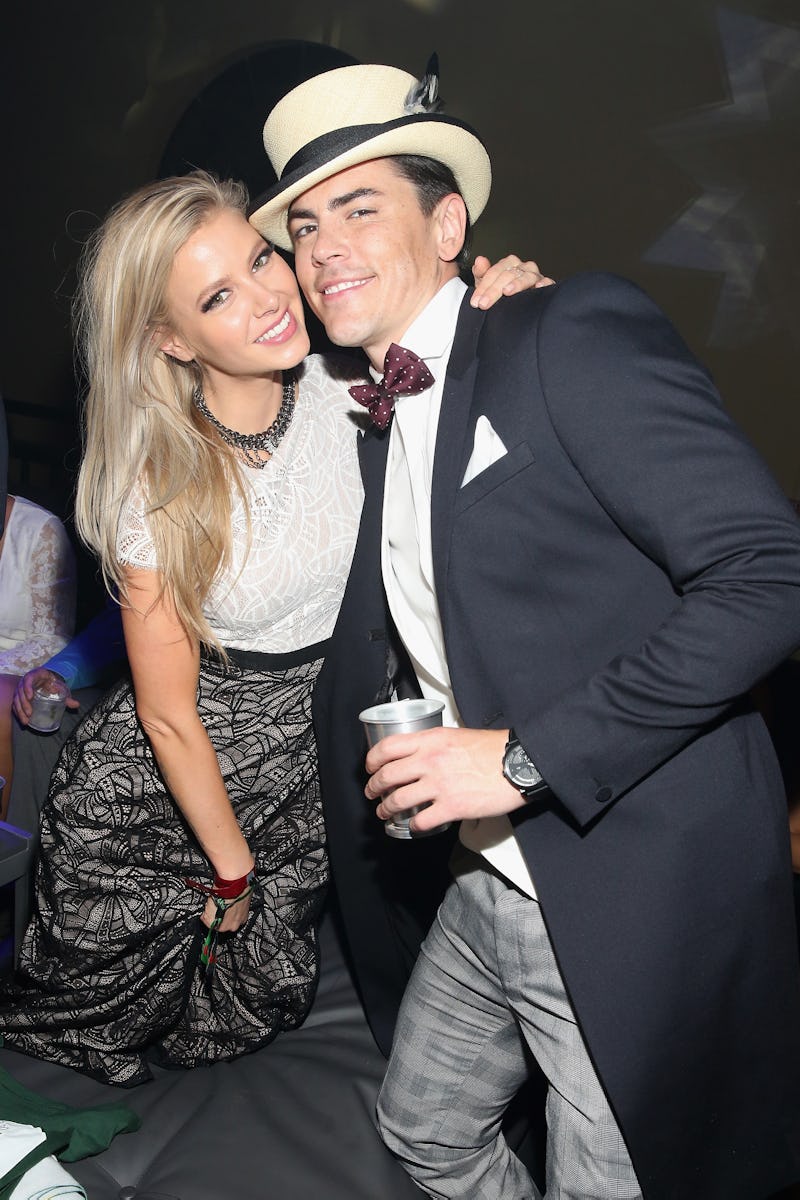 Robin Marchant/Getty Images Entertainment/Getty Images
I gotta tip my SUR captain hat to the Bravolebrity rumor mill, for it really went above and beyond this week. On Thursday, Vanderpump Rules SURtender Ariana Madix Instagrammed a picture of the very special souvenirs she purchased during Brittany Cartwright's Las Vegas birthday vaycay: two exquisite Taco Bell rings. However, as Bravo's The Daily Dish pointed out, a viewer's joke about the Instagram story accidentally stoked the gossip fire; before anyone could say Nacho Cheese Doritos Locos Tacos Supreme, Madix and Tom Sandoval engagement rumors manifested. I love the internet.
After Madix posted a photo of the stunning Taco Bell rings she bought at the Taco Bell Cantina (aka The Greatest Place On Earth), a Madix fan account screen grabbed the Instagram story and shared it with the Twitterverse. "Congrats on your engagement @ariana2525 and @TomSandoval1," tweeted @TeamArianaMadix. The tweet was all in jest. In good fun. Simply a fan's tongue-in-cheek shoutout to Madix, Sandoval, and the T. Bell rings. But did that stop the tittle-tattle from rearing its head? Of course not.
No, those Taco Bell rings on Madix's middle finger and pointer finger are not engagement rings. No, Madix is not betrothed to her long-term boyfriend. And no, that Instagram story does not mean there are wedding (taco) bells in Madix and Sandoval's future. Can't a gal wear some T. Bell rings without stirring up serious proposal chatter?
Man, those rings are a phenomenal addition to any jewelry collection.
Madix wasn't the only one to think outside the jewelry bun. Fellow Pumper Stassi Schroeder also procured those bands whilst dining at the fine establishment that is the Taco Bell Cantina.
Oh, wait. Wait just a minute. Madix might be affianced after all. Please consider the tweet below.
Holy Cheesy Goridta Crunch.
Madix is such a lucky duck.
Speaking of lucky ducks, the Pump Rules ladies saw Britney Spears in concert and went to the Taco Bell Cantina this week. I give their Vegas trip five stars, a standing ovation, and 700 Taco Bell towers. Those Pumpers really are living their best lives.