Uh, Jax Was In A Britney Commercial?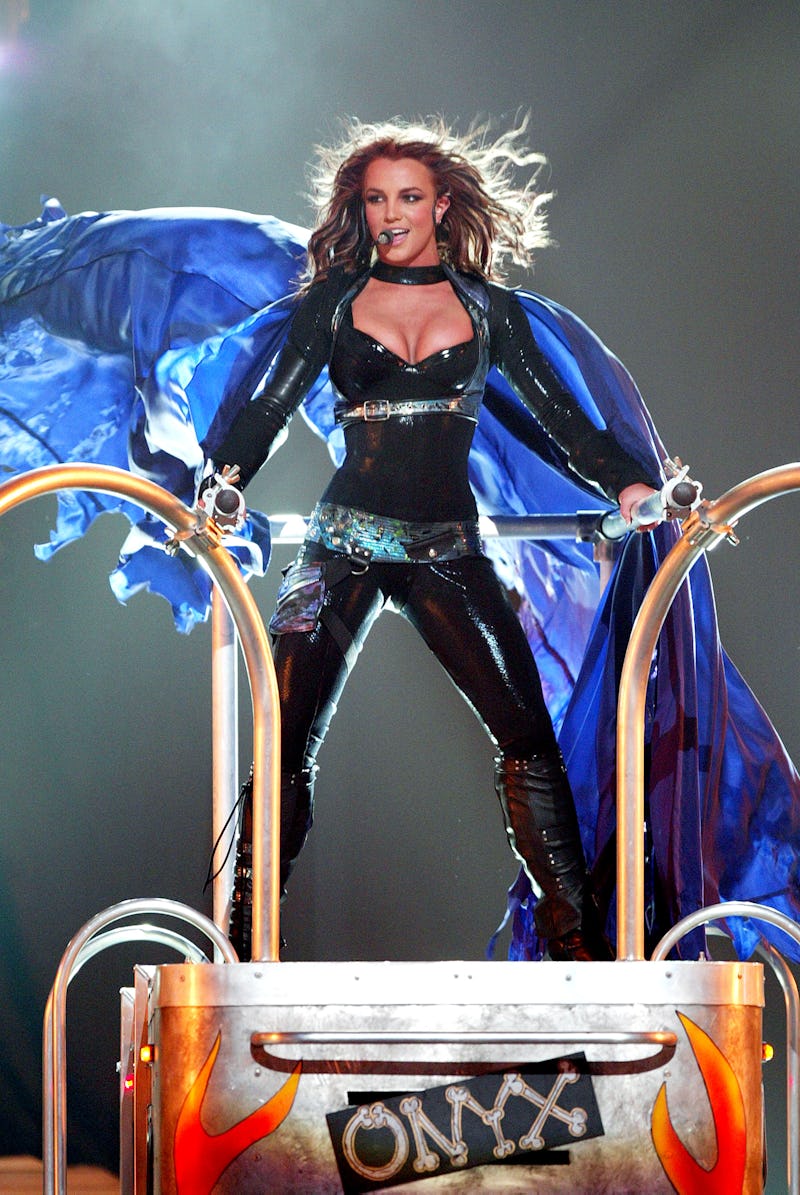 Frank Micelotta/Getty Images Entertainment/Getty Images
Over a dozen years ago, one of my favorite reality stars of all time worked with one of my favorite pop stars of all time. And I was only made aware of this yesterday. (Yes, I'm beside myself. Thanks for asking.) On Wednesday's episode of The Daily Dish podcast, Vanderpump Rules gemstone Jax Taylor revealed he's worked with Britney Spears before. Taylor, who also modeled for Assassin's Creed video game boxes and Abercrombie & Fitch, was in a commercial for Spears' 2004 tour.
I know a Holy Spearit and Jaxy-poo crossover seems too beautiful and perfect to be real, but believe you me, it is real.
"So I was the statue in the Onyx Hotel Tour," Taylor told hosts Rachael Roberts and Megan Segura. "So I had to, like, shave my body completely, which took all night long. Then they painted me from head to toe in silver, and I was the Thinking Man, and I come to life and I kiss her on the cheek. She comes racing down the hotel with the dogs, and I'm in the hotel and I come back and kiss her on the cheek. That was my cameo."
Yep, still beside myself. Thanks again for checking in.
"I actually was in Miami and shot [Spears'] music video the day she got divorced for the Onyx Hotel Tour," recalled Taylor. "It was the day she married that guy Jason [Alexander]. She got married the night before. The day of the photo shoot she got divorced."
Initially, I was peeved that Taylor had gone this long without sharing this tidbit with his adoring fans. But then, something dawned on me: the bliss this TV spot brings me eclipses my disappointment. The bliss the TV spot brings me runs circles around my disappointment. It might've taken its sweet time getting here, but I'm grateful it's in my life now.
Want to watch a metallic Jason Cauchi do a spot-on impression of Atlas? You can watch the ad below (shoutout to The Daily Dish for finding it).
As far as "Things The Pump Rules Stars Did Pre-Pump Rules" go, appearing in a Godney commercial has to be one of the best. And that's saying a lot: Before they were Bravolebrities, Pumpers popped up on shows like The Hills, Victorious, and The Amazing Race. A pretty stacked list, to say the least.
But this is just... it's just so special.
You can listen to The Daily Dish podcast here.