'Vanderpump Rules' Star Lala Kent Announced Her Engagement With The Sweetest Message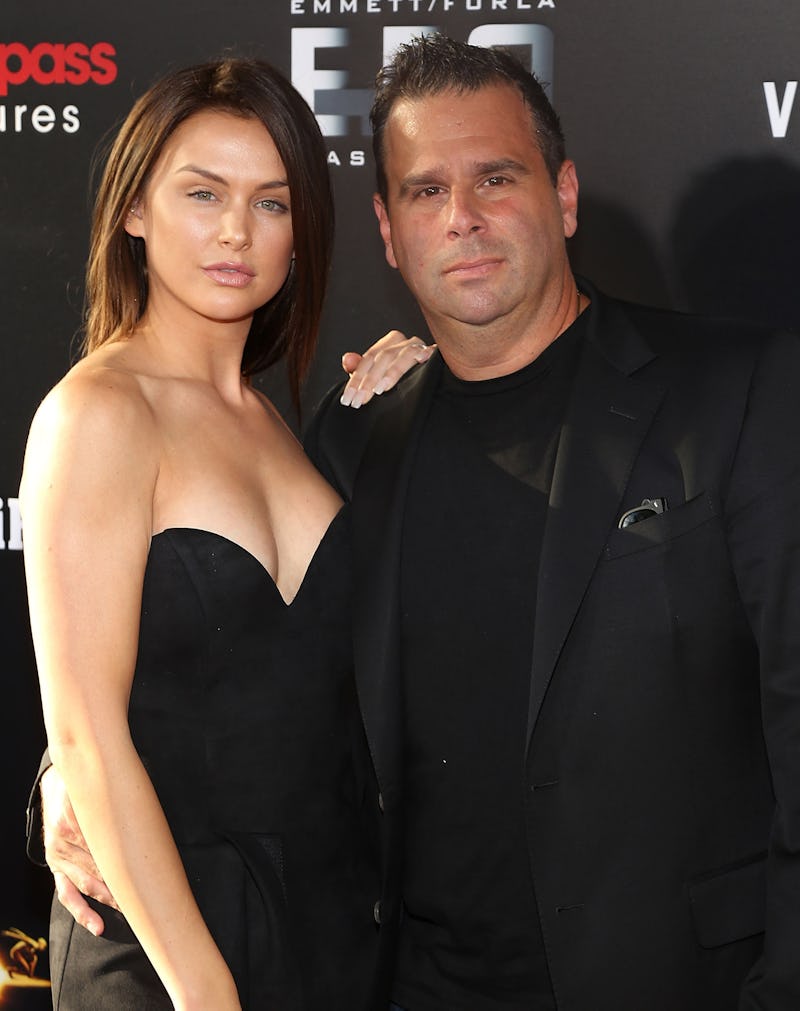 Manny Carabel/Getty Images Entertainment/Getty Images
Well, it looks like congratulations are in order! Vanderpump Rules star Lala Kent just got engaged to longtime boyfriend Randall Emmett, according to People. Trailing the outlet's report — published Sunday morning, Sept. 2 — by a few minutes, Kent announced the engagement news herself via an exceedingly heartwarming Instagram post that doubled as a sort of mini tribute to her new fiancé.
"Last night was the best night of my entire life," she wrote. And why's that, again? Because the "man of her dreams" (to borrow Kent's own turn of phrase) finally got down on one knee, that's why! Captioning a sweet string of photos that picture the newly-engaged pair looking very much in love along the shores of Cabo San Lucas over the weekend, Kent continued the announcement post, writing,
"I got engaged to the man of my dreams. I get to call this amazing human my fiancé! An engagement last night, my birthday today, and every sign my dad could possibly send me to let me know he's here. I'm the happiest girl in the world."
Vanderpump Rules fans know this latest installment in Kent and Emmett's lengthy relationship saga has been a pretty long time coming. After years of speculation as to the identity of Lala's so-called "mystery man," audiences were finally given the answers they'd been looking for last season, when the series revealed that it was Emmett who'd been holding the keys to Lala's heart. (And might've given her the keys to that Rolls Royce, too.)
The couple's dating timeline is definitely a little murky, but if last year's reports are true, it sounds like Kent and Emmett first kicked off their relationship about mid-way through 2016. Kent's comments about her man on social media, as well as on the show, definitely gave viewers an inkling that the two were in it for the long haul. But it wasn't until earlier this summer that Kent and Emmett first spoke openly about taking their relationship to the next level, and what that might look like for them.
Back in June, Emmett told Us Weekly during a joint interview with his then-girlfriend (and now-fiancé) that he was waiting for the right moment to pop the marriage question. "That's for the stars to align, when they align," said the big-league film producer at the time, though he made it clear that — marriage or no marriage — Emmett wants to spend his life with Kent. "Listen, I love Lala and I'm going to be with her always and forever," he told the publication.
Judging by Sunday's engagement news, it seems pretty safe to say the stars aligned during the couple's romantic weekend trip to Mexico, where they also celebrated Kent's 28th birthday, according to several reports. But, after parsing through People's original report on the news, it certainly doesn't sound like Emmett left the proposal up to chance, by any means. In fact, according to People, he had the whole thing planned out.
On the eve of her birthday, Emmett surprised Kent with a cozy setup outside their resort comprised of some comfy-looking couches and a big screen playing an episode of Friends. (One of Kent's favorite shows, per People's report.) But the sitcom episode was reportedly soon replaced with a sweet montage reel featuring memories and milestones from the couple's two-plus-year relationship. The thoughtful video provided Emmett with what sounds like the perfect segue to get down on one knee and put a ring on it, while a private fireworks show erupted in the background. Talk about a meaningful public display of affection, no?
Those who'd like to take a closer look at Kent's gorgeous engagement ring will probably want to click through the three-part photo series included in the reality star's announcement post. The third photo sees a close-up shot of the sparkly diamond adorning Kent's manicured left hand. "I keep looking down at my ring finger," she told People, adding that she's "just so happy" to say they're finally, officially engaged. "We are so excited to start planning the rest of our lives together and I'm excited to put as much detail as Randall did in our engagement into our wedding," Kent finished.
As far as the couple's actual wedding goes, it's probably a little too early to start making plans. But whenever Kent and Emmett do eventually tie the knot, here's to hoping the ceremony (not to mention the married partnership that comes after) is every bit as magic as the proposal.