'Vanderpump Rules' Star Lala Kent's Comments About Her Boyfriend Are Seriously The Sweetest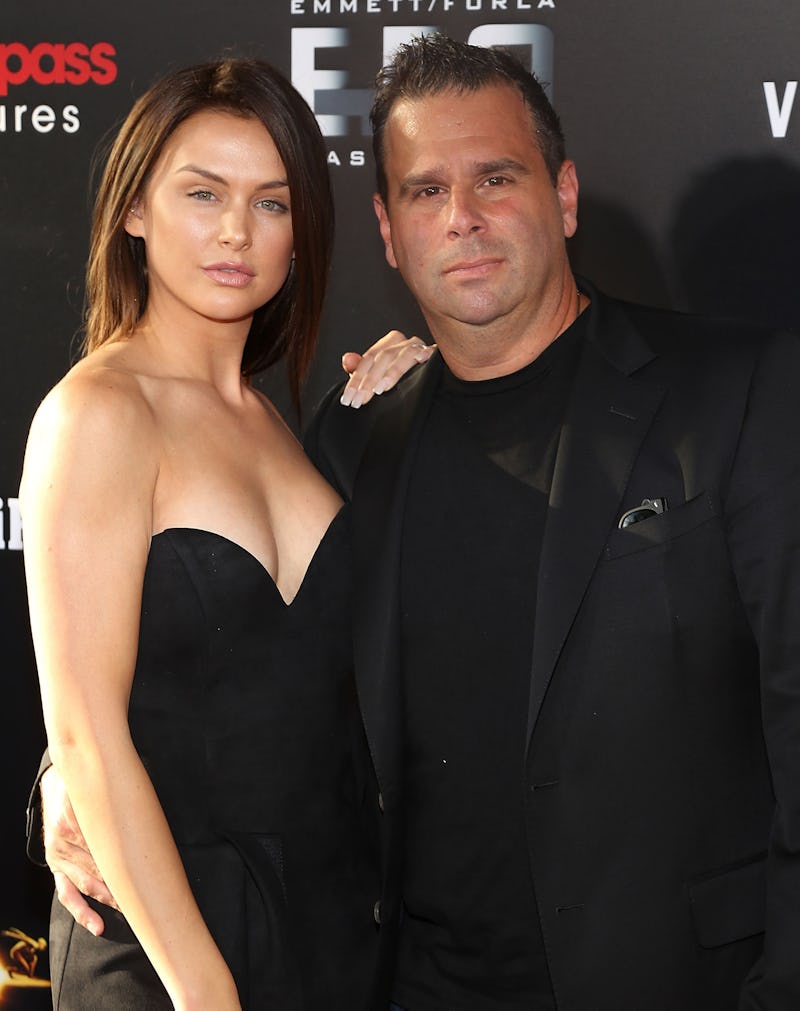 Manny Carabel/Getty Images Entertainment/Getty Images
For fans of Vanderpump Rules, the truth behind SUR host Lala Kent's mystery man was finally revealed this past season. It turns out that, for several years, the singer had been dating Hollywood producer Randall Emmett. They've kept their romance private for the most part, but in an interview with Us Weekly on June 15, Lala Kent's comments on her boyfriend prove that the producer and the reality star really might be together forever.
Emmett and Kent attended the premiere of Gotti, Emmett's latest film, and spoke to Us Weekly — together! Seriously. Kent and her man gave a joint interview to Us Weekly. It wasn't just about the film, either; the two dished on their relationship. Wild. Obviously, the magazine's first question for the pair was the subject of marriage. "That's a question for him," Kent told the magazine, "I don't know! I'm so happy." Emmett, who founded the company that produced Gotti, elaborated, "Listen, I love Lala and I'm going to be with her always and forever." As for I dos? "That's for the stars to align when they align," Emmett said.
Whether it's in the cards for the lovebirds is unclear — but it's obvious that they're blissfully happy together as it is. Just don't expect Emmett to appear on Vanderpump Rules next year.
In the Us Weekly interview, Kent quickly shot down that idea — and quashed rumors of a spinoff about her and her man in the process.
"Never! You know, I like my relationship a lot. So, I'm gonna protect it. This [relationship] isn't this for the public. This is just for us to enjoy the two of us and not have outside influences."
Added Emmett:
"You know, she's the star. I want her to always be the star. I want to... I'm not good here! Let her be the star, and I'll always be behind the scenes."
Aww.
Celebrities opening up about their life together is common, after all, but not this particular relationship. If you've watched even one episode of Vanderpump Rules since Kent joined the cast in Season 4, you've likely heard of her mystery beau and all the bells, whistles, and rumors that came with the relationship. It turns out that not only is he real, but the two are spectacularly in love.
It took some time to go public with the relationship, but now they're all over one another's Instagram accounts. Kent even disclosed some details — and mentioned him by name! — in the Vanderpump Rules Season 6 reunion episodes in May 2018. It turns out that the majority of the Pump Rules cast has met and/or spent enough time with Emmett to know that the enigma previously known as "Lala's man" is the real deal. It's adorable — and admittedly, a bit of a surprise. There was just so much mystery for so long.
Oh, and while Emmett might not be making any appearances in Vanderpump Rules Season 7, Kent promised one more thing will: Her bottle. The singer's recipe for a soothing blend of milk and honey made headlines this past season, not for the content of her anti-anxiety recipe, but for its delivery system. A grown, professional woman that snuggled up to her "baba" caused a stir online and picked up more than a few famous fans. Selena Gomez made one of her own to watch the Vanderpump Rules reunion and posted about it on social media. In the interview, Kent said that was so cool to see and assured the magazine that the baba will be back on the show.
"It's like, that's what I signed up for — that people would come into my world and see what I do," she told Us Weekly. "So, whether you like it or don't like it, it's Lala-Land. I think it's cool."
Despite being heavily involved in the industry — Kent sings and has several upcoming film appearances — the couple rarely make public appearances together. It was years before anyone knew the two were together, so a public appearance and a joint interview is especially rare. The effusive way they described one another should put to rest any rumors spawned by the secrecy that shrouded the relationship for so long. The brief Us Weekly interview is also a charming moment for Kent's fans, as most of her public appearances surround her makeup line or career. Taking a moment to see her reveling in her relationship so publicly is a joy.