Vanessa Hudgens's Favorite 'High School Musical' Memory Will Take You Way Back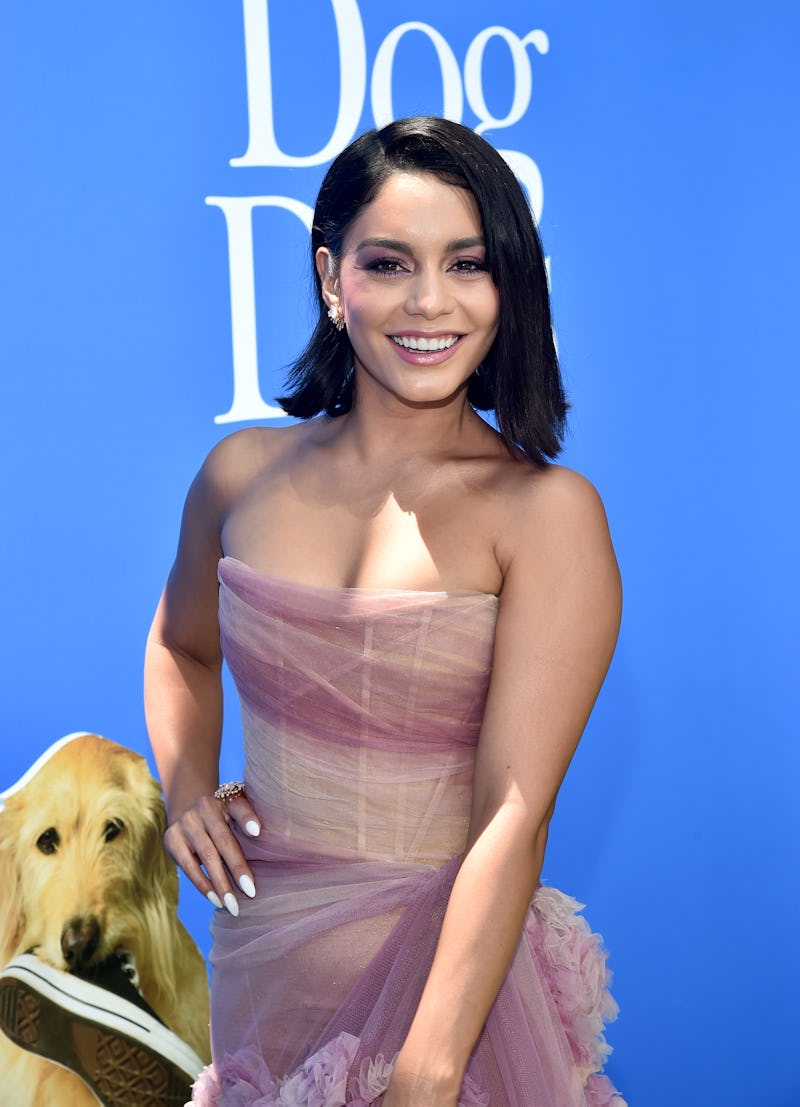 Alberto E. Rodriguez/Getty Images Entertainment/Getty Images
It's been more than a decade since the first High School Musical movie premiered on the Disney Channel. But for fans, there's still plenty of nostalgia surrounding the franchise. Vanessa Hudgens shared her favorite High School Musical memory, and anyone who's seen the three movies will be able to relate.
Of course, Hudgens and her costar Zac Efron have gone on to appear in plenty of other projects over the years. Most recently, Hudgens appeared in Dog Days. But it looks like her breakout role as High Shcool Musical's Gabriella Montez will always occupy a soft spot for both the actor and her fans.
Hudgens recently used the Instagram Stories question feature to interact with her followers. The Q&A happened on Saturday, Aug. 4, but Buzzfeed kept screenshots of Hudgens' responses to her fans' queries. Naturally, at least one person wanted to know more about the actor's time filming the famed DCOM trilogy.
"What is your favorite memory from filming HSM???" the fan wrote. (And yes, they used three question marks — it is a pretty important query, after all.)
In her video response to the question, Hudgens shared that her favorite memory was the last scene of High School Musical 3: Senior Year. Here's what she said on Instagram, according to Buzzfeed:
"Probably the moment in the final High School Musical when the curtain drops. Because it was such a real moment of us saying goodbye to kind of our childhood."
That flood of emotions you're feeling is totally normal.
For fans who were in middle school or high school during the movies' original release, it's easy to relate to Hudgens' statement. The main characters were moving on, heading in different directions in their lives, starting new paths... it's exciting for their futures, but it's also bittersweet. And the finality of the third movie, and the last scene in particular, were all too real.
In fact, the ending of High School Musical 3 was popular enough that Efron himself parodied it in a Saturday Night Live sketch. The conceit of the sketch is that while Efron's character, Troy, was a star in high school, that doesn't necessarily translate to adult life. The other East High alums also joke that they didn't learn anything in high school, because they were too busy singing, dancing, and defying stereotypes. And, of course, they're all horrified when "Troy," now a year out of high school, tells them that "no one sings at college."
The High School Musical trilogy was wonderfully campy, to be sure. But the movies were also genuinely sweet and heartfelt at times. Many people have gone through the same life changes and uncertainty that the movies' characters did, so it's understandable why Hudgens chose the closing scene as her favorite memory. It's over the top, but it's still relatable for real-life students who are apprehensive about moving on to the next part of their lives. It looks like Hudgens still appreciates and respects the movies' sweet nature. And her recent Instagram Story gave fans a welcome dose of nostalgia, no matter how many years out of school they might be at this point.