Vanessa Hudgens Just Hinted Her New Project Will Be MAJORLY Nostalgic For Fans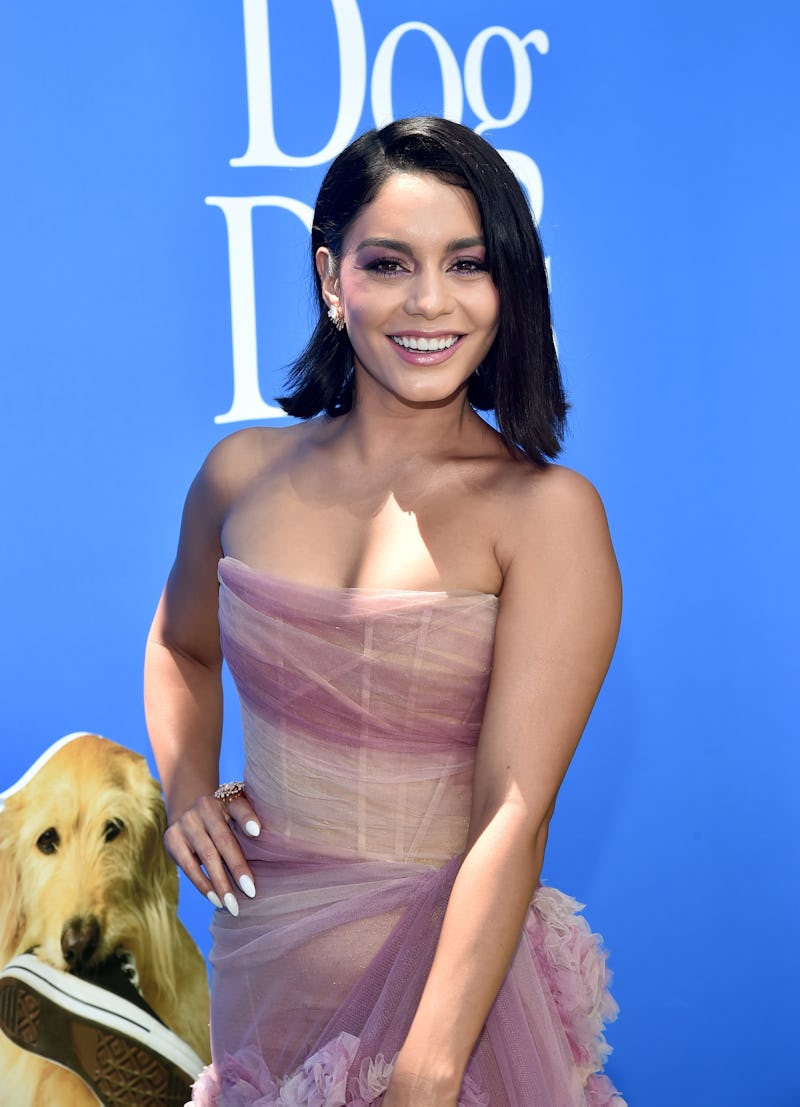 Alberto E. Rodriguez/Getty Images Entertainment/Getty Images
If every time your name came up, people automatically thought of your teenage self, you'd probably find it more than a little obnoxious. After all, as formative and wonderful as the teen years are, they tend to be full of experimentation, inexperience, and naivety. (If you need proof, I'm sure you could Facebook stalk me long enough to see my wardrobe choices and judge me accordingly.) But some folks are happy to let those adolescent memories stay alive, even former teen icon and High School Musical actor Vanessa Hudgens.
When we meet at the lush Four Seasons Hotel in Los Angeles, we're here to talk about Hudgens' new rom-com Dog Days (think of it as Valentine's Day plus dogs, with the added bonus of director Ken Marino's comedy stylings), and yet, the topic of her first claim to fame, High School Musical, inevitably comes up. And Hudgens, surprisingly, is thrilled to be associated with the '00s franchise all these years later.
"I mean, it's really special," she says, referring to the HSM fandom. "So many people that have seen [High School Musical] have been inspired to pursue their dreams in the arts, and that's such a special thing to be a part of." Hudgens is clearly very deliberate with her words, and yet, paradoxically, they sound airy, almost effortless. It's easy to see why; the actor understands the HSM fandom so well because it reminds her of her own first musical theater fave.
"I remember watching Natalie Wood in West Side Story for the first time, and I'm kind of always going to think of her as Maria," Hudgens says with a smile. "[That movie] kind of changed the course of my life — OK, let's be real, I was probably only like four years old when I saw it — but if I hadn't seen that film I don't know if I would have been as passionate about musical theater as I am today."
It's fitting that High School Musical is all about exploring one's passions and breaking free from the status quo (as emphasized on its iconic soundtrack). Hudgens has seen how the movie's message has affected fans — "It's inspired people not to stick to cliches," she explains — as well as some of her fellow performers... sort of.
"I literally had my Broadway debut with this guy, Max Clayton, who was in GiGi with me, and he had the High School Musical story," Hudgens recalls, almost as if she still can't believe it, years after the fact. Clayton, she learned, quite literally had the same path as Zac Efron's high school basketball star-turned-musical theater kid character, Troy Bolton. Says Hudgens, "He had a scholarship for basketball, his mom was the basketball coach, and he realized he wanted to do musical theater and he left it all behind and we had our Broadway debut together."
It would seem that HSM really does follow Hudgens everywhere she goes. And now, she just might be moving from embracing that fact to giving it a giant bear hug. Later this year, she says, she'll release a new song (tentatively set for the end of August) with the band Phantoms called "Lay With Me." And she's got a bit of a trick up her sleeve.
"The fans are going to freak out over the music video because it's very nostalgic," Hudgens teases with a laugh. When I ask what kind of nostalgia, she simply says, "I mean, one can jump to conclusions." While she smartly refuses to outright confirm that the clip will contain at least a hint of HSM ("You can wait to see the video," she says), between the hint that her fans will "freak out" and the sole conclusion most of them are likeliest jump to, it seems pretty possible that we'll get at least a teensy nod to the musical that started it all.
In the meantime, however, Hudgens is focused on the projects at hand. In Dog Days, in theaters Aug. 8, she plays a 27-year-old barista who's not quite sure what she's doing with her life until she rescues an adorable dog from the back alley behind her coffee shop and finds she wants to help care for dogs at a nearby shelter. And while 29-year-old Hudgens is not a directionless barista — she has been an actor since she was a teen, after all — she says she can relate to the pressure to know exactly what life should look like simply because you're nearing 30.
"It's so easy to think that when you get older you have it all figured out, but this movie is a really good reminder that it doesn't matter how old you are, you're constantly gonna be reassessing what's important to you," she says.
For Hudgens, that constant reassessing comes with a slew of varying projects. Dog Days joins her new single, her role in the upcoming Jennifer Lopez comedy Second Act (the dream, for a J.Lo rom-com fan like Hudgens), and judging So You Think You Can Dance Season 15. And, if she gets her way, she'll add another turn on Broadway to the mix, possibly in another revival ("I do love West Side Story, and I love Bye Bye Birdie," she says). And if HSM fans have their way — and let's face it, they're a pretty vocal bunch — she'll be singing on the stage again in no time.