Vanessa Trump Has Filed For Divorce From Don Jr.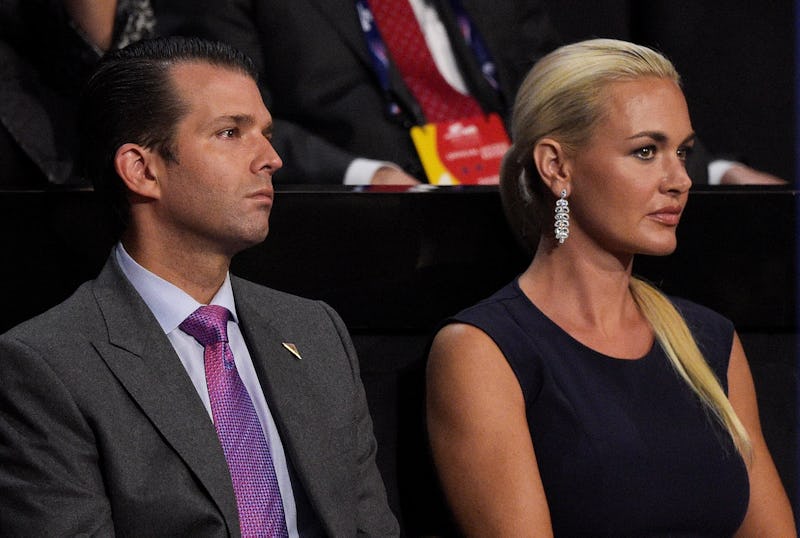 Jeff Swensen/Getty Images News/Getty Images
According to reports, Vanessa Trump filed for divorce from Donald Jr., the president's eldest son, on Thursday. The couple first met in 2003, and have been married since 2005.
Page Six first broke the news, following reports earlier this week alleging that people close to the family believed the pair were approaching divorce. Those initial reports claim that Trump Jr.'s increasing distance from Vanessa, as well as changes in his personality since his father became president and his increasingly combative and controversial presence on social media, exacerbated the couple's issues.
According to The New York Daily News, the filings in the Manhattan Supreme Court list the divorce as "uncontested," which would mean it's an agreed-upon split. The two have five children together.
A People magazine source that occasionally socializes with Vanessa and Trump Jr. claims that the couple were "living separate lives" in the run-up to the divorce filing.
"I heard for a while they have been living separate lives. … Even before all this Trump presidency stuff started, they weren't good and their marriage was strained," the source reportedly told People. Bustle has reached out to the Trump Organization, the family's private company, for comment.
According to The Daily Beast, in addition to Trump Jr.'s controversial tweets, his robust travel and vacation schedule took a toll on the relationship. In addition to his professional duties and his informal role as one of his father's political surrogates ― he visited Pennsylvania earlier this week in an bid to rally GOP voters in support of since-defeated congressional candidate Rob Saccone ― he's also traveled abroad for pleasure. In fact, in February, he traveled to India for some hunting; Trump Jr. has been the subject of frequent criticism over his penchant for big game hunting, including elephants.
Trump Jr.'s recent activities on social media, also cited by multiple reports as a cause of stress on his marriage to Vanessa, have also been the subject of controversy in recent months. Perhaps the most prominent example came last month, when he "liked" a tweet advancing a conspiracy theory about one of the teenage survivors of the Marjory Stoneman Douglas High School shooting in Parkland, Florida. He also "liked" a tweet claiming a link between antidepressant use and mass murder, which drew a ton of criticism and scrutiny.
This is the first divorce in the Trump family in nearly 20 years. In 1999, President Donald Trump divorced his second wife, Marla Maples, and later got remarried to now-First Lady Melania Trump in 2005, the same year Trump Jr. and Vanessa tied the knot. The president's eldest daughter, Ivanka Trump, was married to Jared Kushner in 2009, and his middle son, Eric Trump, married Lara Trump in 2014.
According to a profile that ran in The New York Times shortly after their marriage in 2005, Trump Jr. and Vanessa ― whose family name is Haydon ― first met at a 2003 fashion show and were introduced by none other than now-President Donald Trump. The story notes that the elder Trump actually introduced the two twice, once before the show and once during its intermission, having apparently forgotten that he'd already done so.
It wasn't until the pair met again at a party weeks later and were introduced by a mutual friend rather than Trump Jr.'s famous father that they connected and began a relationship. They were married roughly two years later at the president's private Mar-a-Lago club in Palm Beach, Florida, a union which is now coming to an end after nearly 13 years.