This 'Real Housewives' Reunion Moment Gave Fans Hope For A Vicki, Tamra & Shannon Reconciliation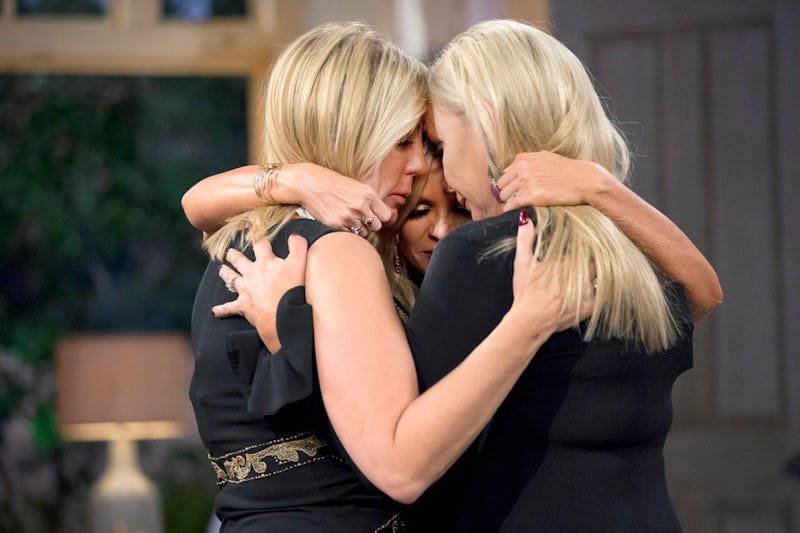 Nicole Weingart/Bravo
After a season where pretty much nothing happened because most of the cast refused to interact with each other, The Real Housewives of Orange County Season 12 came to a dramatic end with Part 2 of the reunion. Vicki Gunvalson, Tamra Judge, and Shannon Beador made up with an emotional group hug, which was pretty shocking to the audience watching at home.
For years, the three of them simultaneously wanted nothing to do with each other and couldn't stop stirring up drama. So no one saw this truce coming, especially on the heels of Vicki storming off the set after arguing with Tamra. It really seemed like the lackluster season was coming to an appropriately dismal end, but the women actually ended things on a positive note.
It really felt like Tamra and Vicki were putting the nail in the coffin of their friendship (and effectively the show) when they started going coming for each other during the reunion. Vicki said, "Tamra, make up anything you want to make me look bad. I don't want to care anymore. You're lying again, just to make yourself look better." Tamra countered with, "No, you're the liar," before repeating, "You're a liar," many times. Meanwhile, the other Housewives just sat there in silence watching the argument. Vicki declared about Tamra's behavior, "That doesn't look good on you, Tamra." And Tamra crushed Vicki when she shot back, "No, that doesn't look good on you. In fact, nothing looks good on you." Vicki dramatically walked off the set and into her dressing room.
It felt like there was no time coming back from that, but then it seemed as though Andy Cohen was facilitating a group therapy session because some major progress was made. Andy questioned Vicki about all of the rumors she spread about Tamra's husband Eddie Judge. When he asked, "Do you understand how the stuff that has happened since the show affected her?", Vicki confirms that she does. But Andy pushed: "What do you want to say to her?" Then Vicky finally seemed to engage with her apology. "I'm sorry," she said, "I won't talk about it ever again. With God as my witness, I promise. I'm sorry. I totally surrender."
Vicki then brought up Tamra's estranged daughter, saying, "When you had that situation with Sidney just a month ago, who reached out to you?" Tamra confirmed that Vicki had. It's so surprising, considering that these two didn't even interact during the season and the two of them were talking smack about each other in the press when it aired.
Andy got Vicki to admit that she owes an apology to Eddie, and she said that she wants to sit down with him one-on-one, which should obviously go down on camera next season. Tamra promised to "never say another word" about the cancer scam. It was also Andy's prompting that got the two of them to go in for a hug before Vicki invited Shannon.
Some viewers felt like the truce restored RHOC after two seasons of blah story lines and endless feuding. Others weren't buying that the forgiveness was genuine. Needless to say, the group hug between Tamra, Vicki, and Shannon was the most tweeted about moment from the reunion episodes. There were a lot of mixed feelings:
Hoping That It's Real
These three have had so many ups and downs over the years, but this last feud has been dragging on for way too long. Is it actually over for real?
Feeling Optimistic About Next Season
Please let this stick for Season 13.
Feeling Like It's Fake
The makeup may really from the heart or maybe the women know that the show is in a major rut and a change needed to happen.
Describing The Hug As "Iconic"
It could be the most "iconic" moment of Season 12, but of the whole network? That's a bold statement.
Wondering Why They Aren't Connected On Social Media
It's not actually official until it's Instagram official.
Hoping They Don't Fight Next Season
Tamra and Shannon have been pretty solid for a while, but let's hope the two of them will be able to truly let go of their issues with Vicki next season.
Questioning If Shannon Is On Board
Shannon did get lumped in at the end of that long hug, but that doesn't mean she's as in as she seems.
Wondering If They're All Still Good
Such an important question. Time has passed since the hug.
Crying In Response To The Truce
The fans have been on a roller coaster of emotions with these three, and they're looking forward to a united front in Season 13.
Ending It With A Hug Was Perfect
It doesn't make up for the season, but at least the ending leaves fans with a little hope for the future.
That Tamra, Vicki, and Shannon therapy session at the reunion should have happened way earlier in the season, but sometimes it takes a facilitator to get to the root of all your interpersonal issues.