Ranking 'The Real Housewives Of Orange County' Season 12 Cast, From Least To Most Entertaining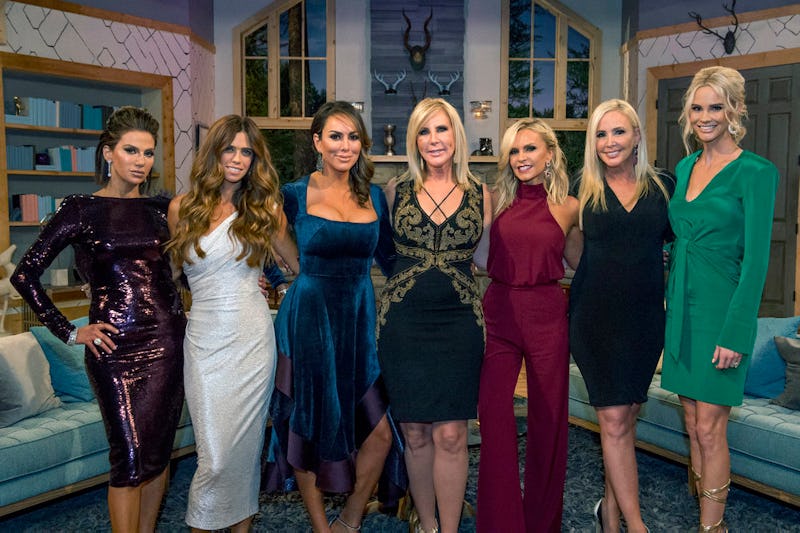 Nicole Weingart/Bravo
Let's be honest: Season 12 of Real Housewives of Orange County was far from the show's best. In fact it was a total snooze-fest in a few ways, but some of the women came through for fans more than others. This is why a Season 12 ranking of the most entertaining RHOC cast members is necessary, especially to honor the season's MVP. Hopefully producer Andy Cohen is reading this and doling out Season 13 screen time accordingly.
This season was lacking for many reasons, but the biggest issue was that a lot of the ladies seemed very stuck in the past. They brought up topics from the past two seasons that have already been exhausted to death instead of getting into new drama. It is so clear that Tamra Judge, Shannon Beador, and Meghan Edmonds do not want to be friends with Vicki Gunvalson, but it just became so frustrating to hear those same sentiments over and over again. There were very few new conflicts. In fact, there was barely any arguing over the old drama since those three ladies did not want to be at most of the events that Vicki attended. It really felt like two separate shows: one with Vicki and one without her — neither of which were on par with what the viewers have become accustomed to throughout the years.
Thankfully, some Real Housewives cast members did come through with sme unforgettable moments. From the least to the most entertaining, here's a ranking of your RHOC cast members from Season 12:
7. Peggy Sulahian
This was definitely a casting misfire. Peggy Sulahian did not know any of the women before joining the show, and she doesn't appear to be super close to them now. In short: it just doesn't make sense for Peggy to be on RHOC. On top of that, her jokes NEVER land, she leads with her money, and she hasn't had a significant story line. This should be a one season and done situation.
6. Meghan Edmonds
Meghan Edmonds was the primary Brooks Ayers investigator during her first season, but other than that, she hasn't had a major story line other than hating Vicki for three years. She didn't even interact with anyone in the cast for the first three episodes of this season. In many ways, Meghan seems to be too nice and normal for this show, but she is just a non-factor. If the OC is going to be restored to its former glory, the viewers need Housewives who are bringing something to the table.
5. Lydia McLaughlin
Why did Lydia McLaughlin return to Real Housewives? Oh right, to promote her magazine and brag about being "Paris Hilton rich." When Lydia is not talking about her magazine, she's just looking for an excuse to bring it up, or rocking t-shirts with its logo.
Nevertheless, the viewers should thank Lydia for low-key stirring the pot. The self-proclaimed "friendship whisperer" pushed Shannon to discuss Vicki at a toddler's birthday party, secretly invited Kelly Dodd to dinner with Tamra and Shannon and acted like she had nothing to do with Kelly's presence, and she tried many times to unite Vicki and Tamra. These aren't actions that most viewers agree with, but at least Lydia initiated some conflict.
4. Vicki Gunvalson
It's tough to picture The Real Housewives of Orange County without Vicki, who is the only remaining original cast member. Even when she was excluded from group events, she was always the main topic of conversation. Vicki was very shady inviting former Housewives Gretchen Rossi and Lizzie Rovsek along with Tamra's ex BFF Ricky Santana to a her party where they gossiped about Tamra's husband Eddie Judge. Her refusal to own up to spreading rumors about Eddie was frustrating. Even so, there were bright spots, like when Vicki and Tamra got along just like old times during the cast trip to Iceland. On top of all that, Vicki had not one, but two medical issues this year getting diagnosed with Influenza B and going to the hospital in Iceland. This Housewife is reliable for bringing the drama, but not so much when it comes to owning her actions.
3. Shannon Beador
To say that this was a tough season for Shannon would be a major understatement. Shannon did not hesitate to put herself out there, and she had a lot to share. Shannon was very open about gaining 40 pounds and her struggle to lose the weight. She grew apart from her husband David Beador after they renewed their vows last season. She threw a full plate of food at Kelly in the only iconic scene of the season. She argued with Lydia many times. She even got confronted by Peggy's husband Diko Sulahian at his own anniversary party. Love her or not, Shannon could not be boring if she tried, and has definitely brought a lot to Season 12.
2. Tamra Judge
Tamra had to deal with a lot this season. She poured her heart out over her estrangement from her daughter Sidney. She went to bat for her husband Eddie after Vicki continued to question his sexuality. She made up with Kelly and even facilitated a sit-down between long-time rivals Kelly and Shannon. Tamra did all of this while running her gym, maintaining her faith, and tossing out sassy one-liners.
1. Kelly Dodd
Kelly was the best version of herself this season and she added a much-needed jolt of energy to the show. After a polarizing first impression last season, Kelly really brought her A-game this year. She got a breast reduction and vaginal rejuvenation, gave her mom a makeover, and discussed her marriage difficulties. She is the only person on the show who made an effort to have an individual relationship with every person in the cast, while the other ladies refused to socialize with their foes.
Kelly wasn't all peace and harmony though. She had some epic arguments with Shannon, Peggy, and Meghan that produced some premium memes. Kelly blessed the fans when she breathed on a restaurant window behind Shannon and Tamra and by the end of the season she become the most reasonable person on the show. She even managed to strike the perfect balance between being controversial and likable. There is no doubt that Kelly was the MVP of the season.
So though RHOC fans have to be hoping for more in Season 13, this year was hardly a wash for West Coast contingent. Here's hoping Kelly is rewarded with more of a focus when the series returns.