Vicki's Story About Briana's Illness Is So Scary, But 'RHOC' Fans Will Be Glad She's OK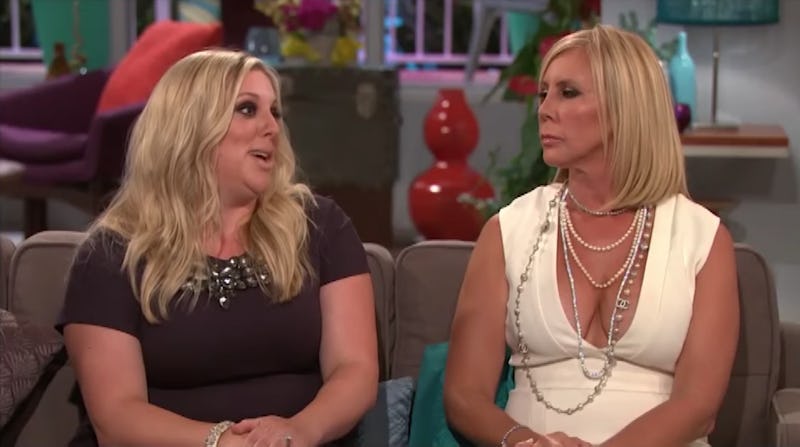 Bravo
Real Housewives of Orange County fans have known about Briana Culberson's health struggles for awhile now, but hearing Vicki Gunvalson say Briana almost had her leg amputated is beyond scary. While chatting with Bravo's The Daily Dish podcast, Vicki opened about Briana's past health scares and how she is currently doing. For those unaware, in November 2016, Briana was diagnosed with lupus and has battled many complications from the disease.
The RHOC star said on Bravo's podcast,
"She has lupus. We almost lost her a couple years ago. That was one of the biggest fears I had in my life while I was filming; it's my 'Oh, my God' moment. And she was super, super sick; got a very, very bad infectious disease from the hospital. They almost amputated her leg ... she was extremely sick. Put her in City of Hope [National Medical Center] and she was there in isolation for a month. The viewers don't know but we can share it now 'cause she survived it. But it was horrible."
That sounds absolutely terrifying, but, thankfully, Briana is doing much better currently. "Now she's being treated for lupus out in University of North Carolina [Medical Center], which is actually where she works," Vicki continued. "She's an ER trauma nurse. They've got a great lupus center out there. So if God brought her out there to help her get through this, that was the good thing from it."
In July 2017, Vicki also revealed Briana almost died after surgery complications. During an Access Hollywood appearance (via People), the Housewife claimed the surgery "almost killed my daughter." She continued, "[The scalpel was infected] with feces from a previous surgery that day they put inside her body. So, not good, she almost lost her leg. She almost died and all this stuff." According to Vicki, Briana was treated with three weeks of "IV antibiotics and got all of it out of her body."
Now, Briana lives in North Carolina with her husband, Ryan Culberson, and their two sons, Troy and Owen. Since she's in a different state, Briana will not be on RHOC Season 13. In July, Vicki explained Briana's absence to Entertainment Tonight. "She wanted to be done," the Bravolebirty said. "She was really in a place in her life with Ryan, Ryan just retired disability Marine, they decided to move to North Carolina, where he's from, and build a life there."
According to Vicki, Briana wanted to give her family a break from the spotlight, especially after facing criticism. "She wanted to just have a break and be kind of incognito, keep the kids off camera," the OG from the OC said. "The unfortunate part about putting your children on camera and yourself is, the trolls come out, and the negative people come out, and the people that have their 'opinion,' and she's like, 'I don't want to hear it anymore. I'm a good mother, I'm a good wife, and we have a great family. I don't want to hear any negativity,' and that happens. You know, people were trolling bad about Ryan or trolling about her. It gets exhausting."
Briana's definitely had a long road, especially with her health, but it's good to hear she's doing better. Based on the photos shared on social media, the 31-year-old nurse also looks to be in good spirits and extremely happy with her family by her side.