The Internet's Reaction To Victoria & Brooklyn's Cute Night Out Is SO SO Strange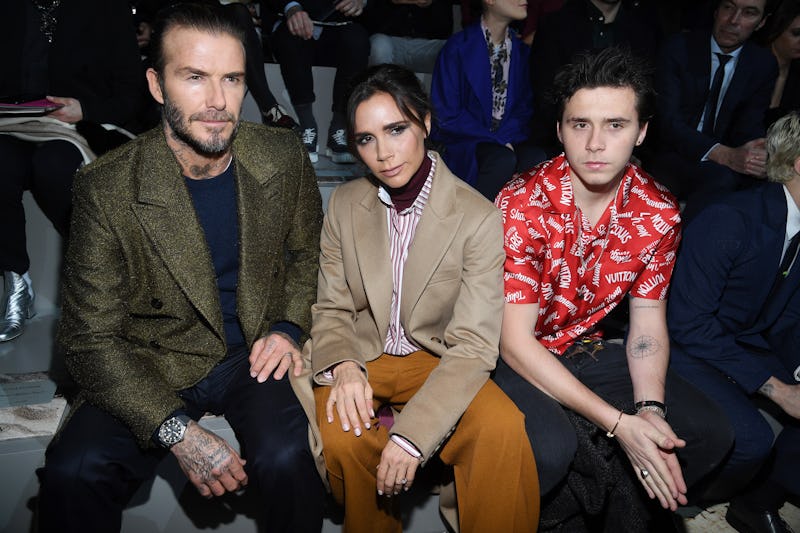 Pascal Le Segretain/Getty Images Entertainment/Getty Images
Elton John's AIDS Foundation celebrated its 25th anniversary on Wednesday night at the Argento Ball in Windsor, with a star-studded guest list including Liz Hurley, Graham Norton, Nicole Scherzinger, Alexandra Burke, and Ed Sheeran. Despite the huge names in attendance and the amazing cause, it was a supposedly "weird" photo of Victoria Beckham and her son Brooklyn that got people talking. No, unfortunately, I'm not kidding.
The former Spice Girl uploaded the snap in question onto her Instagram account. In the pic, she could be seen adjusting her eldest son's tie. The caption read: "The perfect date @brooklynbeckham #25anniversary #argentoball #fightagainstaids @ejaf @eltonjohn @davidfurnish X VB". Nothing wrong with that, right? A sweet moment between mother and son, alongside the even cuter prospect that she decided to take Brooklyn to his godfather's special event rather than her husband. Whilst some Instagram users thought the same of this sentiment, others were quite vocal with their distaste for the photograph.
I've now read through more than 2,000 comments on the photo, and let me tell you, some of them are so weirdly inappropriate. "Slightly bizarre/odd facial expressions for me considering this is Mother & Son," one comment read. "Strange that you call it a date night when it's your son. Very strange!!!" said another. One also sternly addressed VB's hubby David's absence, writing: "Shouldn't David be your 'date', not your son." I mean, seriously? This is a mother and son posing for a photograph before a night out. That. Is. All.
Thankfully, amidst the negative comments, there were those defending the mother-of-four and her son. "Oh no a close family quick all make nasty comments and cut them down. Wonderful family, amazing mother and son," one wrote. Another pointed out how "sad reading some of these pathetic comments, when a woman can't show her love for her child, some sad sad people in this world!"
Oddly, this isn't the first time the Beckhams' parenting techniques have been ridiculed. In July 2017, David was criticised for kissing their daughter Harper on the lips. But why? Surely it's up to them how they chose to parent their own children. In a Facebook Live discussion, Beckham defended the photo. The Telegraph reports him saying:
"I got actually criticised for kissing my daughter on the lips the other day. I kiss all my kids on the lips. Brooklyn, maybe not. Brooklyn's 18, he might find that a little bit strange. But I'm very affectionate with the kids. It's how I was brought up. And Victoria. And It's how we are with our children."
He continued: "We want to show our kids love and we protect them, look after them, and support them, and we've very affectionate with them." In July 2016, Victoria was criticised for posting a similar photograph with their daughter.
Parental affection towards children is actually extremely important to development, according to a 1997 study conducted by American non-profit research organisation Child Trends. "Higher self-esteem, better parent-child communication, and fewer psychological and behaviour problems have been linked to warmth and affection between parents and child," the study reads.
The close-knit Beckhams obviously take this affection in their stride, and as a former Spice Girl and girl power advocate, Victoria also makes sure that she installs an added sense of confidence in her young daughter every day. Speaking at the Forbes Women's Summit last Thursday, Beckham said: "Every day when Harper goes to school, she walks up the school stairs and I give her a kiss. I say, 'Harper, you're a girl, you can achieve anything. You can do anything you want to do.
"That's my message to her constantly," she continued. "She knows she can do everything and probably more than her brothers can. We talk about it a lot. She wants to be an inventor and she's very proud of that. She's a strong smart woman — little woman. I am still banging on that drum and I am not going to stop. I don't think any of us want to stop — it's a very important time for women right now." Hear, hear. Now, can someone remind me again why people are criticising her parenting skills. No? Nothing? Great, let's pack this in now, shall we?