Victoria Beckham Just Brought Family Twinning Back & We Are SO Here For It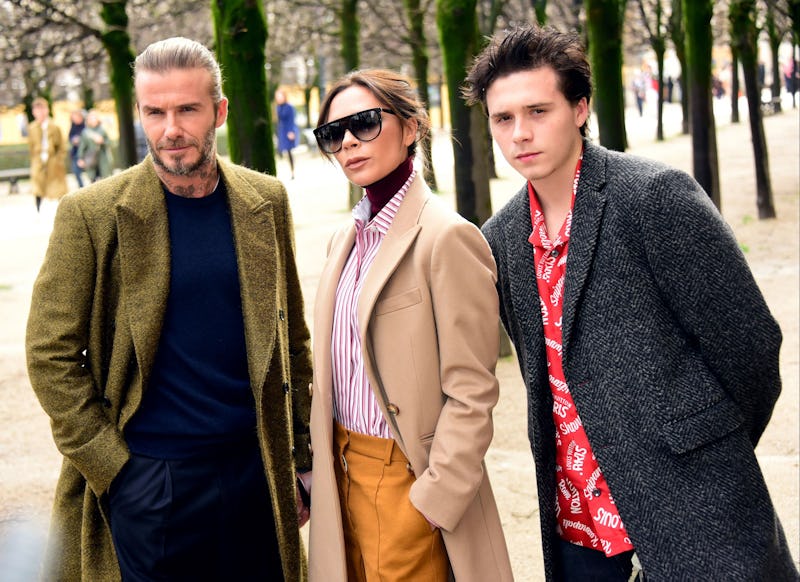 LAURENT BENHAMOU/SIPA/REX/Shutterstock
Anyone who knows the Beckhams knows that they love a good matching outfit. It seems to be the one thing that never goes out of fashion in their household, and let's be honest, a lot of us love them for it. That's why seeing Victoria Beckham twinning with her mum at an event on Monday night served the ultimate mother-daughter goals.
The Spice Girl turned fashion designer looked absolutely stunning in a £1550 tailored black tuxedo jacket from her own collection paired with fitted black trousers as she attended an event at her flagship store on London's Dover Street. But while it's never a surprise to see Mrs Beckham looking chic, what caught the attention of fans was an picture she posed for alongside her very equally stylish mother, Jackie Adams, who pretty much wore the same outfit as her daughter — black tailored tuxedo jacket, black trousers, and a pair of heels. However, unlike Victoria who wore a flesh coloured top, Jackie opted for a white shirt underneath.
The pair looked cuter than ever and it looks like the matching outfits weren't pre-planned either as Victoria quickly took to Instagram to share the photo of the two with the caption: "Who wore it better? When you turn up in the same clothes as your mum!"
The appearance came as Beckham opened a new exhibition at her Dover Street store. The show features a series of Old Master paintings the former Spice Girl has curated in partnership with Sotheby's ahead of their latest sale. "Old Masters is a new passion, something that I am excited to learn more about," she told British Vogue in an interview about the project, admitting that her personal collection involves more contemporary art, but she was inspired to make the shift after visiting New York's Frick Gallery. Fair play.
Fans loved the look on Twitter, with many weighing in with their admiration for the unintentional mum/daughter collaboration.
Others weighed in at Victoria's invitation on who wore it best, with many jokingly teasing her that her mum killed it with her black blazer creation.
As far as twinning goes, this obviously isn't the first time there has been a case of twinning Beckhams. In fact, the family have become somewhat known for their tendencies to match their wardrobes ever since those iconic matching leather outfits in 1999. What a time that was to be alive, aye. A simpler time, perhaps. Naturally, that's one of the few twin moment they'd very much like to leave in the past according to David Beckham. "Me and Victoria always laugh about when we went to this Gucci show and we had on matching leather outfits," he told People magazine after they named him Sexiest Man Alive in 2015, "and now we're like, 'What were we thinking?!'" Seriously, I have no idea.
Another personal favourite is a gem from 2001 when the couple wore coordinated beige outfits (large sunglasses included) to celebrate their eldest son Brooklyn's 2nd birthday - yes, he was only two-years-old in 2001 and yes I feel old AF. This other look from the 2003 MTV Movie Awards was particularly special. Victoria donned a Dolce and Gabbana dress, according to The Telegraph, and David wore not one, but two diamond encrusted chains. How I miss the early '00s.
Being the loving and caring parents they are, Posh and Becks also tend to get their children involved in the twinning action, too. In recent years, we've seen a double look more and more often between David and Brooklyn, and I can't wait to see if Victoria and Harper recreate the mum/daughter combination in years to come, too.