Watch The Heartbreaking Moment Brittany Cartwright Found Out Jax Taylor Is Cheating On Her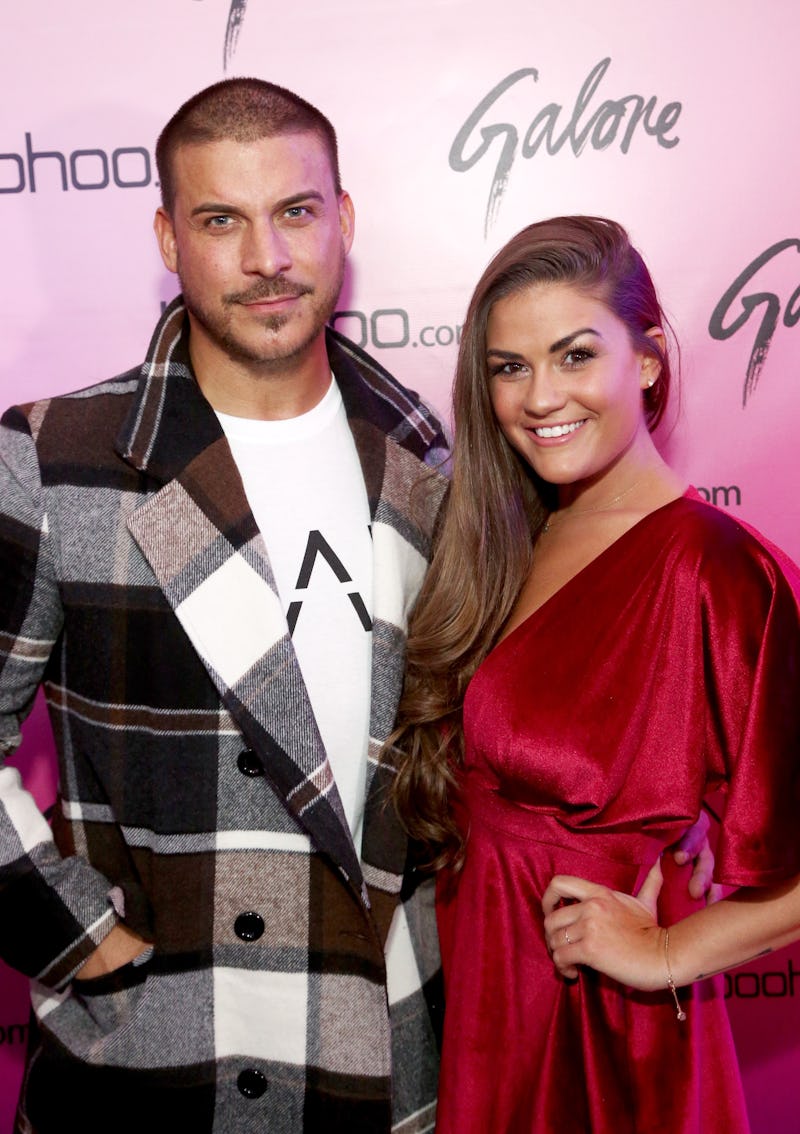 Tommaso Boddi/Getty Images Entertainment/Getty Images
The sixth season of Vanderpump Rules only began last week, and the show has already left fans up to their eyeballs in drama. Ahead of the episode that will air on Monday, Dec. 11, E! News shared a heartbreaking clip that'll make you wish you could give a certain SURver a hug. In the Pump Rules sneak peek, Brittany Cartwright tells Katie Maloney about the Jax Taylor and Faith Stowers story that ripped through Scheana Marie's birthday party. Understandably, the rumor about her boyfriend of two years possibly cheating on her with one of their friends left her gutted, and she wasn't going to sweep it under the Pumptini-stained rug.
No one sliced their foot open at Scheana's party this year, but a piece of gossip did leave a fairly gnarly gash in the evening's festivities. Word got around that Faith claimed she and Jax hooked up at the house where she works as a caregiver, and just about every partygoer seemed to be like, "Welp, that seems like something Jax would do." When a version of this story reached Brittany, it did not go over well. Jax claimed it wasn't true, but Brittany wasn't convinced. And in the sneak preview of the upcoming episode, Brittany still isn't convinced. You can watch the clip at E! News.
The scene opens on Brittany sitting on Katie's couch, presumably right after recounting what happened at Scheana's masquerade. "This is just too close to home, too many people know about this," she vents. "I'm so embarrassed. Do I have to call my mom and tell her Jax cheated on me with someone who I thought was a friend of mine?" What's worse: Making that phone call to your mom, or waiting for her to watch the mess unfold on TV? Trick question, both options stink.
As brutal as this rumor is, it sadly doesn't seem to catch Brittany too off-guard. "I always had gut feelings that he's done things," she admits. "I came home one time, and there were fake eyelashes on the f*cking counter." Are you serious, Jax?
Just as she tells Katie that she bought a plane ticket to Las Vegas and plans to "act like a single person," there's a knock at the door. Gordo barks at him to go away, but it's no use: Jax enters the room whether anyone likes it or not. And Brittany definitely does not like it. She doesn't want to look at him, he denies sleeping with Faith, she asks to see his text messages, he denies sleeping with Faith some more, she chucks his phone at him, Katie lets out a big sigh, and the clip ends. Ugh. Poor Brittany.
There's been a lot of chatter about Jax and Brittany and their relationship status as of late, and some viewers suspected the Pump Rules couple ended things over the summer. For months, Jax and Brittany insisted the social media unfollowings and whatnot didn't mean they were totally done. However, it sounds like they did take a much-needed break after all. In a recent interview with Entertainment Tonight, Brittany said she and Jax "took some time trying to work on things" and are now "back together." Well, then. So there might've been some truth to the breakup rumors after all, eh?
"We're going through some things, working it out and, yeah, it's going good now," Jax told ET. "We're doing a lot better then we were." Brittany added, "Six months and still working."
Not to be a broken record, but Brittany is a lovely person who deserves respect, happiness, and love. May her current situation with Jax bring her all of the above.