This Throwback Video Of Hailey Baldwin Meeting Justin Bieber Will Give Fans All The Feels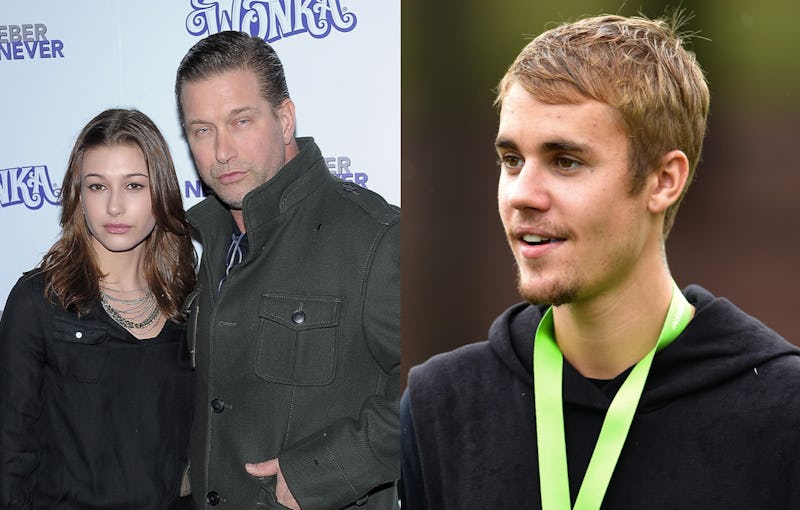 Michael Loccisano/Getty Images Entertainment/Getty Images; Stuart Franklin/Getty Images Sport/Getty Images
Over the weekend, the news of Justin Bieber and Hailey Baldwin's reported engagement seems like it came completely out of nowhere. Nevertheless, their interactions go back almost a decade.Not only that, but Hailey's dad Stephen Baldwin has been a part of her journey with Bieber from the very start, which was actually nine years ago. Just like most tweens in 2009, Hailey had some Bieber Fever. Unlike most tweens in 2009, Hailey's father is a famous actor who actually had the ability to introduce her to the singer.
UPDATE: On Monday afternoon, Bieber confirmed his engagement to Baldwin with a lengthy Instagram caption. He also shared two black-and-white photos of the pair together, writing, in part:
"Was gonna wait a while to say anything but word travels fast, listen plain and simple Hailey I am soooo in love with everything about you! So committed to spending my life getting to know every single part of you loving you patiently and kindLY."
EARLIER: A video has surfaced of Stephen introducing Hailey to Bieber and it doesn't seem like sparks flew — at all — during that first meeting, but clearly things have changed a lot throughout the past nine years. During the video, Stephen told Bieber, "We've been enjoying your music."
The video didn't spark a lot of interest at the time, but now it's wild to see the now-engaged couple's very first interaction. That's not something most couples have the chance to look back on, unless they happen to get together on a reality TV show or something. And it's so interesting to know that this romance is all thanks to her father. Well, maybe not the romance itself, but at least the start of their relationship can be attributed to her famous father's introduction.
Even though many fans are just discovering this video now, Bieber is way ahead of the game, thanks to a diligent fan of his. He previously acknowledged it in 2016. A fan tweeted, "Remember this?" along with a link to the video and tagged Bieber and Hailey in the post. The Sorry singer quoted the tweet and responded with "Haha. Amazing."
That 2009 meeting may have blessed the fans with the first Bieber and Hailey video, but they didn't actually take a photo together until a red carpet in 2011. And once again, Hailey's father Stephen was around for the moment. And of course, the vintage Jailey photo has resurfaced in response to the engagement news. Everyone loves a throwback moment, especially one of the tween variety.
The trio took the photo during the premiere of Bieber's movie Never Say Never in Times Square. At this point, there's no official word on whether he got Stephen's blessing pre-proposal, but clearly the father of the bride is on board with the relationship. In a now-deleted tweet, it appeared that Stephen not only confirmed his daughter's engagement, but also expressed how happy he is about the big news. On July 8, the actor tweeted:
"Sweet smile on my face ! me&wife (Kennya) Always pray 4 Gods will !! He is moving in the hearts of JB&HB Let's all pray for His will to be done Love you 2 so much !!! #Godstiming #bestisyettocome Congrats"
Bieber's future-father-in-law also tagged the singer's father Jeremy Bieber and mother Pattie Mallette in the post. Along with the tweet, Stephen shared a screenshot of a Bible verse about marriage:
"Husbands, love your wives, just as Christ loved the church and gave himself up for her to make her holy, cleansing her by washing with water through the word, and to present her to himself as a radiant church, without stain or wrinkle or any other blemish, but holy and blameless"
Thank goodness for screenshots and eager Bieber fans, because the tweet will now live on forever and ever. (Bustle reached out to Stephen's rep about the deleted tweet, but did not receive an immediate response.)
He wasn't the only parent who alluded to the engagement news on social media.On July 8, Bieber's dad Jeremy posted a photo of his son with a sunset in the background and captioned it, "@justinbieber Proud is an understatement! Excited for the next chapter!"
On July 8, Bieber's mom Pattie tweeted something that could be alluding to her son's engagement: "Love Love Love Love Love Love Love." But her post wasn't nearly as detailed as Stephen's, hence (most likely) why her tweet hasn't been deleted.
The fans might have been pretty surprised by Bieber's and Hailey's engagement, but it's arguably more surprising that her dad has been on board during every step of their journey.