Justin Timberlake's Halftime Show Was An '00s Tribute & Twitter Was Like "What Year Is It?"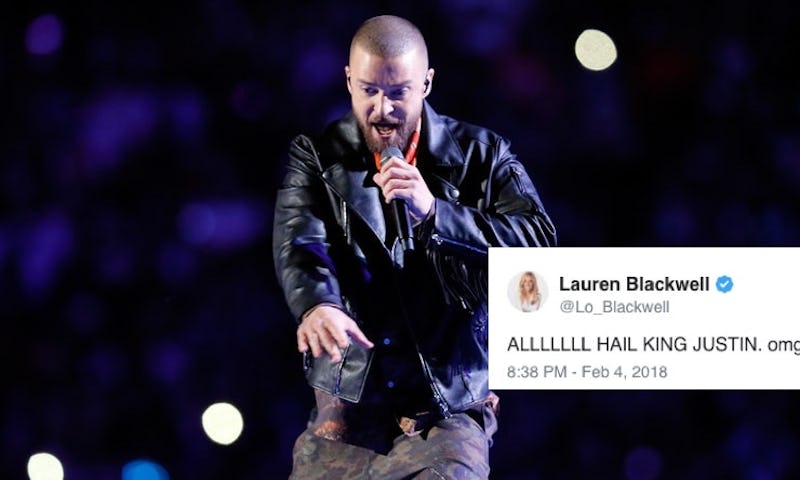 Kevin C. Cox/Getty Images Sport/Getty Images; Lo_Blackwell/Twitter
It's finally here, you guys. No, I'm not talking about the competition between the Philadelphia Eagles and the New England Patriots occurring during Sunday night's Super Bowl LII — I'm talking about Justin Timberlake's Super Bowl halftime performance. For weeks now, fans have freaked out over the idea of JT taking the stage to sing, and now that it's actually happened, you're going to want to watch the video of Timberlake's Super Bowl performance on repeat. Like, for a very long time.
It's not that none of us expected the musician's halftime show to be a huge, entertaining success. This is Justin Timberlake, after all, a multi-talented guy who knows a thing or two about how to put on a good show. He did it back in the '90s and early '00s with *NSYNC, and he did it as a solo act for several years afterwards.
Still, there were reason to wonder how Timberlake's performance would end up, considering the little bit of drama that surrounded it in the days leading up to the show. For one thing, there was the Janet Jackson controversy; many people wondered if Jackson, who Timberlake infamously performed with in 2004, would be making a surprise return to the stage, until Jackson herself shut the rumors down. Then, there was the debate over the possibility of a Prince hologram joining Timberlake on-stage, which many fans took issue with. Luckily, a hologram didn't actually occur, just a video of Prince performing behind Timberlake.
Overall, Timberlake's performance went off smoothly, and it's safe to say that fans everywhere delighted in seeing the singer show off his voice and moves on the Super Bowl stage — especially to so many '00s hits. And the musician probably is pretty pleased with how things went, especially considering how much pressure there must be to perform live at such a massive event.
A few hours before the game began, Timberlake posted an Instagram of himself with a "game day" sign, with the caption, "Lazy Sunday." Clearly a jokey message from the guy everyone would end up watching at the Super Bowl halftime show.
And just a few minutes before halftime was scheduled to begin, Timberlake posted another Instagram showing him getting all ready for the performance, with the caption, "two minute warning."
Luckily, Timberlake had nothing to worry about, and he also likely had a cheering squad made up of his own family and friends, including wife Jessica Biel and their toddler son, Silas. It's not every day that you get to perform the halftime show at the biggest sports game in America; you can bet that Timberlake would want his loved ones nearby to watch the show and cheer him on as he performed at such a major venue.
During the show, Timberlake did a medley of tunes, including songs from his just-released album Man of the Woods, like "Filthy," and his older, more popular records. There was "Rock Your Body," always a classic, as well as "SexyBack," which, let's be real, is the song we all were hoping he'd perform, and "Suit and Tie," a fun hit. There were sadly no surprise guests, despite countless people hoping to see an appearance by Jackson, or Britney Spears (hey, we can hope) or someone else super famous. But even without the bonus of his fellow celebs, Timberlake's show was still worth seeing, as many people made clear on Twitter.
Most fans don't argue that Man of the Woods is not Timberlake's best album, so it was especially great to hear him perform so many of his older hits. The singer knows what works, and he knows what audiences want, and he delivered just that in his Super Bowl performance.