This Video Of A Silent Crowd During Justin Timberlake's Super Bowl Performance Is Awkward AF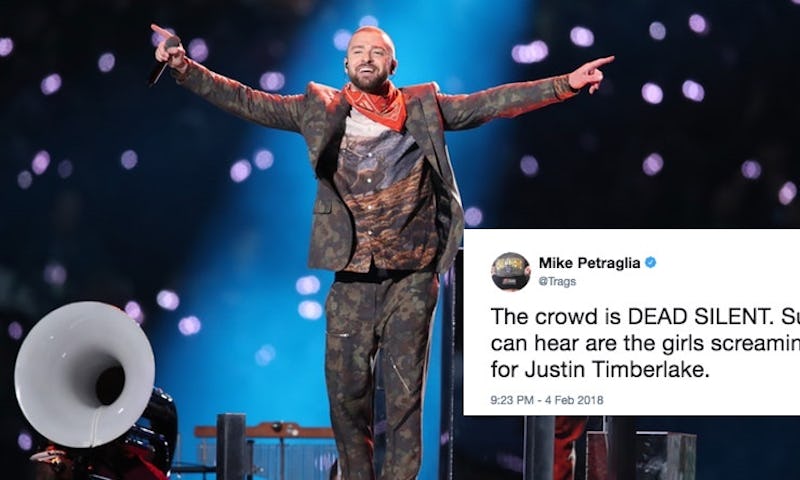 Christopher Polk/Getty Images Sport/Getty Images; Trags/Twitter
Newly minted Man of the Woods Justin Timberlake had plenty to celebrate when he took the stage for his Super Bowl halftime performance Sunday night, but apparently not everyone in attendance was cheering him on. Yes, according to some accounts from fans in the stands, the crowd was silent during Justin Timberlake's Super Bowl halftime performance.
The singer started off his performance with sound issues, emerging from a dimly lit space below Minneapolis' U.S. Bank Stadium while singing his first single off the album, "Filthy." But the sound was muffled and his entrance was less than thrilling, and things apparently didn't get better once Timberlake took the stage on the field above ground. Timberlake was flanked by a series of dancers and even an entire marching band at times during his performance, giving the appearance to viewers at home that the crowd was going wild for his renditions of his early hits like "Senorita," "Rock Your Body," "SexyBack," "Cry Me A River." But some reports from the scene say that the audience in the stands was a lot more subdued than was shown in close-ups on TV.
"I have never heard a crowd more silent than during this Timberlake performance. No one around me is singing or talking. People are louder at the movies," GQ writer Caity Weaver tweeted from the stands.
Another Twitter user corroborated Weaver's account, posting video from the audience showing many people in the stands sitting down, and most of the noise seeming to come from Timberlake's dancers and the crowd of people cheering and jumping around the singer as part of his show. She attributed any of the residual noise to the "fake" crowd that surrounded Timberlake in the front rows.
Boston sports columnist Mike Petraglia, who was live tweeting the game, also pointed out the crowd's seeming lack of enthusiasm for Timberlake's show:
Timberlake's return to the stage was notable for a couple of reasons. Not only was it supposed to mark his triumphant return to performing to promote his brand new album Man of the Woods, which dropped Friday and is his first album in five years, but it was also his second halftime performance — a rare privilege for any recording artist. Of course, his first halftime show was his now-infamous 2004 performance with Janet Jackson, which, thanks to a "wardrobe malfunction," resulted in "Nipplegate," otherwise known as that time that Justin Timberlake accidentally exposed Janet Jackson's bare breast on national television.
While some speculated that Timberlake's return to the Super Bowl halftime stage would come with a cameo from Jackson herself — perhaps as a mea culpa to the singer, whose career notably suffered after that show in a way that Timberlake's did not — Jackson did not appear, and Timberlake's set was interestingly devoid of any special guests at all. But fans were quick to point out a likely unintentional Nipplegate reference during Timberlake's performance, when he sang part of "Rock Your Body," the same song that he performed with Jackson during the accidental aforementioned wardrobe malfunction.
It seems that without a Janet Jackson cameo, an *NSYNC reunion, or really any other particularly exciting element to Timberlake's performance (unless you count hearing "Can't Stop The Feeling" for the first time while NOT at a wedding as exciting), the only thing we've got to latch onto is this awkward video of a bunch of football fans who apparently aren't into Justin Timberlake. Perhaps the crowd at U.S. Bank Stadium took one particular line from Timberlake's song "Say Something" to heart, and decided that the greatest way to say something would be to say nothing at all.