'The Vampire Diaries' Star Paul Wesley Surprised Nina Dobrev & Her Reaction Is Everything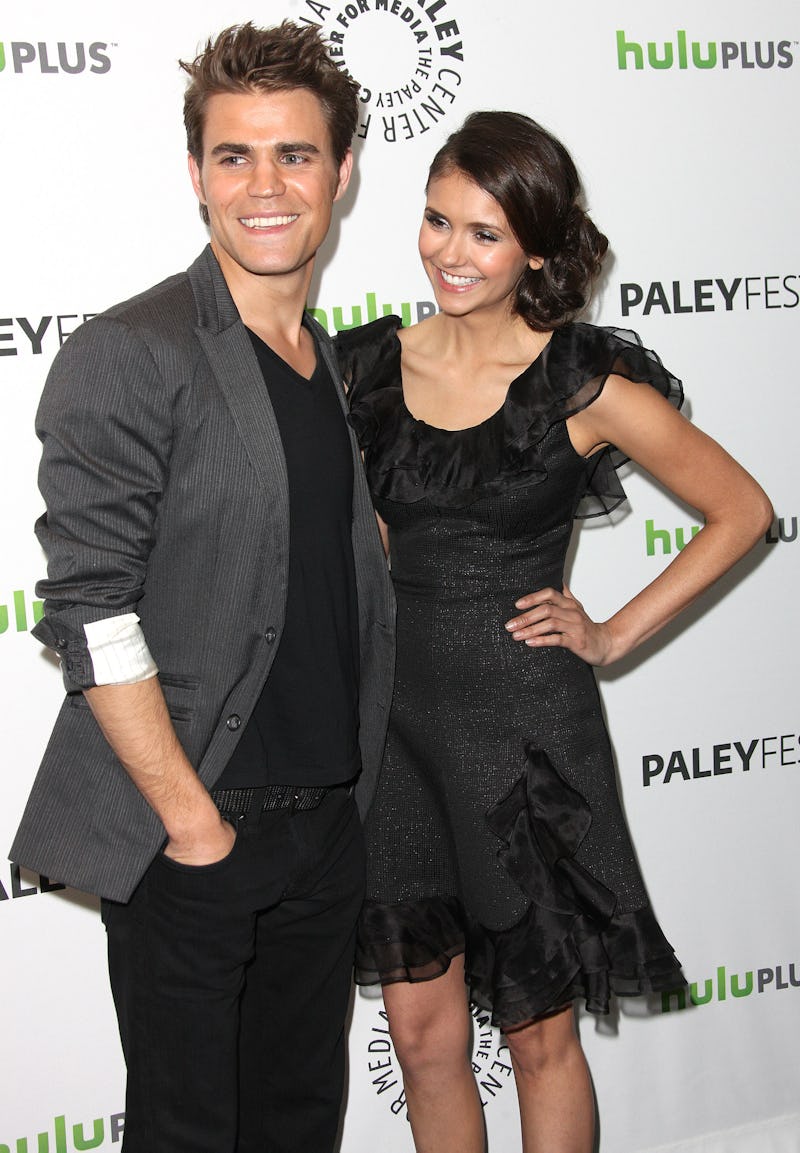 Frederick M. Brown/Getty Images Entertainment/Getty Images
Stelena fans, you might want to sit down for this one. In an Instagram Story video from Sept. 13 and shared by BuzzFeed on Monday, Paul Wesley surprised Nina Dobrev while she was filming her new CBS TV series, Fam, in September — and well, it's as amazing as it sounds. What made Wesley's surprise all the more special was Dobrev's reaction. It's clear these two formed a strong bond during their time on The Vampire Diaries.
As you can watch in the video below, which Dobrev apparently posted on her Instagram Story on Sept. 13, the former TVD star was standing with the rest of the Fam cast after wrapping an episode. Dobrev was clapping along with the studio audience when she spotted Wesley. Her initial reaction was priceless. A look of shock and happiness came over her face. She was genuinely excited and couldn't have been more thrilled to see the man she acted alongside for six seasons.
After seeing Wesley, Dobrev immediately ran over to him and gave him the biggest hug. In no surprise whatsoever, he was just as happy to see Dobrev as she was to see him.
"When your Fam comes to see you at FAM," she wrote on the video. The 29-year-old actor also used this hashtag: "#WorldsColliding."
What makes their surprise encounter even more fabulous was how all Dobrev wanted to do was focus on Wesley rather than what she was supposed to be doing with her fellow cast members. She even started to ask him, "What are you doing...," before she realized she had a job to do, ran back with her costars, and then yelled, "Sorry!" Before the video ended, Dobrev had a look of pure bliss cross her face. Wesley showing up totally unexpected really made her day.
The story behind Wesley's surprise visit is unclear, but maybe he was simply in the neighborhood and just wanted to say hello to his friend? Seeing as Wesley is in a new drama for CBS All Access, Tell Me A Story, he could've been filming nearby. Whatever the case, he made Dobrev's day, in addition to TVD fans.
This also isn't the first time the two have interacted since TVD officially ended in 2017 with Season 7 (Dobrev left as Elena Gilbert at the end of Season 6). They've ran into each other multiple times and completely out of the blue.
For example, as you can see above, Dobrev posted a selfie with Wesley in May. She hilariously captioned the photo, "Excuse me sir, you look familiar. I feel like we've met before. Maybe in a past life?"
Then, in December 2017, the Dog Days star posted another Instagram selfie with Wesley. "NYC when it's snowing is full of serendipitous run ins and magical reunions. Like this one. #TVDForever #NYCNOW."
These two friends seriously can't stay away from each other and TVD fans definitely aren't complaining. It's wonderful to know Wesley and Dobrev share a special connection just like their characters, Stefan and Elena.