Pink & Gwen Stefani Performed "Just A Girl" & The Video Will Give You '90s Vibes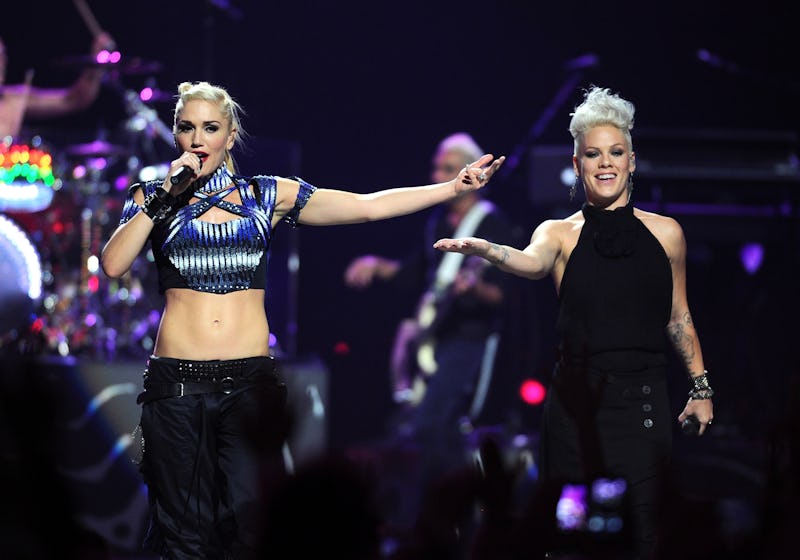 Isaac Brekken/Getty Images Entertainment/Getty Images
Ahh, the '90s. What a time to be alive. Slap bracelets, Lisa Frank, butterfly clips, and the irrefutable Golden Age of pop music. Two of the biggest stars from that era performed together on May 31, E! News reported, and watching Pink and Gwen Stefani sing No Doubt's "Just a Girl" is totally going to make you long for the days of dial-up AOL internet again.
For the last few months, Pink's been traveling all over the country on her Beautiful Trauma tour (to which she just added even more dates, by the way). The set-list has included high-octane hits and fan-favorites ("Get the Party Started," "Raise Your Glass"), tracks from her latest album, Beautiful Trauma ("What About Us"), emotional ballads ("Glitter in the Air"), and a few choice covers from the Golden Age, including Nirvana's "Smells Like Teen Spirit" and No Doubt's "Just a Girl."
On May 31, a very special guest joined Pink on-stage to perform one of those covers at Los Angeles' Staples Center — none other than the queen of No Doubt herself, Gwen Stefani. According to E! News, Pink addressed the crowd, saying, "I have a question for ya'll. How much do you love Gwen Stefani?" Obviously, the place erupted with cheers because how can you not love Gwen Stefani?
Stefani then walked on stage, dressed up in threads reminiscent of her heyday: jeans loaded with leather, zippers, and draped with chains, an intentionally-torn, belly-bearing white tank top, and lace-up black combat boots. She and Pink proceeded to rock the hell out of "Just A Girl," and shared a sweet hug after their lively rendition of Stefani's 1995 ska-punk classic, People reported.
After the show, Pink took to Instagram to praise her long-time friend, and posted a photo from their duet with a caption that read, "Y'all don't even understand how much love I have for this chick, this rocker, this mama, this entrepreneur, this total OG badass that is @gwenstefani," she wrote. "[There] really aren't any comparisons as far as I'm concerned. Tonight was fun. Thanks friend @gwenstefani."
Stefani showed some love for Pink as well via her Instagram Stories, and shared two videos from the show with fans after their performance. The first video is a short clip of Stefani's view from the crowd. The second clip includes a few piano notes from Pink's song "Try," off of her 2012 album, The Truth About Love. "I love this song," Stefani tells the camera. "Thank you Pink for having me, I love you, that was awesome," she says. Aww. Y'all cute.
This isn't the first time these two queens have done a "Just a Girl" duet, though. In Sept. 2012, Stefani was performing with No Doubt at the iHeartRadio Music Festival in Las Vegas, NV, when she asked her friend Pink join her up on stage to sing the band's hit track with them, MTV reported.
After she, Stefani, and the rest of No Doubt brought the house down, Pink tweeted, "I just got off stage from the raddest surprise performance with No Doubt. She really is that cool. #imjustagirl."
2018 has been a big year for the "Beautiful Trauma" singer. She kicked off her tour in support of her seventh studio album in March, and in April, Pink landed the cover of People's annual "Beautiful" issue. Pink just added a slew of new dates to her schedule that will give fans a chance to see her well-into 2019, and while there's no telling what special guests she'll surprise us with in the future, it's pretty clear that she and Stefani should totally team-up more often.