Protesters Chanted "Shame On You" At Ted Cruz For Supporting The New SCOTUS Justice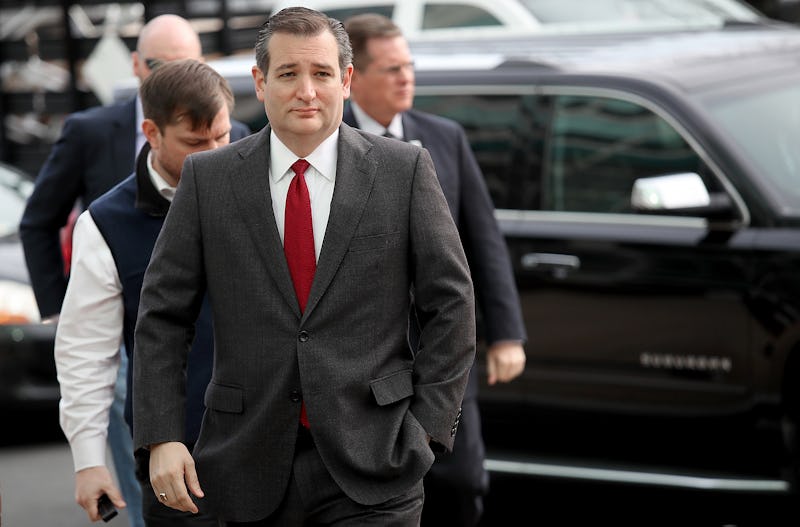 Win McNamee/Getty Images News/Getty Images
Brett Kavanaugh now sits on the Supreme Court, but the fallout from his contentious hearing process shows no sign of letting up. It may even prove to be a decisive factor in some midterm races, as one Texas senator was reminded of on Tuesday when Ted Cruz got heckled at the airport over his Kavanaugh vote. Two women shouted "shame on you" as he walked away.
"It was a victory for women in America," Cruz can be heard saying at the beginning of the video. He walked quickly toward security as two women followed and challenged him.
"You think that putting a sexual assaulter on the court is a victory for women?" one said. (Kavanaugh has denied all allegations of sexual assault.)
"I believe in due process," Cruz responded.
"Lots of women were out there talking about their stories and you don't care," one protester said.
"Do you believe in a man lying about his alcohol in front of the Senate, and perjury, do you believe in perjury?" the other asked. "Why do you support a man that abuses women?"
Cruz thanked her for "expressing [her] First Amendment rights" and added, "God bless you, ma'am."
As he strode into the security line, she began chanting, "Shame on you, Ted Cruz!"
As someone who's served in government for nearly two decades, Cruz is no newcomer to dealing with public protest. He and his wife faced another filmed confrontation in September over the Kavanaugh vote. While they dined at an upscale D.C. restaurant, activists asked Cruz whether he planned to vote for the judge and shouted, "We believe survivors!" The senator and his wife left the restaurant.
Cruz insisted that he was willing to hear out Dr. Christine Blasey Ford before she testified that Kavanaugh assaulted her (the judge denies her allegations). But afterward, Cruz voted to confirm the nominee; in a speech on the Senate floor, Cruz criticized the way that the allegations had been handled and argued that the evidence stood against Ford. His Democratic opponent, Beto O'Rourke, announced that he would have voted no on Kavanaugh, pointing both to Ford's accusations and to the judge's temperament.
It's not clear how Kavanaugh's confirmation is going to affect the Texas race. CBS Battleground Tracker polls released Oct. 8 showed that the controversy has energized Republicans 13 percent more than Democrats, and a plurality of surveyed Texans (43 percent) wanted Kavanaugh on the court while 35 percent opposed him. However, most Texans also said that his confirmation would not sway how they were planning on voting in the midterms.
Cruz and O'Rourke keep trading places in the polls. Cruz has generally been in the lead, though, and he maintains that position now. A series of surveys from Tuesday show him four to seven points up on O'Rourke, according to FiveThirtyEight.
With time running out — and millions of donations from eager supporters to spend — O'Rourke is shifting his campaign tactics. Instead of largely maintaining a "positive campaign," as he had been doing, he's also now specifically addressing why he believes that Cruz is a bad candidate.
After Cruz attacked his voting record during a debate in San Antonio on Tuesday, O'Rourke fought back with a more negative attack. "This is what you can expect over the course of this debate," he said, according to NPR. "Senator Cruz is not going to be honest with you. He's going to make up positions and votes that I've never held or have ever taken. He's dishonest. It's why the president called him 'Lying Ted,' and it's why the nickname stuck, because it's true."
Early voting begins in Texas on Oct. 22. The midterm election will take place on Tuesday, Nov. 6.