Tom Brady Proves He's A Quarterback & Not A Tackle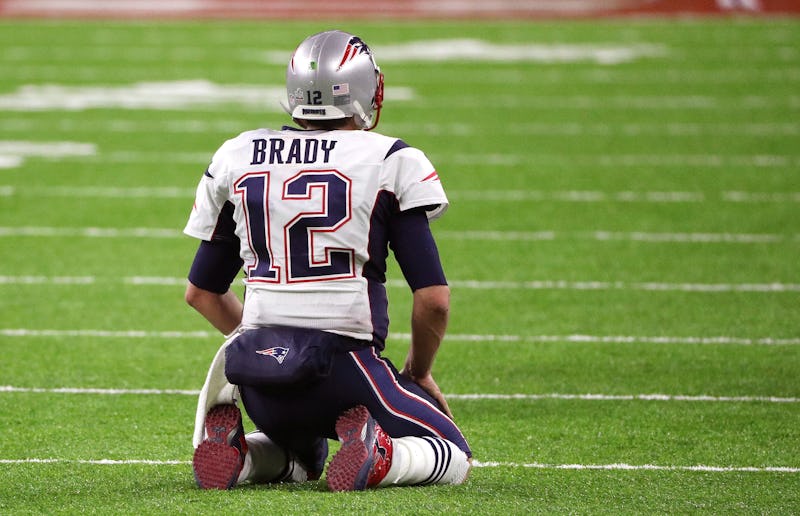 Patrick Smith/Getty Images Sport/Getty Images
Sunday's Super Bowl was bound to be a big game for New England Patriots quarterback Tom Brady. It was his seventh Super Bowl appearance — more than any other quarterback in the NFL, ever — and it was an opportunity for him to win his fifth Super Bowl ring. But when Brady failed to tackle an Atlanta Falcons defender in the big game's first half, it seemed that he and his team might struggle to snag those coveted rings.
The struggle became very real during the second quarter. The Patriots were down by two touchdowns, or 14 points, when Brady threw an interception. The Atlanta defender caught Brady's pass and ran it back for a touchdown, Atlanta's third of the game — and the half. The Patriots' offense couldn't stop the return, and upon closer look, it looked like Brady, in particular, missed an opportunity to stop the score.
As you can watch in the video below, Brady lunged toward the Falcons' defender in an attempt to make a tackle. Like the rest of his offense, though, Brady wasn't able to put a stop to the then-inevitable touchdown. The video of Brady's failed tackle quickly made its way to the Twittersphere, adding to the deluge of sad Brady memes and tweets that went viral during the game.
As bad as Brady's failed tackle attempt may look, it's important to keep in mind that tackling is far from his first job on the field. As quarterback — and a successful one at that — Brady leads the Patriots' offense. While some of his teammates block and some run their routes, Brady sets up each play with a pass or hand-off. As a professional football player, he should know the fundamentals of tackling, but he's certainly not a tackle by trade.
The touchdown that resulted from Brady's failed tackle attempt gave the Falcons a 21-0 lead over the Patriots. By the end of the first half, the Patriots had only managed to recover three points, finally scoring a field goal just before halftime.
When the second half began, Brady didn't just have that missed tackle or a multi-score deficit to live down. He also had a shadow of his last Super Bowl appearance to live down. Like sad Brady memes, "Deflategate" jokes stormed social media. Meanwhile, the Falcons seemed to have momentum, on both offense and defense, on their side for much of the game.