People Keep Sharing This 2014 Video Of Trump Blasting Taylor Swift In His Rolls Royce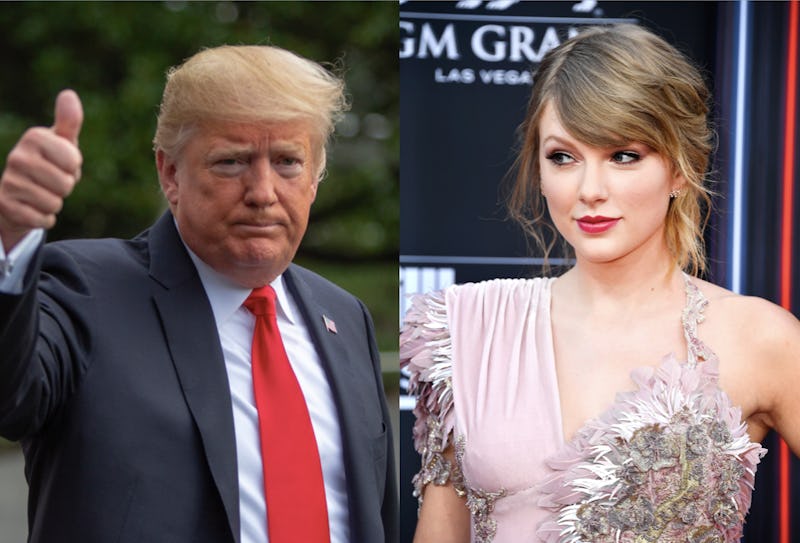 Tasos Katopodis/Getty Images News; Frazer Harrison/Getty Images Entertainment/Getty Images
On Tuesday, an old video of Donald Trump playing Taylor Swift's "Blank Space" while driving in his Rolls-Royce resurfaced, and quickly went viral on Twitter. There's a perfectly logical reason for that: A day earlier, Trump announced that he enjoys Swift's music "25 percent less" than he used to, citing the pop star's recent endorsement of the Democratic candidate in Tennessee's senate race.
In the clip, which was originally posted on Melania Trump's Facebook page in 2014, Trump drives the car with his son Barron in the passenger seat as "Blank Space," which was released that year, plays on the car's radio. According to the Independent, Melania herself shot the footage while sitting in the back seat of the car.
Swift has remained publicly neutral on politics for her entire career. However, she broke her silence on Monday, writing in an Instagram post that she supports Phil Bredesen, the Democratic nominee for Tennessee's open Senate seat in November. More broadly, Swift said that she supports LGBTQ rights, and that "the systemic racism we still see in this country towards people of color is terrifying, sickening and prevalent." Although she didn't mention Trump, she did denounce Marsha Blackburn, the Trump-endorsed Republican running against Bredesen in Tennessee.
Not long thereafter, Trump took a swipe at Swift, claiming he "likes Taylor's music about 25 percent less now."
That, of course, raised the tantalizing question of just how much Trump enjoyed Swift's music to begin with. Although Trump generally doesn't discuss his feelings about pop music, he did call Swift "terrific" and "fantastic" in two 2012 tweets. Now, there's video evidence that, on at least one occasion, Trump listened to Swift's music without making any discernible effort to turn it off.
Unfortunately, the 2014 video offers no evidence as to whether Trump was actually enjoying "Blank Space" at the time. Because it's filmed from the backseat, his facial expression isn't visible, and neither he, Melania or Barron utter a word during the 19-second clip. The mystery will have to live on.
Trump's musical tastes notwithstanding, Swift's political statement was more significant than it may have initially appeared. For reasons that remain unclear, she has developed a strong following among neo-Nazis; on far-right message boards, white nationalists regularly declared Swift an "Aryan goddess" and falsely attributed quotes from Adolf Hitler to her. Some were convinced that, despite her silence on political matters, she was a secret Trump supporter (To be entirely clear, Swift is not a neo-Nazi and has never said anything to suggest that she is).
That fantasy came crashing down on Tuesday, however, when Swift announced her support for equal rights and opposition to "systemic racism." Shortly after she made that post, her neo-Nazi supporters on 4chan reacted with shock and dismay, with some simply bemoaning her embrace of liberal politics and others speculating that she'd been paid off — or, alternatively, that "the Jews finally broke her." Now, Trump has seemingly turned on Swift as well.
Swift's endorsement of Bredesen could prove significant: Although Blackburn is the favorite, Bredesen has led in several recent polls — and Swift has 112 million followers on Instagram.