Video Of Trump Fans Chanting "Lock Her Up" As His Ex-Lawyer Faces Jail Is Just, Wow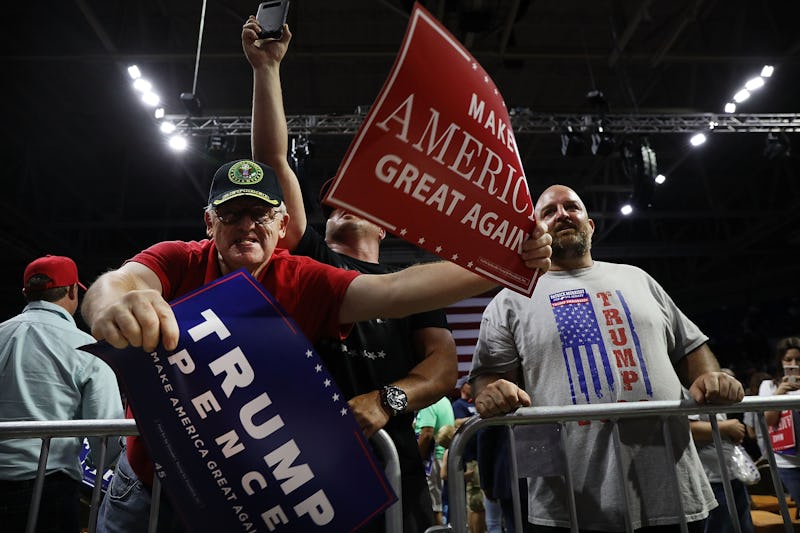 Spencer Platt/Getty Images News/Getty Images
On Tuesday, President Trump's former lawyer, Michael Cohen, pleaded guilty to eight criminal counts in federal court. Shortly after news of Cohen's pleas emerged, Trump held a rally in West Virginia for its Republican Senate candidate. One video showing Trump's rally crowd chanting "lock her up," in reference to Hillary Clinton, comes across as particularly striking considering Cohen had just admitted to criminal acts.
As Vox reported, the "lock her up" chants from the crowd came as West Virginia's Republican Senate candidate, Patrick Morrisey, spoke with Trump by his side. Morrisey mentioned Clinton, the 2016 Democratic presidential candidate, and indicated that she once said, "We're going to put a lot of coal miners and coal companies out of business." In response, many members of the crowd yelled, "lock her up" in unison. Others chanted, "drain the swamp."
The crowd's response at the rally was particularly surreal considering the news that emerged that same exact day just hours earlier. In addition to Cohen's guilty pleas, Trump's former campaign manager, Paul Manafort, was found guilty of eight out of 18 federal counts, including bank and tax fraud. Both Manafort and Cohen could potentially face lengthy prison terms for their crimes. But according to the video from Trump's rally, some of his fans are still more concerned with Clinton.
As the Washington Post reported, Trump addressed a host of topics at his rally on Tuesday evening but, notably, never made mention of Cohen or Manafort. Instead, the paper noted, Trump discussed some of his typical rally talking points, including kneeling players in the National Football League (NFL), the coal industry, and international trade, specifically the levying of tariffs on imported goods.
As the Post further noted, the only time the president even tangentially addressed some of the legal issues being faced by his professional associates came when he made a brief reference to the special counsel's Russia probe. Trump characterized the Russia investigation as a "witch hunt," saying, "Fake news and the Russian witch hunt. We've got a whole big combination ... Where is the collusion? You know, they're still looking for collusion. Where is the collusion? Find some collusion!" Trump has always denied any type of collusion between his campaign and Russia.
It will be some time before Cohen and Manafort know their fates in regards to sentencing. As Bloomberg reported, in Cohen's case, the judge has set sentencing for Dec. 12. Trump's former lawyer will likely face 46 to 63 months in prison. For his part, Manfort's sentencing date has not yet been set, as prosecutors are still determining whether to retry him on the ten counts in which a mistrial was declared. He faces up to 80 years in prison for the eight guilty verdicts, though it is not yet known how much time he will likely receive. Manafort also faces a second trial in Washington, D.C (Tuesday's convictions were from his trial in Alexandria, Virginia). However, as Newsweek pointed out, it's still possible that Manafort's team could seek to get his D.C. case thrown out.
Overall, it certainly seems a bit ironic that, as both of Trump's former associates are facing significant jail time, many supporters at the president's rally overlooked this notion and placed their focus on Clinton instead. It will be interesting to see whether Trump continues to avoid discussing Cohen and Manafort at future rallies or if he will eventually address the topic.