You Have To See Tonya Harding & Mirai Nagasu's Triple Axels Side-By-Side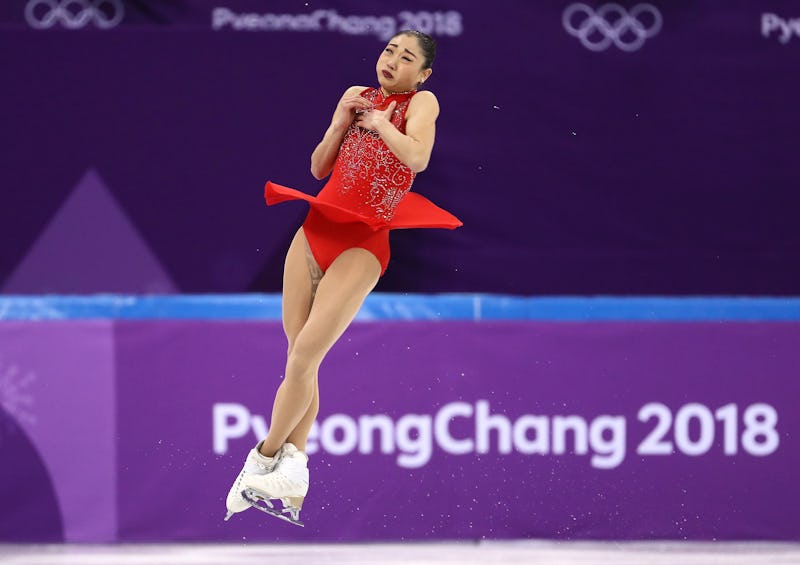 Jamie Squire/Getty Images Sport/Getty Images
The beauty of Dancing With The Stars: Athletes (particularly following a memorable Winter Olympic Games) is that the upcoming season has not one, not two, but three figure skaters going after that Mirrorball trophy. Adam Rippon, Tonya Harding and Mirai Nagasu are facing off in competition. And, as the latter two are two of the only American women to ever land a triple axel in competition, they have an added bond. Videos of Tonya Harding and Mirai Nagasu's tripel axels show the raw power they'll be bringing to the competition — because this move is seriously tough, especially in a stressful competition setting.
"It's a lot of pressure and stress to come out here," Nagasu told People in an interview during the 2018 Olympics. "It was my goal and my dream to be here and to be selected to the Olympic team. So I knew going into it the amount of responsibility that I was given, and so as athletes we want to represent our country to the best of our ability and you know — Midori Ito, Mao Asada and now Mirai Nagasu, all of Japanese heritage."
Ito was the first to complete the jump in 1988, and Asada landed three in 2010. Between them, and the first US woman to land the jump in an international competition, was Harding at Skate America in 1991.
Here is another clip from the same competition:
Here Harding lands the jump again at the 1991 U.S. Figure Skating Championship, a scene you may remember from I, Tonya. Her music, always eclectic even by 2018's standards, is a medley of Danny Elfman's Batman score, the Stephen Sondheim ballad "Send in the Clowns" from A Little Night Music, and finally "Wild Thing" by Tone Loc.
Hopefully Harding will bring the same unpredictable music taste to Dancing With The Stars as well.
Why is this such a big deal? Not many skaters even choose to attempt a tripel axel in competition, choosing instead to focus on different technical elements. Here's a short video that breaks down what a triple axel is and why it's so important — a demonstration that those who saw I, Tonya are already somewhat familiar with, but this one has diagrams and Barbies.
Finally, here is Mirai's tripel axel (along with some practice footage) at the 2018 Olympic figure skating team event.
"But I'm very fortunate that I'm American and so I'll be the first U.S. lady to have landed the triple axel," Nagasu told People, speaking about the Olympics, in the same interview. "And so today is a day of accomplishment for me." Check out that historic moment as well.
"I don't know if you could tell — it was more something I could feel — but to nail it the way I did, even out of the corner of my eye I could see my teammates standing out of excitement," Nagasu said in a post mortem interview with the Associated Press. "And at that moment I wanted to stop the music and get off, but I still had my whole program ahead of me, and to complete the performance to the best of my ability is really exciting."
In April 2017, almost a year before the Olympics, Nagasu announced to the world that she was working on this jump via Twitter in another video:
How will this aide or abet the competition on Dancing With The Stars? It depends. Nagasu and Harding have a really cool thing in common. Will ABC try to mine the fact that, likely thanks to a certain incident, Harding did not complete a triple axel at the Olympics like Nagasu ultimately did? Hopefully they'll be bonded rather than pitted against each other. Looking at these videos, the glee that these women have at their own accomplishments prove that they're more alike than not. And, all other factors aside, they'll always have this super cool accomplishment in common.