Viola Davis' Daughter Is Already Well On Her Way To Following Mom's Footsteps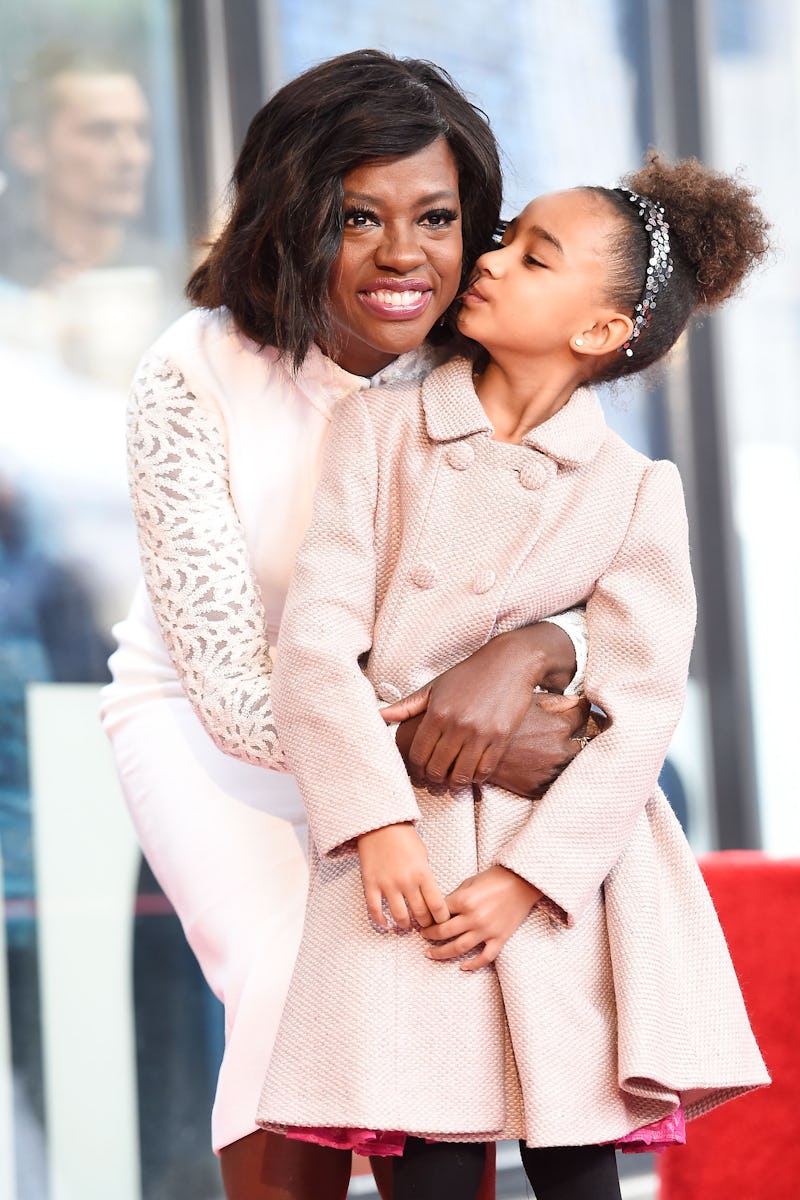 Matt Winkelmeyer/Getty Images Entertainment/Getty Images
Hollywood vet and Oscar-winning actor Viola Davis' adopted daughter was "born from [her] heart, not [her] belly," according to the star herself. Genesis Tennon may not be Davis' biological child, but she's already developing passion and heart for the arts, just like her famous mom. With an appreciation and love for acting, it's clear the 7-year-old is ready for the spotlight. And one thing is for sure: Genesis has an amazing role model who will surely help her thrive throughout her bright future.
Since she was adopted by Davis and her husband Julius Tennon in 2011, Genesis has been a totally adorable ham for the cameras. As seen in recent photos, Genesis works the lens and even poses by smooching her mom on the cheek every now and then. She's totally a natural.
On a more serious note, these two have similar, difficult backstories, which make their love of entertaining even more heartfelt and profound. Davis has been transparent about her difficult upbringing. She was born in a one-room shack in South Carolina and says she only has one photo of herself as a child. Reports claim that Genesis was born into a bad living situation, which included an unfit mother. While Davis hasn't confirmed why she specifically chose Genesis, it would make sense that she'd want to give this child a chance at a better life, given her own personal history.
To no surprise, Davis is her daughter's number one fan. "Fortunately or unfortunately, I think the acting bug has already bit her," the actor told Ellen DeGeneres in 2013. She explained that when Genesis was only 3 years old, she had already learned set cues like "action" and would get lost in her own creative mind with her imaginary friends. As a toddler, she'd offer up advice to Davis like, "Mommy, you can't act. You got to be." This kid is a child prodigy.
She's already chomping at the bit to be seen on stage. In 2014, Genesis was casted in the James Brown biopic Get On Up (which Davis was in). In 2015, she refused to dress as Elsa or a pirate for Halloween like other kids. Instead, Genesis dressed as her mom winning the Emmy for How To Get Away With Murder, wearing a white dress and holding a fake award.
Still, Davis isn't too eager to get Genesis in front of the cameras, since she's aware of the downsides that come with fame and wealth. (Not to mention the handful of child actors who are cautionary tales for the downward spirals Hollywood can create.)
Earlier this year, Davis admitted that her "number one fear" is that her daughter would grow up feeling entitled. To Davis, living in a house is a luxury her daughter is already lucky enough to experience (one Davis didn't when she was that age). Rather than showering her child with unnecessarily expensive things, for example, she buys Genesis' clothes at affordable stores like Target and H&M, according to People. Davis hasn't lost sight of her humble beginnings in her own life, and she sure as heck won't let her daughter forget them either.
These two are truly a match made in heaven. Beyond lending her daughter A+ acting advice, Davis can be her guide in overcoming obstacles and achieving her dreams. The award-winning actor embodies a true rags-to-riches story, and allowing her daughter to also succeed through talent, grit, and determination would really bring her journey full circle.