This Sunscreen Doubles As An Amazing Highlighter, So I Actually Wear It Every Day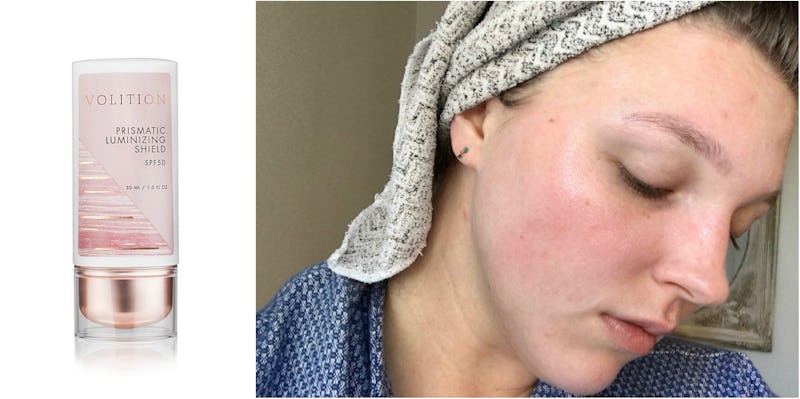 Courtesy Volition Beauty; Olivia Muenter
Even as a borderline translucent person, I've never been good about wearing sunscreen. I grew up in Florida, which makes this even more of a cringe-worthy fact. Still, though, I'm not alone in this — even though it's basically the number one recommended tip from most dermatologists, wearing sunscreen every day is apparently hard for a lot of people. But can you blame us? Sunscreen is often chalky, or sticky. It sometimes takes forever to absorb, or makes makeup melt off your face. It takes some trial and error with products, but as a new every-day-sunscreen-wearer, I am here to tell you that it is possible to find a formula that actually feels good. Your daily sunscreen doesn't have to be the thick, gloopy, fragrant sun block of your youth. There's even sunscreen that acts like highlighter now, thanks to Volition's Prismatic Luminzing Shield (SPF50).
Volition Beauty is a skin care and cosmetics company that sources ideas for innovative products from real people. Absolutely anyone can submit an idea via the brand's website, and Volition accepts the proposals that their chemists, formulators, and marketers think are the best. The other unique thing is that after these proposals make the cut, they're available to vote on through the brand's website — so real people submit the ideas, and real people ultimately decide what is created. Volition's highlighting sunscreen was created the exact same way — starting as an idea from a beauty editor. The editor knew that sunscreen was so important, but often not exactly pretty or pleasant on the skin. So Volition formulated a sunscreen that was breathable and lightweight; this took almost two years to formulate and Volition tells Bustle that there were "many tweaks and different ingredient combinations" before finding something that wouldn't feel like traditional, heavy SPF.
This sunscreen takes about 5 - 10 seconds to fully absorb into the skin, but it feels hydrating and smooth and is scent-free (something that is so hard to find in a sunscreen). The best part of this product, though, is it's highlighting power. An oh-so-subtle glow comes from "micro-fine pearlized powder" in the product, according to the description on Sephora's website. In addition to being fragrance-free, the prismatic sunscreen is also free of sulfates, phthalates, and parabens, which certainly never hurts.
I love using this as my only product of the day, and dabbing an extra layer of the fluid on my cheekbones is both good for my skin and adds subtle, natural-looking glow. According to the brand, this glow comes from a "prism powder" that sits on the skin while the SPF absorbs. For those days when I don't want to wear makeup, this sunscreen feels like an indulgent way to take care of my skin.
But if you do want to layer on makeup, it works for that, too. While the glow doesn't show through heavy foundation coverage, it certainly would be visibly glow-y under light coverage or spot treatments with concealer. As long as you give it 5-10 seconds to settle into the skin, it barely affects makeup at all.
In the photos below you can swipe to see what my face looks like with and without the product. It's a subtle glow, but it's definitely there — and I don't find it to be shiny or greasy.
Although the sunscreen only launched on Sephora on March 20, five-star reviews of the product have already started rolling in.
"You need this in your life. Nothing like the sunscreens you own. It is the perfect mix between sunscreen and skin highlighter/perfector. It's so lightweight you could wear it alone or under makeup. It doesn't leave that greasy goopy feeling that sunscreen does! Normally I HAVE to wash my hands after applying sunscreen but this absorbs so well that you forget you put it on. The glow is super beautiful and subtle. Did a sunscreen just become my new favorite cosmetic??" one user wrote in a Sephora review.
Other reviewers laud how the sunscreen looks under makeup, while some talked about how they love it with no makeup on at all, writing, "If it was a no makeup day, I could have just stopped with this, skipped the foundation and been perfectly dewy."
Personally, I plan on alternating this SPF in my day-to-day routine with a couple others to keep my supply lasting as long as possible. But for days when I'm not wearing any makeup at all, this will absolutely be my go-to.